Are you looking for a cute Spanish teacher t-shirt to wear in your classroom this fall? Your students will get a kick out of any of these 6 fall Spanish teacher t shirts you can wear in your Spanish classroom while teaching your students! Check them out:
Fall Spanish Teacher T-Shirts
1. ¿Qué te pasa calabaza? Spanish T Shirt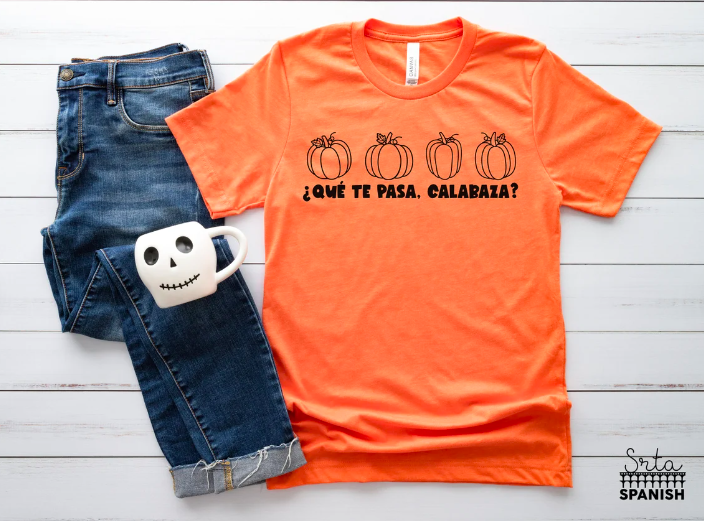 Who doesn't love a cute pumpkin for fall? Check out these fun and colorful pumpkin tees! Click below to check out your favorite:
2. Profe (Apple) Tee
Are you more of a fall apple kinda person? Here's just the thing! These "Profe" tees are cute for back to school! (Doodle Apple // Classic Apple)
3. Manzana para la maestra
This simple design is a cute classic and comes in several different colors so you can pick your favorite! Shop here.
4. Rainbow Apple Doodles
This one is too cute for fall for a rainbow lover! These pattern apples are fall, but the rainbow colors are bright and cheery. Buy it here.
5. Leer es poder
There's something about FALL that just makes me want to cozy up with a good book. Maybe it's the crisp air? Grab a blanket and your favorite book, then throw this tee on for an afternoon reading session! This tee is perfect for that! Shop here
6. Fall Doodles
Want something simple, cute, seasonal, and Spanish-y? These fall doodles are perfect! Buy it here.
More Spanish Teacher T-Shirts
If you want to see even more Spanish tees, check out my Etsy here!