I always love the food unit in Spanish class. There is SO much culture involved when exploring food and recipes around the Spanish-speaking world and it's tasty to sample, too! Sometimes all of the options of activities for food in Spanish class can be overwhelming, so I wanted to give you a little list of fun Spanish activities you can do with your students!
I like to incorporate our writing, reading, speaking, and listening into the unit. They help your students work on their skills while experiencing the language and culture. Here's a look at several fun Spanish activities for food in class you can do this unit!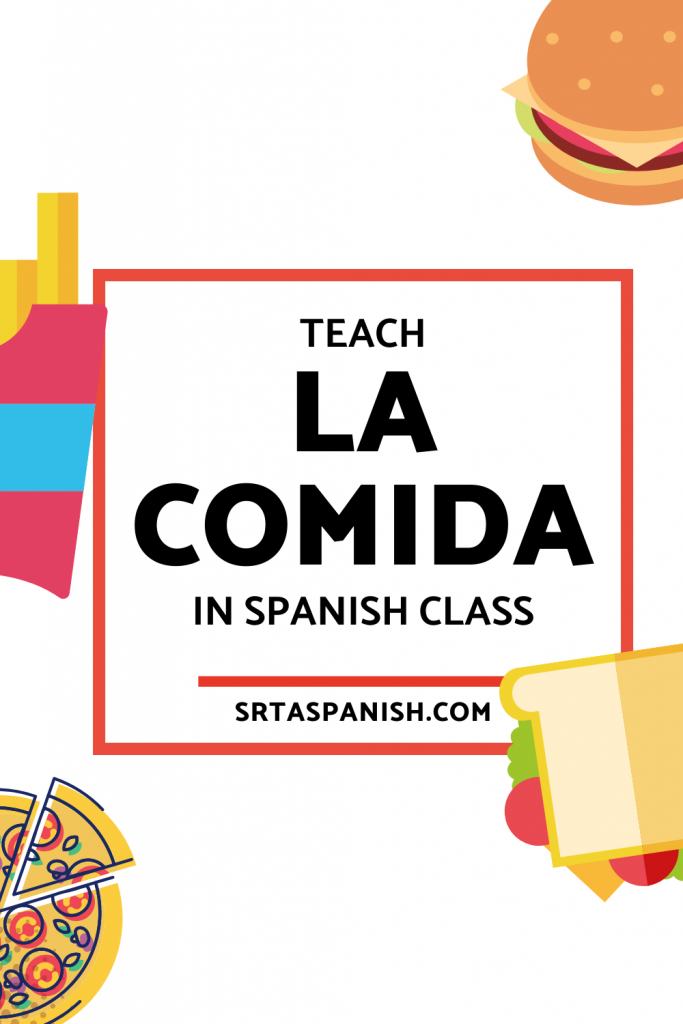 Virtual Field Trip
Virtual field trips are one of my favorite ways to kick off a unit! They get students curious and excited about the culture while they connect it to the geography of where they are studying. This field trip explores a variety of countries and foods. Each marker includes the food's name, and some background. Great for novices or introducing your students to a variety of foods in the Spanish-speaking world!
Printable and Digital Story
I love using story telling as a way to introduce vocabulary in a new unit! This resource includes a short reading about a girl who is trying to grow a flower written in comprehensible language. Silly Ana – flowers don't like people food! This story focuses on food vocabulary and gustar. Perfect for novices!
Grab the digital story here.
Grab the printable story here.
Reinforcing Likes and Dislikes with Señor Wooly
It's no secret that I love using Sr. Wooly's resources with my students! He has a great video "Qué asco" that works well for the food unit. You could get really creative and have students share combos of food that they enjoy eating, or have them draw and describe the most disgusting dish they can think of.
Speaking and Writing
This resource brings in movement as students get up and out of their seats talking with their classmates. Students choose choose three foods from words you have used in class. They chat in Spanish about classmates' preferred food and keep a tally of responses.
Then, they will compile their data using the graph. (Can you say cross-curricular? CHECK!) There is also a follow-up writing activity you can do with your students to sort foods they like and don't like. This resource can be used with any set of vocabulary!
Fun Spanish Activities To Teach Food Vocabulary
Boom Cards are one of my all time favorites because they combine reading, writing, and listening in one instant feedback digital resource. These digital task cards review la comida, me gusta, and no me gusta in Spanish. There are a variety of practices included in this deck:
Look at the illustration and choose the correct vocabulary word
Write sentences using me gusta or no me gusta and food vocabulary based on a given illustration
Read a sentence and choose the correct illustrations
Read several sentences describing likes and dislikes and move the food accordingly
Listen and choose the correct vocabulary word
Classroom Display
This bulletin board is one of my favorite print and go options for a classroom display while learning about food in Spanish class. It includes 22 full color illustrations of a variety of foods and beverages with clear and easy to read labels, along with 6 speech bubble phrases to use with food such as "¡Qué rico!".
Food in Spanish Class
Several of these easy food activities are included in my Food in Spanish Activities Bundle! The bundle includes 4 resources you can incorporate into your food unit in your secondary Spanish classroom.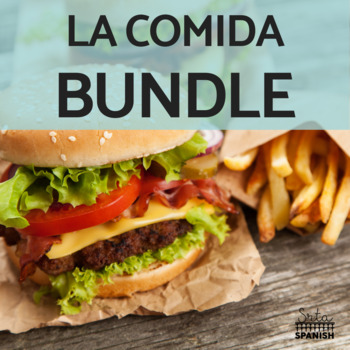 La Comida Food in Spanish Activities Bundle
$13.50
Save yourself time with four ways to practice food vocabulary in your Spanish classes!