Something that has really helped with plans as I transition to CI this year is having a set routine in class. On Mondays we have Weekend Chat, Tuesdays we do FVR, Wednesdays we use Música Miércoles, Thursdays we do Persona Especial, and on Fridays we do a Picture Talk or a Movie Talk. This means that as I'm staring at a blank plan book, it's never actually blank! There's always a solid start to class, and students know what to expect.
I'm really enjoying Picture Talk as a routine! It's super flexible, easy to implement into any curriculum, and it works well for any classroom!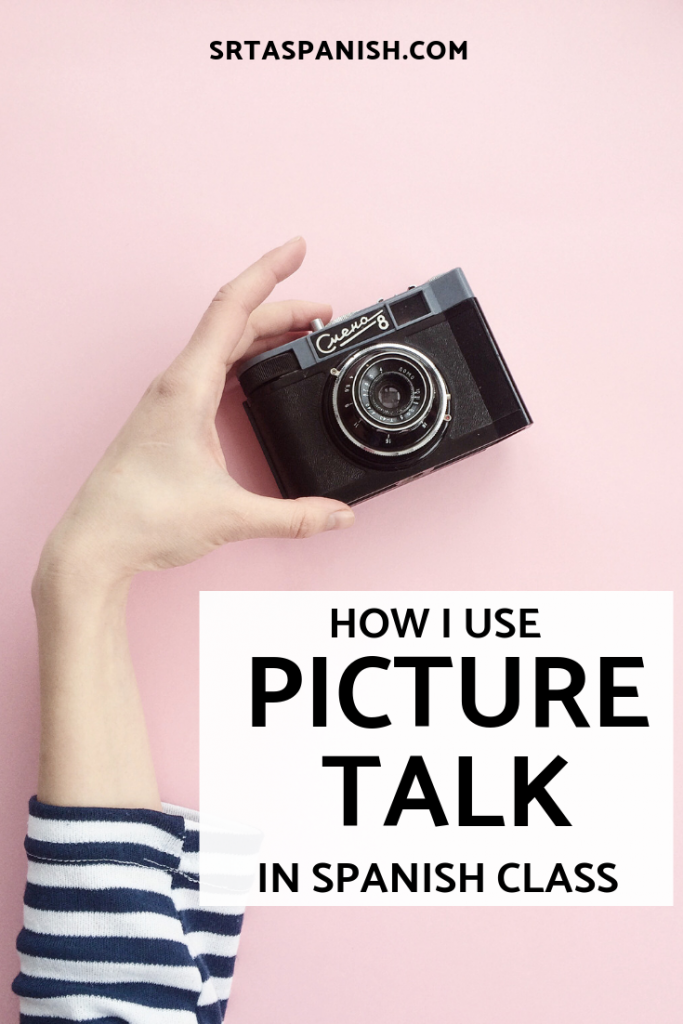 Watch the Video
Here is how I use Picture Talk in my Classroom:
Find a picture. The picture should show something you want to talk about. So, if you've been talking about family, you could find an awkward family photo to share. I usually find it extra fun if it's a goofy picture, but you can certainly do this with more serious topics too!

If you've never taught the vocab or structures you want to use, add visual supports. I like to put them in my Slides, because it helps me remember what my plan was. You can also write them out on your white board as you go!
Project the image, making statements while pointing and pausing, using your vocabulary supports. Ask questions about the picture and about the statements you've made about the picture. Students answer as a class, or you can ask individuals. Essentially, circle the statements. Here's a post about How to Circle!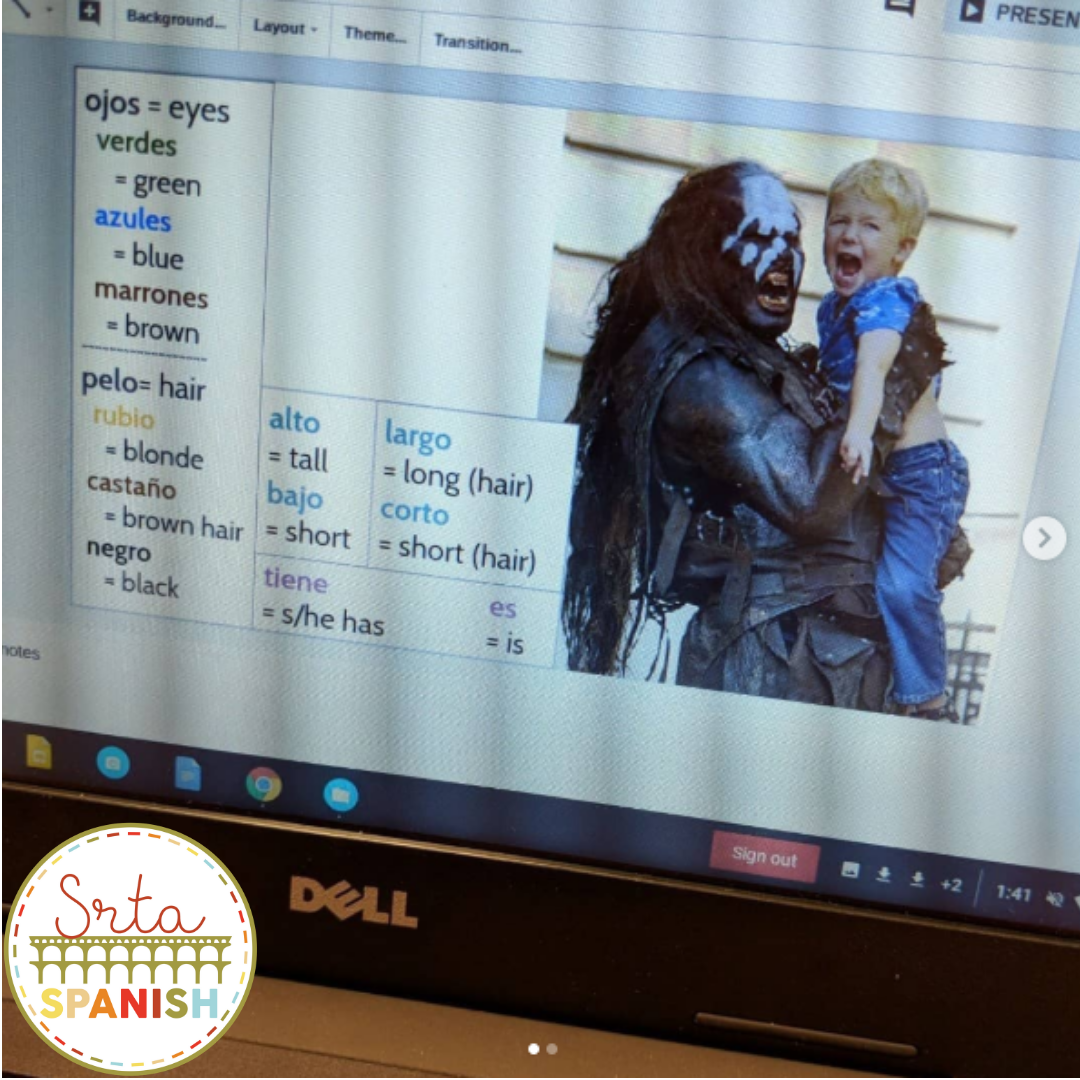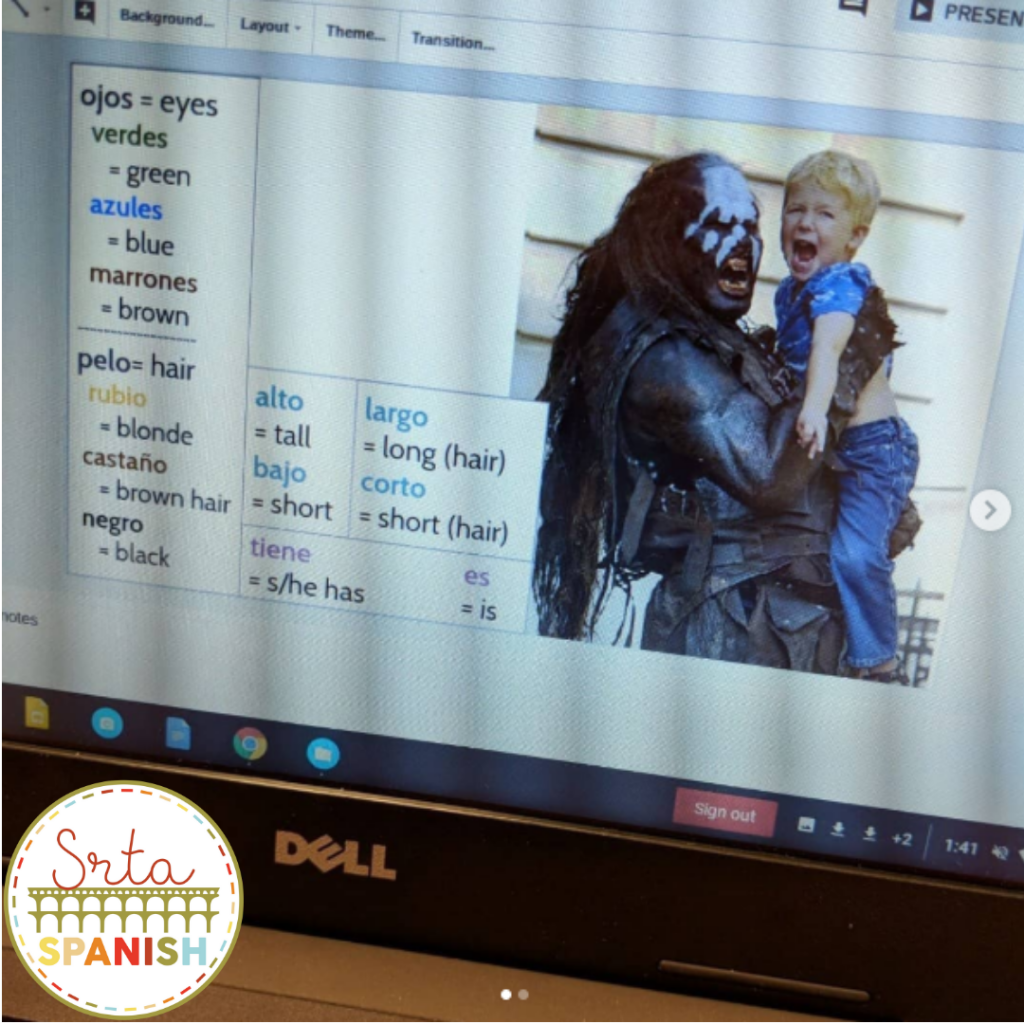 Added Fun For Picture Talks:
I like to "reveal" the picture piece by piece. We talk about what's visible, then reveal the next piece. I find it keeps students hooked, wanting to find out what the picture is!
Check out the post above for a video example!
Ready to try your own Picture Talk?
Now that you have the basic idea, it's time to try it out! I've put together a sample set of Google Slides that have a Picture Talk you can use in novice Spanish classes. They are set up to practice colors and clothing, but as I mentioned before, you can talk about whatever you want from the pictures!
Our district covers clothing and colors in the beginning of Spanish I, right around the end of September and October each year so the main feature is animals wearing goofy costumes. I hope your students love it!
If you use these, I'd love to see them in action! Tag me on Instagram @srta_spanish, or on Twitter!
Looking for more?
Jump in the conversation!
Do you have any questions for me? What are your thoughts on this strategy?