Watch the Video
Background Info:
If you're not at the stalking stage yet, quick FYI-  Movie Talk is a language learning technique developed by Dr. Ashley Hastings. In the most basic sense, you play a short, muted video clip while you describe it in comprehensible language for your students.
The "Stalking Stage"
Now, I'd heard about the technique. CI, circling, TPRS, you name it, I've been hovering around the circles and stalking blog posts for years.  That doesn't change the fact that I was super nervous going into doing a movie talk with my kids.  So, how does one move from blog stalker to ..movie talker? Here's some tips!
Getting Started
Central States Conference on the Teaching of Foreign Languages was the kick in the pants I needed to really dig in and plan a Movie Talk. Kristy Placido's session was particularly helpful to get the wheels turning. Next, I turned to Twitter. #langchat is SO full of resources and support, I hoped they'd help me out!
..and guess what? Amazing resources were shared with me. So, I wanted to compile them, and share them with you!
MovieTalk Database – This was GOLD. Gold. I had no idea where to start looking. So thankful to Keith Toda (@silvius_toda) for sharing this resource with me.  It includes the link, possible language structures/vocab chunks, link to plans if they exist, original language, and other notes from teachers.
MovieTalk Demo by Martina Bex – There are tons of blog posts out there, but sometimes it's just nice to see what it can look like in a classroom.
How to Movie Talk by Allison Wienhold – Sra Wienhold links out to a lot of helpful posts, but what I found most helpful here were her tips on how to prepare students for a Movie Talk. What does it look like when they don't know what to expect?
This last tip from Señor Jordan wound up being super helpful to keep in mind while doing the activity with my students! Take your time, ask them questions, build suspense, and natural reactions with the story. Let them interact with the story while you tell it to them!
Movie Talk – Take 1
Using the resources linked above, I prepared for Take 1 of Movie Talk with my students. I honestly felt like I was preparing for a big test, I was so nervous. I found a movie from the database, watched the demo, practiced (alone, in my classroom, gesturing like a crazy person), and then set up the activities to help my students be successful. And you know what? It was great!
I did make a sheet for students I thought would need more help to focus. It's just a strip of paper that has a word to listen for and asks them to tally whenever they hear it. One kid told me she thought it really helped because she listened to every.single.word. while I was talking. It really helped me between my first class and the last I was able to increase the use of the structures I was trying to target.
My biggest worry was that they would just be sitting and listening, not doing anything during that whole chunk of class which in hindsight kind of feels silly now. Listening in the TL is totally doing something, and requires a lot of focus for them. Add in the story (that I kept pausing every 2 seconds to talk about what was happening) and they were so completely into it. SO into it. A colleague popped into the room during one hour and later she was laughing because she said they were all JUST.STARING. at the screen, at me, and so totally tuned in.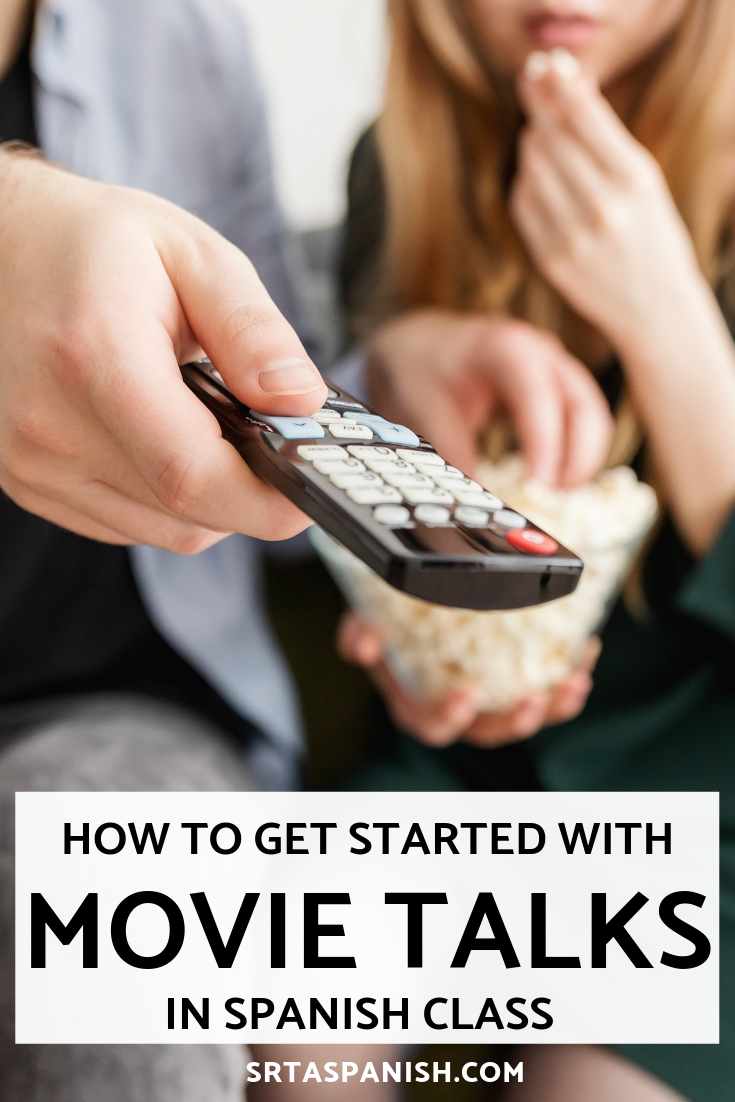 Will there be a sequel?
Absolutely! The responses from my students alone would have decided that. Their "retelling" comics were adorable, and several students expressed verbally that they really enjoyed the activity and would like to do it again! WIN!
I compiled all of the resources I used for the Movie Talk all of my examples in this post are from and added some notes explaining what I did with my students.
More Posts on Movie Talks: