Welcome to flu season. Ugh. Hopefully your house has missed the bug – mine did NOT. My husband came down with it last week and I was out for THREE days this week. I'm pretty sure I would not have survived without the help of two things: my awesome department and Google Classroom. I want to share some of the sub plans my students did (without me! and without a Spanish-speaking sub!) that allowed them to keep moving forward while I was down and out.
Sub Plans Day 1: Screencasting
My school is a combo of provided 1:1 and BYOD. Students all have access to laptops or devices, which means that one of my go-to sub plans is screencasting. If you're unfamiliar with it, basically you record whatever is happening on your screen while your computer microphone records your voice (you can show your face, but you don't have to). I have used this for giving notes a la flipped classroom, telling a story, and even tried a Movie Talk/Edpuzzle combo.
My two favorite ways to ScreenCast are Screencastomatic or Screencastify. Both are free, and both have (slightly) different capabilities. Screencastify works on my Chromebook because it is an extension for your Chrome browser, but I like that Screencastomatic lets you select an area of your screen to share, rather than the WHOLE window. Play around with them! (PS. Both are FREE!..with premium upgrades, if you really need the whole razzle dazzle. I don't.)
On the second day of sickness, I wanted my students to practice what they had learned in the screencast. I didn't want a sit and work on a packet sort of day, especially because the previous day was full of sit-and-get from the video. Enter Corre en Círculos! This is one of my FAVORITE activities for practicing. It's basically a scavenger hunt where the right answer leads them to the next question, which leads them to the next, and so on. Because it is a big circle, they get instant feedback. If they mess up, the circle breaks, and they know it (because they finish too soon, or come upon a sheet that gives them feedback). PERFECT sub plans for practicing without a Spanish-speaking sub. My classes are very familiar with the activity so my substitute just taped the sheets on the walls,  reminded them how it works and set them loose. Beautiful.
PS. I have a ton of this scavenger hunt activity available in my store. Check them out here!
Sub Plans Day 3: Reading
Whew. At this point in the week I was beginning to wonder if I was ever going to get better. I was also getting really sick of making sub plans. My students were supposed to start Preterite and Imperfect this day. Ay! I went to the Spanish Language and Culture site and snagged the Goldilocks and the 3 Bears exercise. I tweaked it a little bit to highlight forms that we are working on (past progressive) and some patterns (cuando/mientras) that we focus on to start with our Preterite/Imperfect chapter. Ta-dah!
A quick Código de Colores activity was born. I have them do this on their computers and share it via Google Classroom, but you could certainly print it and break out the highlighters or colored pencils. I also have a few questions in English at the end of the activity, but they're pretty general because this is their first introduction to Preterite vs Imperfect. Click here if you'd like to save your own version of this to your Google Drive!
I have a few more of that kind of reading activity available in my store. Check them out here!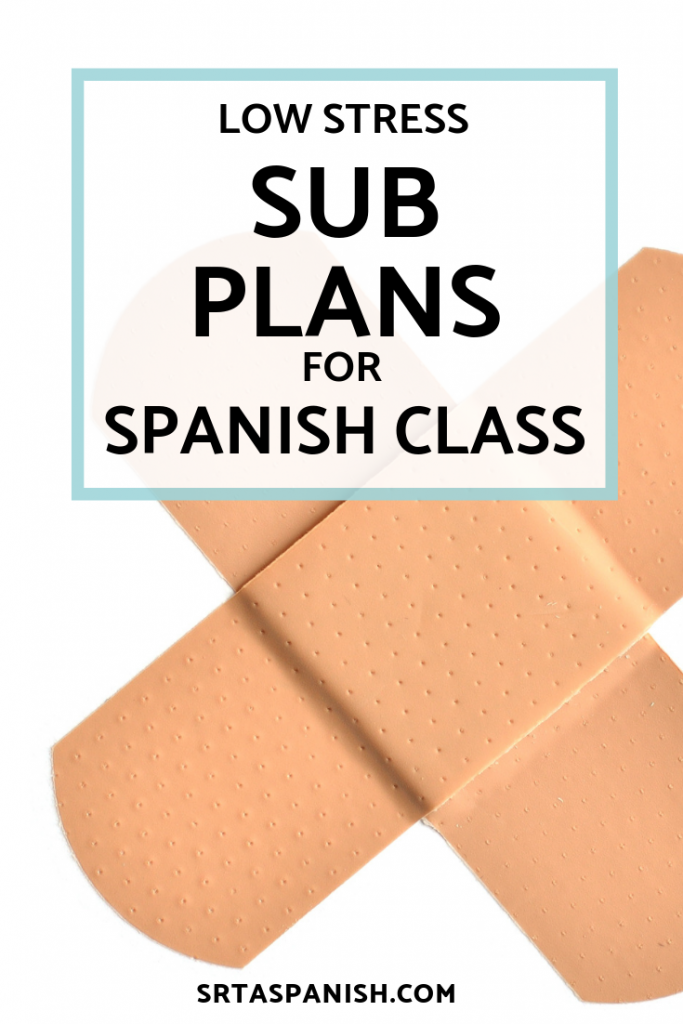 There! Three different Sub plan ideas for you that allow you to keep moving with your classes. I hope you find them helpful! What are some of your favorite things to do with a sub?