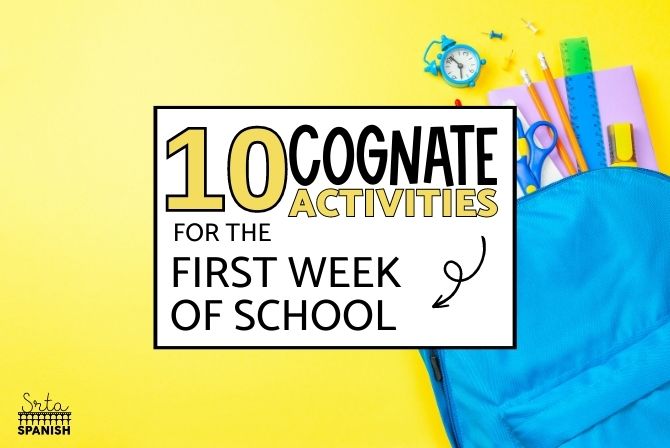 As we're looking ahead to the new school year it can be hard to know what to do first with your novices. There are plenty of fun activities you can do with your class during the first week of school that will help them grow in confidence and develop valuable language skills. From classroom decor to reading activities, here are 10 ideas for cognate activities that will make the first week of school enjoyable for everyone!
10 Cognate Activities for the First Week of Spanish Class
1. Cognates Bulletin Board and Activity Pages – Print and hang this display in your classroom to introduce your students to cognates! It has 140 cognates included, in color and black & white. This Cognates Bulletin Board and Activity Pages includes 6 worksheet pages you can use to introduce them to cognates. Or, you can print and put them in your folder for an easy emergency sub plan!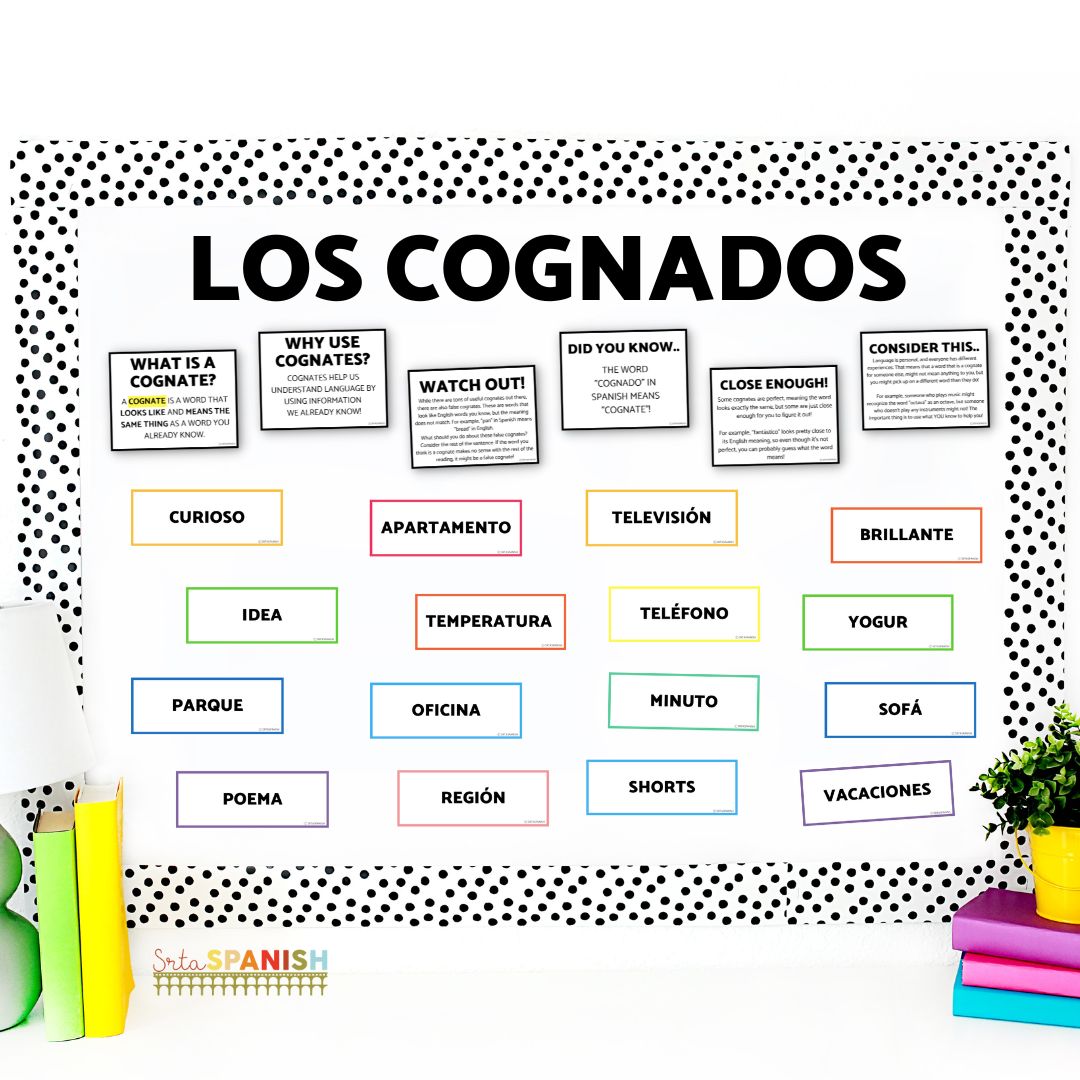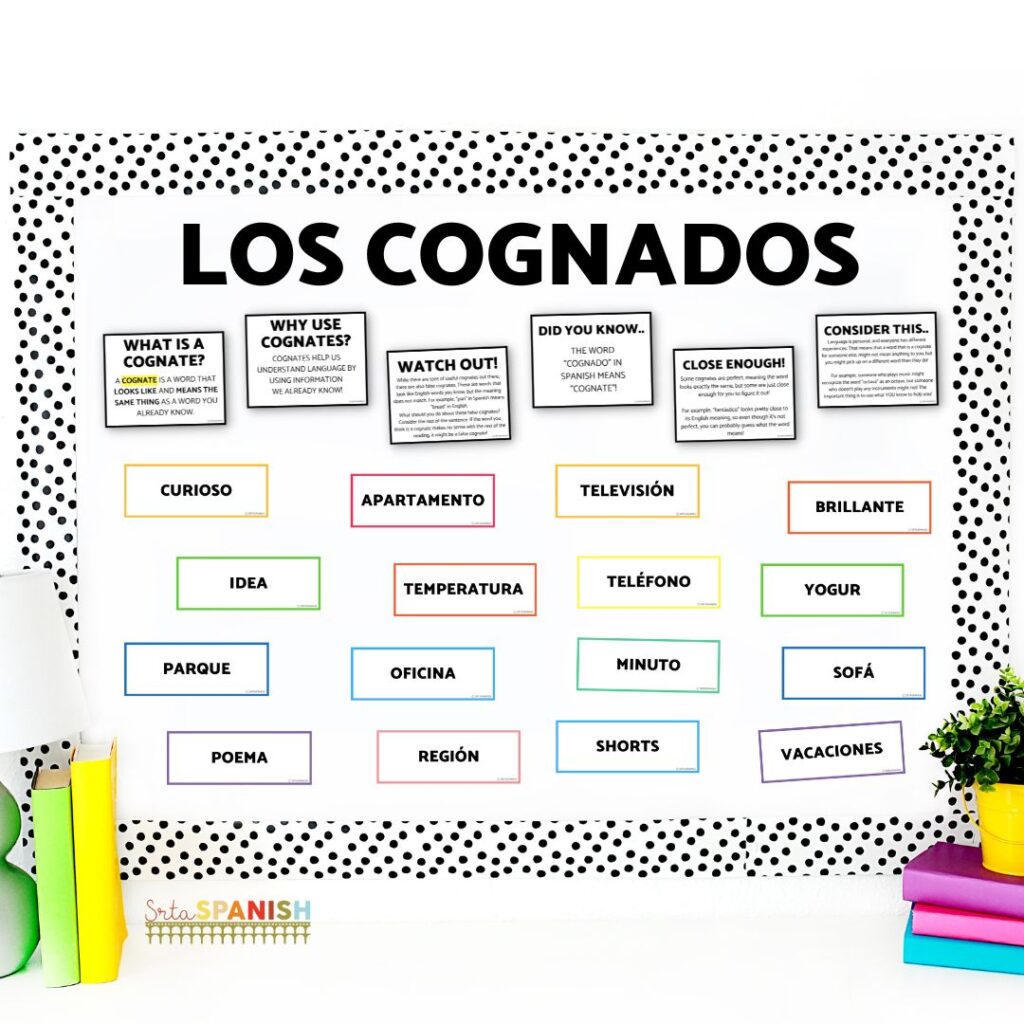 2. Cognates Boom Cards – I love Boom Cards because they are SO easy to use. Students get listening, reading, and writing practice in this instant grading digital task cards. Plus, you don't have to set up accounts and you don't have to pay for this website!
3. Partner Matamoscas Game – Everyone loves playing a game to engage your students! In this game students listen and race to be the first to touch the word on the game board. Here's more info about how to play.
4. Memory – A classic! I like to use this one after playing Partner Matamoscas to bring the energy back down a little bit. In this game, students read and match simple, cognate-heavy sentences in Spanish to their English translation.
5. ¡Corre en Círculos! Scavenger Hunt – Hang the clue cards and students follow them to solve the puzzle, while using cognates and strengthening their language skills! This scavenger hunt game is also a great option to take your students outside while the weather is still nice.
6. Word Search – A word search is a great way to get your students recognizing spelling patterns with the words. There's also a follow up activity to help students use the cognates they've found!
7. Reading Material Race – This is a great way to get your students flipping through your classroom library. After you've introduced cognates, pass out reading materials, put a timer on the screen, and have them race to find as many as they can! Just have them write them up on the whiteboard or a big piece of butcher paper. When the time is up, go through them together and have students guess meaning.
8. Listening Activities – One of the best parts about cognates is that students can hear how the language is supposed to sound. I like to use the same listening files a few times, but give the students different tasks. This way they get some more repetition in, and feel even more confident when they begin to recognize and understand!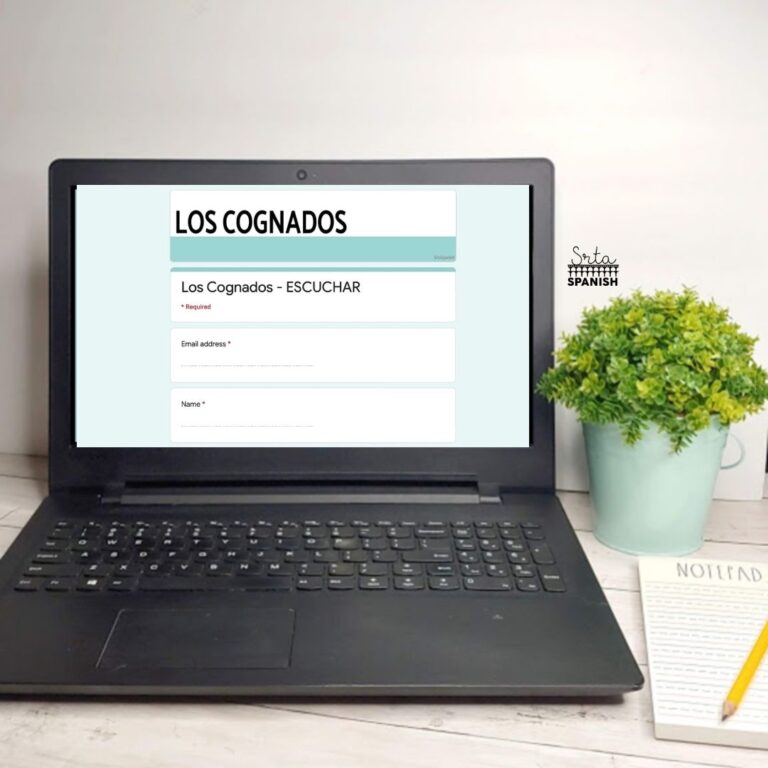 9. Reading Activities – Want a surefire way to make your students feel super confident? Give them a short reading PACKED with cognates and let 'em go! I love when students walk out of the second or third day of Spanish class going, "Wow! I can't believe we did that!". Give them a variety of activities to help them be successful and understand what they're reading, too!
10. Cognates Quiz – Can you call a quiz an activity? Well, we're going to! I love doing this assessment after practicing cognates for a few classes. Students are surprised at how much Spanish they know right away!
With the start of the school year approaching, it's time to start planning some activities for the first week of school. Cognates are a great first unit to do with your students so they feel successful! Whatever cognate activities you choose, these ideas will ensure that your students start off the year on the right foot.
More Ideas