Matamoscas is a fun game that's been around for a long time! I have no idea where it came from, or who first started it, but it sure is fun! Matamoscas can be played as a whole class, but I also love Partner Matamoscas to engage all students!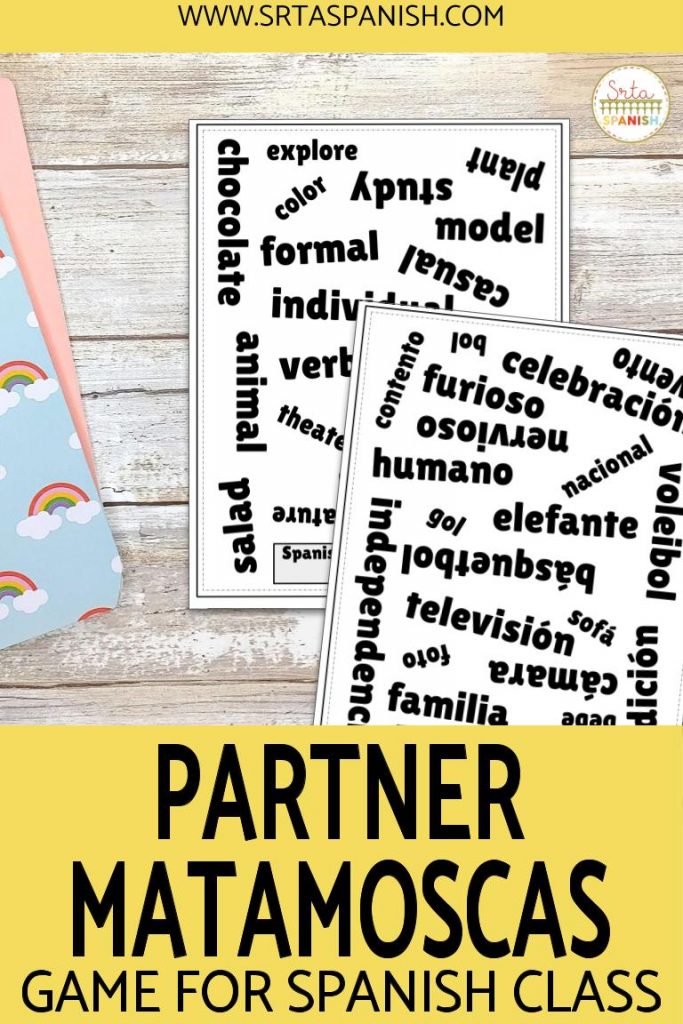 If you're not familiar with this game, La Maestra Loca has a great post here explaining how she plays with her whole class.
Essentially, the students have a board of words in front of them. The teacher calls out a word or phrase, and students race to be the first to "swat the fly" (hit the word)! If you're playing as a whole class, the game board is usually your whiteboard or screen in the front of the room. To play Partner Matamoscas, I just use a sheet of paper and put it in between two students!
Above you can see a simple example from my Cognates Games and Activities resource! Put one game board between two students and call out a word in either Spanish (for the English board) or English (for the Spanish board). Students then race to be the first to touch the corresponding word. You can have them touch it with their fingers, or you can give students a colored marker and let them strike through the word with their color.
Points during Partner Matamoscas
If you would like, you can have students keep track of points. Sometimes I have them keep track to up the engagement, and sometimes I just want to play! If we do keep track of points I offer this option: if they tie, or can't agree who got to the word first, Profe gets the point. Huh? Let's chat about that! If we keep track of points during Partner Matamoscas, their score sheet has a column for Partner 1, Partner 2, and Profe. Why do I bother with this? Because if two students start arguing about who won that round, it's easy to holler, "Profe points!" and move onto the next round ASAP without them holding up the whole class.
Tweaks for Partner Matamoscas
This is a great game, but does it have to be translation? If the teacher calls in Spanish, that's a great way for them to be hearing more of the target language, but sometimes we don't want it to always be from the target language to L1. And you don't always have to prep the game board ahead of time! Here are some options for you:
Have students create the game board similar to how La Maestra Loca describes in her post here!
Have students create a storyboard or illustrate sentences from a story in class. Then, use those images for Matamoscas! Describe the image and let students pick the image that you're describing.
Use chunks of language, instead of individual words.
Your Turn!
Do you play this game in your class? What different ways could you see yourself using it?