Sub plans were last on my list of things to do for my first years of teaching. I was planning for the next week ahead, not a hypothetical just in case plan! A whole sub binder? I was definitely NOT that prepared.
I finally perfected my Sub Binder and I'm sharing it with you! You will need to print and add some of your own things (hello, rosters and seating charts), but the framework is here for you!
General Intro: I put my non-negotiable rules for my students, so the sub knows what I expect in my room without a doubt. I also clarify what are "gray areas" that they have the power to decide on.

In Case of Emergency: Go to your secretary or mentor and get a copy of the emergency plans for every scenario. Draw the exit for the fire drill, hallway for the tornado, what to do for various lock downs, everything. If you don't know them, ask!

Bell Schedules: Make sure you include all versions! My school has a late start for PLC so on those days the bell schedule is wacky and they'd be lost without the right schedule.

Rosters/Seating Charts: Hopefully this is a print and go step! I've found that most subs appreciate it if you include the chart that has pictures of the students.

Notes About the Day: I leave copies of this page in the binder because otherwise sometimes subs just snag any old paper to write notes about students. I have it sectioned by class period to keep information organized.

Emergency Plans: No one wants to be up at 4 am puking and trying to write plans! I have several things linked that I have enough copies of for each student stored in the binder. Check out my post on sub plans here for more ideas!
Questions? Comments? Thoughts? Ideas?
Those are all of the pieces I include in my Sub Binder. I'd love to hear if there is anything else you would add or need!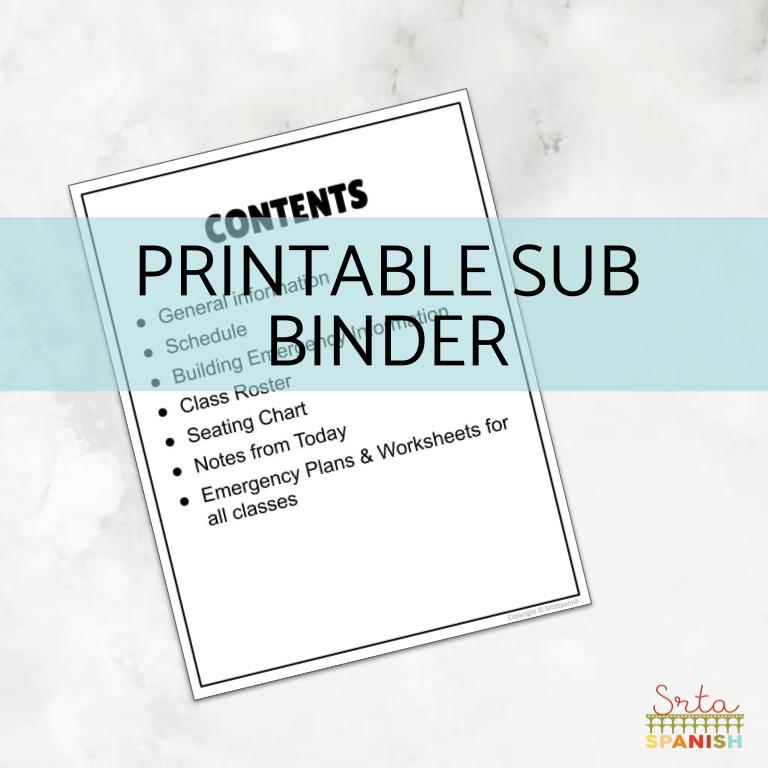 This version is simple because you can personalize it if you'd like, or just print it and get that step checked off your list!