Who doesn't love the Olympics? Let's talk about some ways to incorporate the Olympics in Spanish class.
Now, along with the Olympics, I LOVE stations. and I LOVE games days. I really love combining both of those things.When my Spanish I students were working on sports, it was a great opportunity to bring "Los Juegos Olímpicos" into our lessons.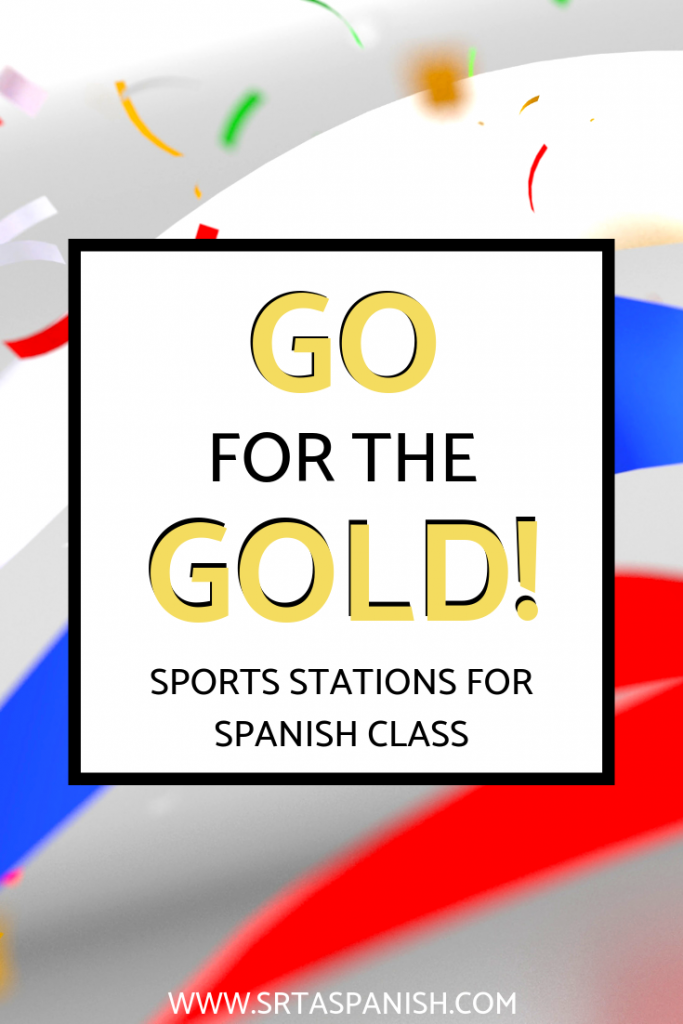 Set Up
To begin this was like any other station day. Think about what you want your students to be able to do, then come up with a series of activities to practice those skills. I have big classes, and don't like when my stations get crowded, so I came up with seven activities to focus on JUGAR and sports vocabulary.
Then it got a liiiitle crazy. I wanted students to feel like we were actually participating in the Olympics in Spanish class. With some help from this post on student feedback using leaderboards, I created a leaderboard to track each country's point totals as they completed the individual activities.
Let the games BEGIN!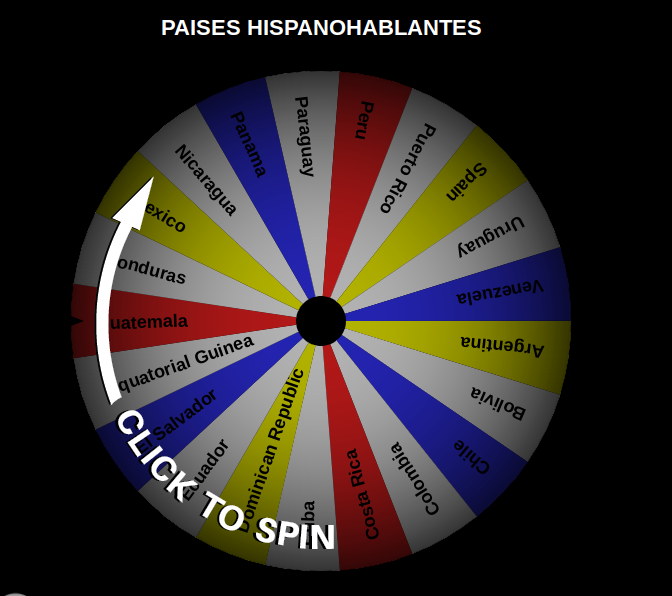 If you've ever read Teach Like a Pirate by Dave Burgess, you've encountered the idea of changing up settings. The goal here was for students to get into the game and be engaged in practicing our sports vocabulary. As students walked into the class I played Olympic March on our speakers. A custom wheel from Wheeldecide.com was on the screen to help students figure out what country they were representing in our version of the Games.

*There are so many ways to group or pair students, but for this activity I kept it really simple and just had them work with their shoulder partners. We sit in cooperative learning groups every day, so it was really straightforward to let them know who their partner was and get on with the games!
Our warm-up for the day involved some quick research on their country and discussion of what they discovered, then it was time to get rolling.
Game Play
Each station is worth a specific amount of points, depending on how long it takes, and how difficult it is.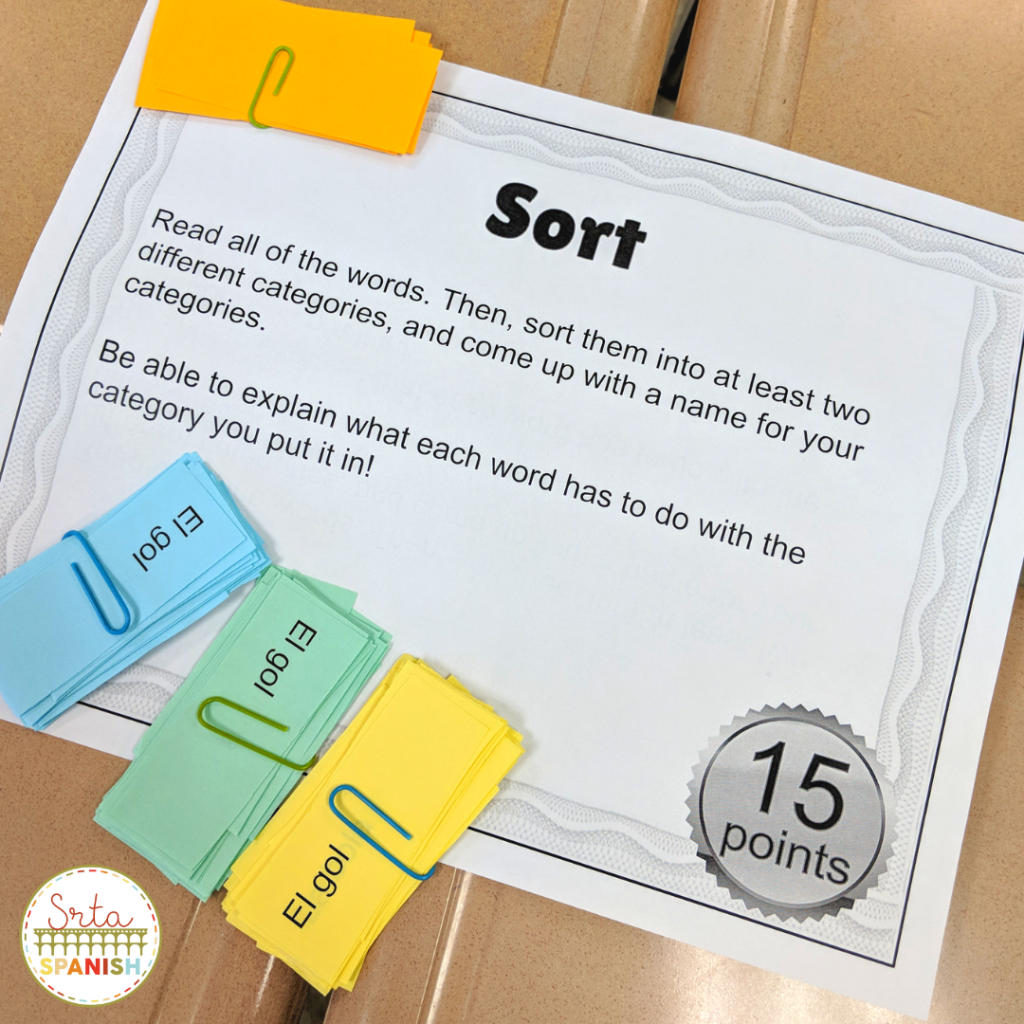 As teams complete activities they call me over OR bring me proof of completion of the station and I would update our leaderboard as we would go throughout the class period. At first it's tricky to update and give feedback on the fly, but you get faster with practice!
I would occasionally call out the first, second, and third places as things updated. If someone moved up several places, or if there was a tie I made sure to highlight that. It's fun to keep the competition going when the Olympics are here! Students start picking more difficult or in-depth stations, because they were worth more. Classes that got really into it started chanting their country's names as they moved up the leaderboard. It gets intense, so be ready for that!
Medal Ceremony
If it's a competition, there's a winner, right? It doesn't have to be a huge prize though. You know what we did? I put the Olympic Podium up on the Smartboard and let the winning teams write their names and their country on the appropriate places, all the while blaring the Olympic March again. They got really into their "national pride" and competing for "the glory". Incorporating the Olympic Games in Spanish class? Success!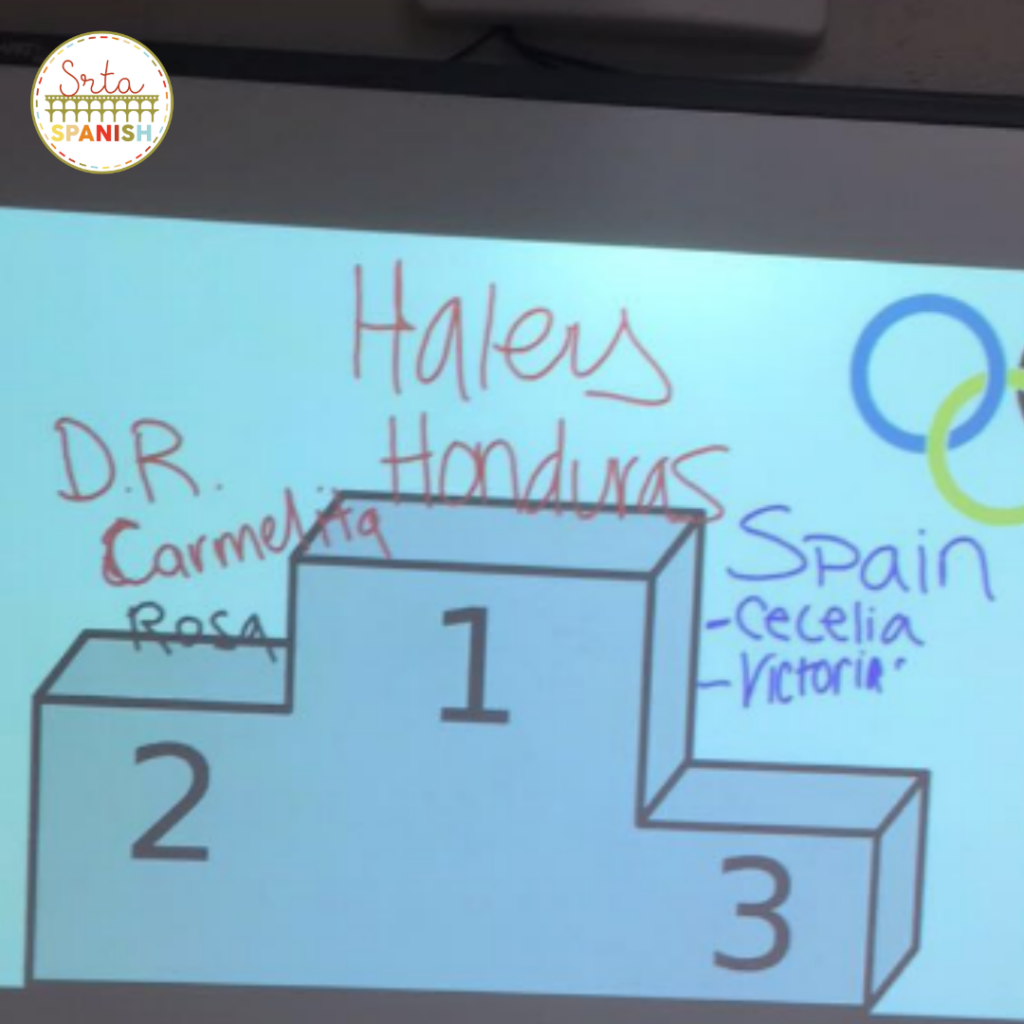 If you would like all of these stations and activities I used to make this day come together, they are available in my Store – the symbols from the Olympics have been removed in the resource due to copyright, but the activities and use remain the same!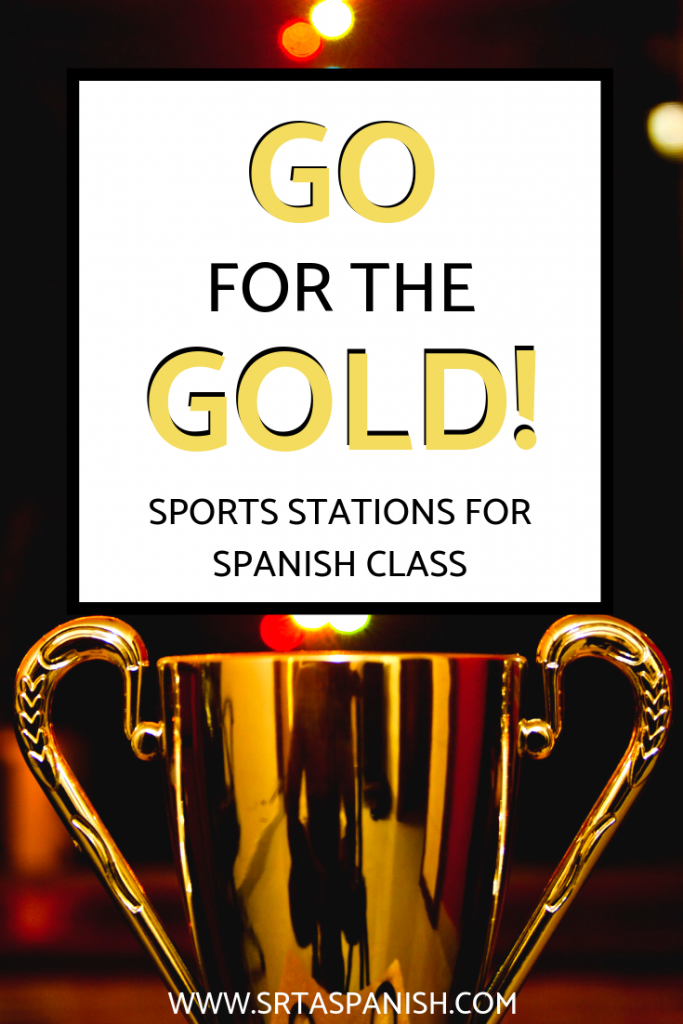 Please let me know if you decide to give this a try! My students have fun with it every year and it is truly one of my FAVORITE lessons of ALL TIME!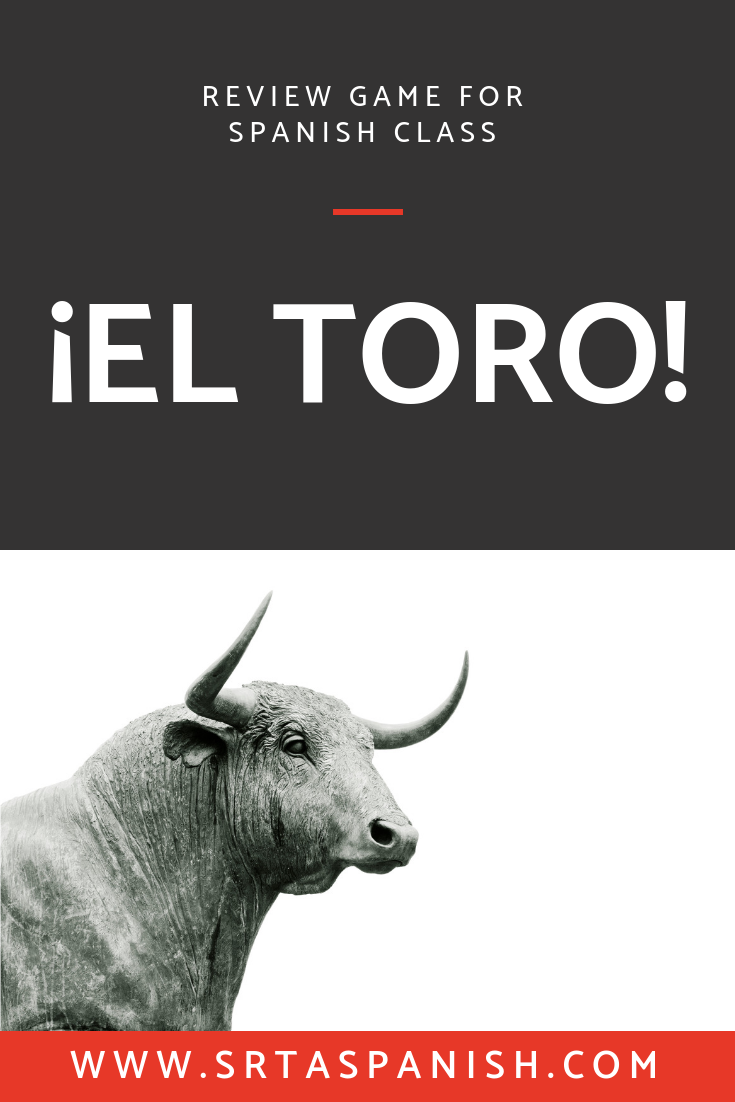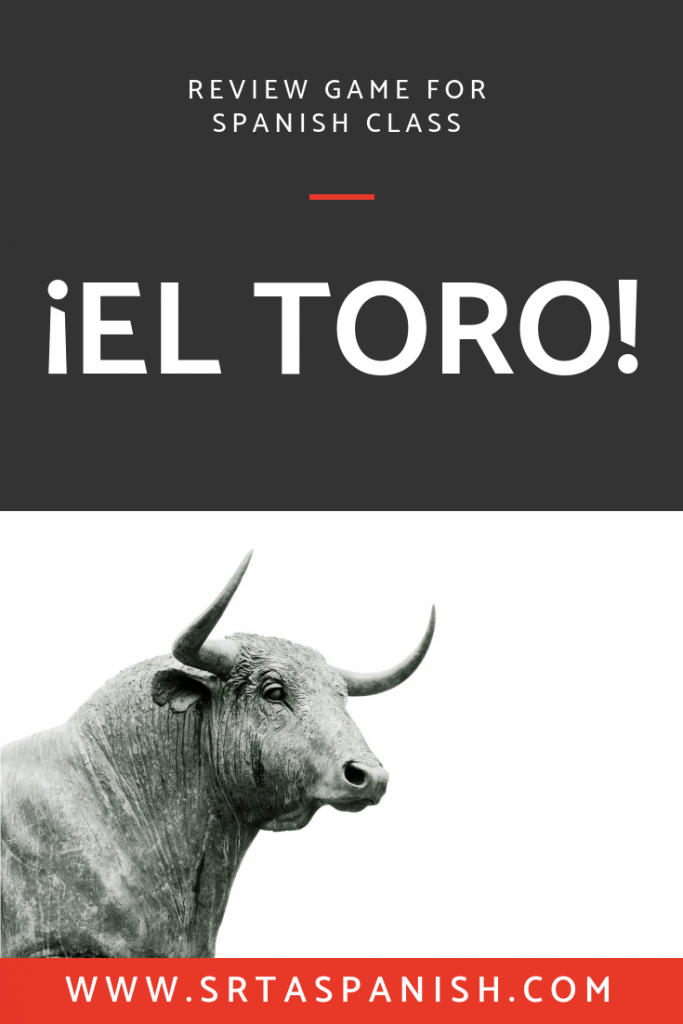 Looking for more gamification ideas for your classroom? Check out Amy Skillicorn's post on her gamified LATIN class here!