Happy Tuesday everyone! Tuesdays in my Spanish I classroom this year are Free Voluntary Reading (FVR) days. This is a routine I have incorporated this year into my weekly plans, and I have been enjoying it so far.
I have already shared posts on how to find resources for your classroom library and a post on my own classroom library (wish)list, but I wanted to share some of the expectations I have set with my students during FVR and how things are going with it so far this year!
See more on readers in your classroom:
Watch the Video
Free Voluntary Reading Expectations
We start every Tuesday with a quick reminder of the expectations during FVR. The short and simple expectations go like this:
Choose something to read.
Read for 5 minutes.
Simple, right? Well…we have also been doing a LOT of discussion of both of those things.
1. Choose something to read.
How do you coach your students to choose something to read? You want them to choose the "right" material, but you also want to make sure it's helpful for them! Here's some of the language we have been using:
Pick something INTERESTING & COMPREHENSIBLE.
You should enjoy it and it should be relatively easy for you to read.

It does not have to be completely fascinating, and you do not have to understand every single word. It just has to hold your interest

for a while, and it has to be something that you can mostly understand.

If you find you don't like it or it doesn't make sense to you, choose something else to read

next time.

You can also read the same thing again if you want.

That is a good option too!
None of that language came from me. Check out Bryce Hedstrom's resources here!
We have also used reading resources that get sent home to my co-worker's first-grade kids. It's been really helpful and spot on, so if you have any elementary ed friends, give them a call!
2. Read for 5 minutes.
That seems simple, right? It is nice to spell out exactly what it means though, so here is what we have clarified:
While we are reading there are NO DISTRACTIONS:
No getting new books
No bathroom passes
No throwing away trash
No talking
No writing
No sleeping
No drawing
We are reading. We are not avoiding reading, and we are not pretending to read.
Again, none of that language came from me. Here is Bryce Hedstrom's poster that you could print off and point to if needed!
Free Voluntary Reading Procedures
Every Tuesday we start off by refreshing ourselves on those procedures and expectations. It is getting a little faster, but I really really want to have zero questions about what I'm looking for behavior-wise during this time.
After those reminders, I dismiss by groups of students to pick up reading material. I would like to eventually transition into just reading right away at the beginning of class every Tuesday, but we'll get there! I dismiss using different chunks of language. "My birthday is in…", "I am wearing..", something like that. Once everyone has reading material I start the timer and read.
At first, I was projecting the timer for students, but I realized that I kept looking up and checking it. When I found myself doing it, I noticed that students were doing it too. AGH. We're reading…not checking the time over and over for 5 minutes! Now I set an alarm on my phone and jump out of my seat when it goes off.
I also read with my students. In some classes, I sit at my desk and read. Sometimes I sit at a table group if there's space. Sometimes I stand near a group that seems like they're having a hard time settling, but I just stand there, read, and let proximity work.
Free Voluntary Reading Wrap-Up
This has been something that I have changed a few times as we've progressed through the weeks. First off, I simply asked students to hold up what they read if they would recommend it to someone else. We looked around to get an idea for something else to pick up.
I have also asked students to raise their hands if they plan on picking up the same material next week because it helps me get an idea for how many students have found something that they seem to enjoy, and who may need help finding something.
Now that we have kind of settled in, I ask students to tell their groups one thing that happened in their reading. I either join a group or float and listen to what they're talking about. Finally, we pack up the books so it's easy for me to carry them to my next classroom and transition into our next activity.
Free Voluntary Reading ..Name Change?
One more thing! I actually don't call this Free Voluntary Reading or FVR in my classroom at all. Ever. My thought was because I was sure that I would have at least one student get on the "But it's not voluntary!!" train and I just wanted to avoid that battle altogether.
We say martes es el día de L.E.E.R and L.E.E.R. stands for..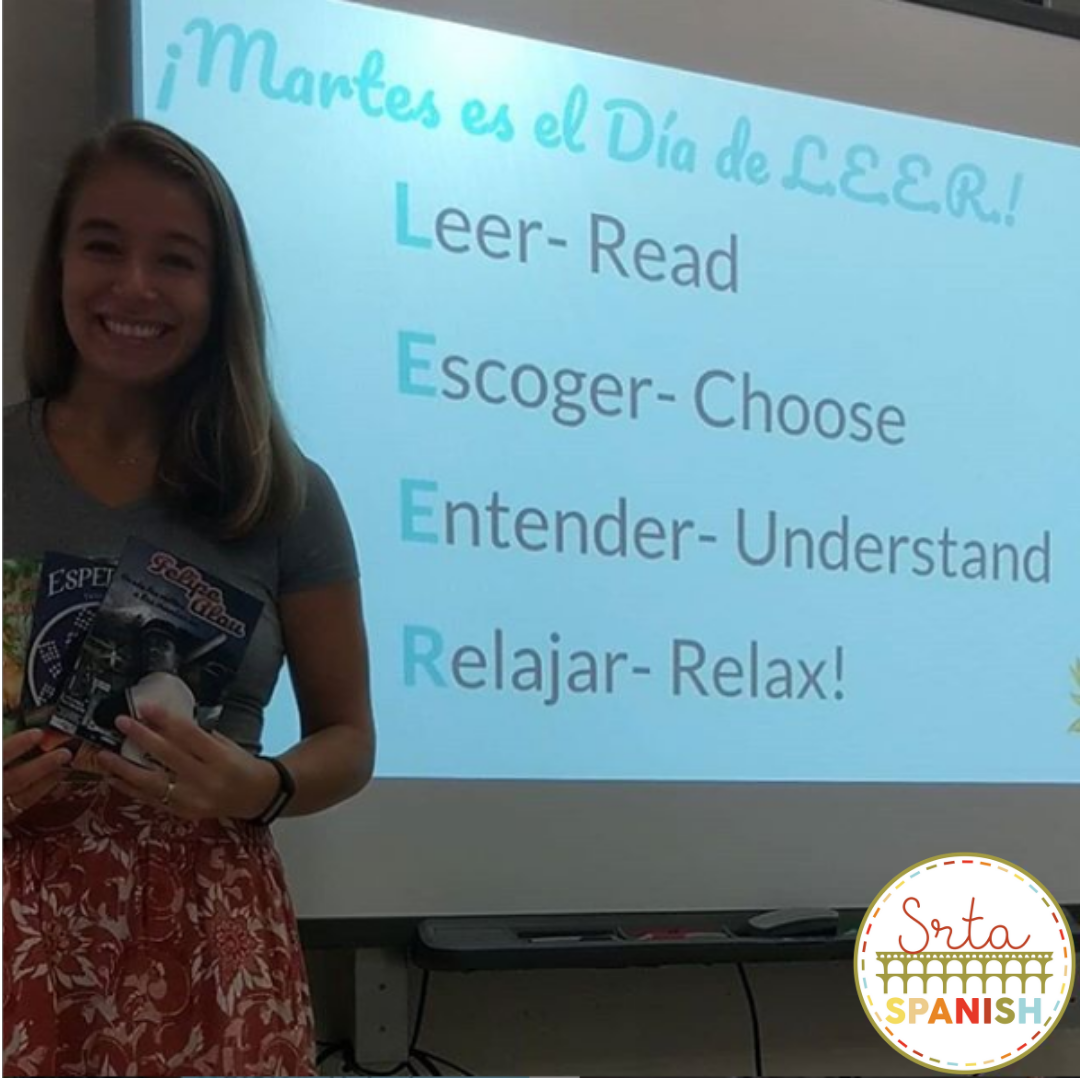 which I love! Kristi Kremer shared this in a Facebook group and I think it's just perfect to stand for what we're trying to do with this routine.
Sign up to print them off for your classroom! Don't forget to tag me on Instagram if you hang them!
Free Voluntary Reading – What do you do?
I'd love to hear about what you are currently doing in your classroom! Do you have any of these same procedures also? Thanks for sharing your tips with me!