As the first quarter is wrapping up, I wanted to reflect and share how Persona Especial has been going with my Spanish I classes so far. Persona Especial, or Special Person Interviews are from Bryce Hedstrom. You can check out my post on the Basics of Special Person Interviews here!
Our very first Persona Especial took place on the fifth day of school. I've already shared about how that went here, but I really think that inviting the administrators in helped set the tone and community for the interviews for the rest of the quarter. My admin aren't Spanish-speakers, so I think it helped show the students how I would help them and how they could be successful using the supports given to them.
The second week of school we really kicked off. My plan has been to use Persona Especial interviews as one of our daily routines. Every Thursday after a check in and calendar talk, we begin Persona Especial!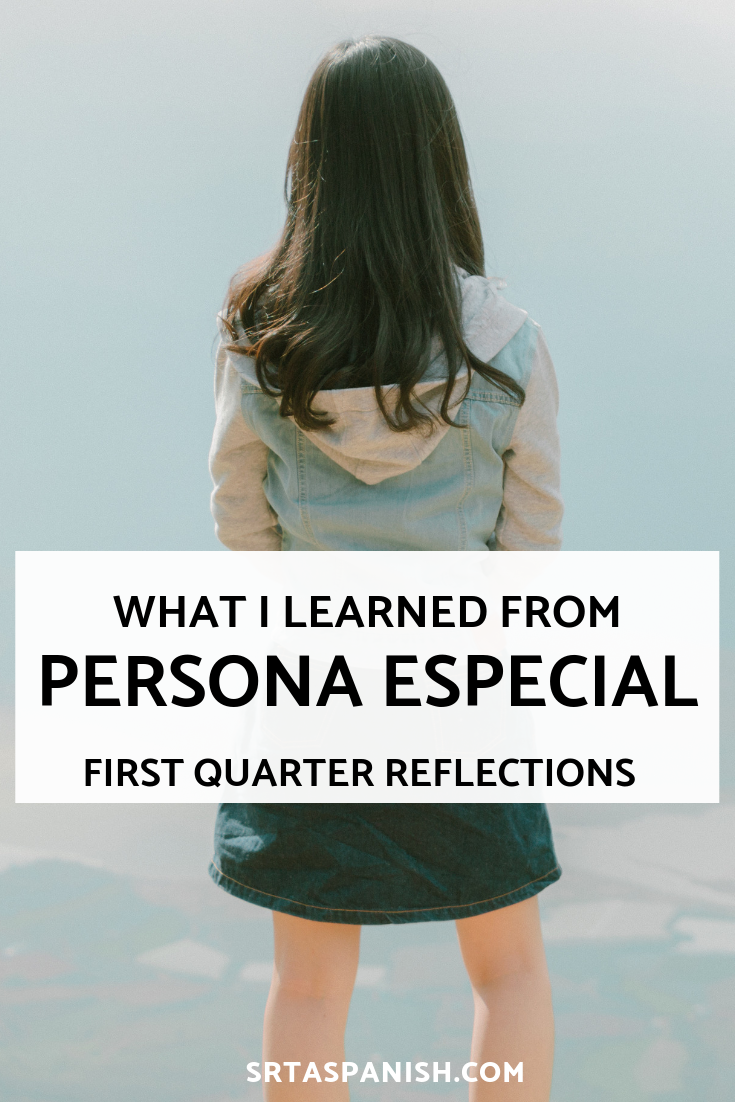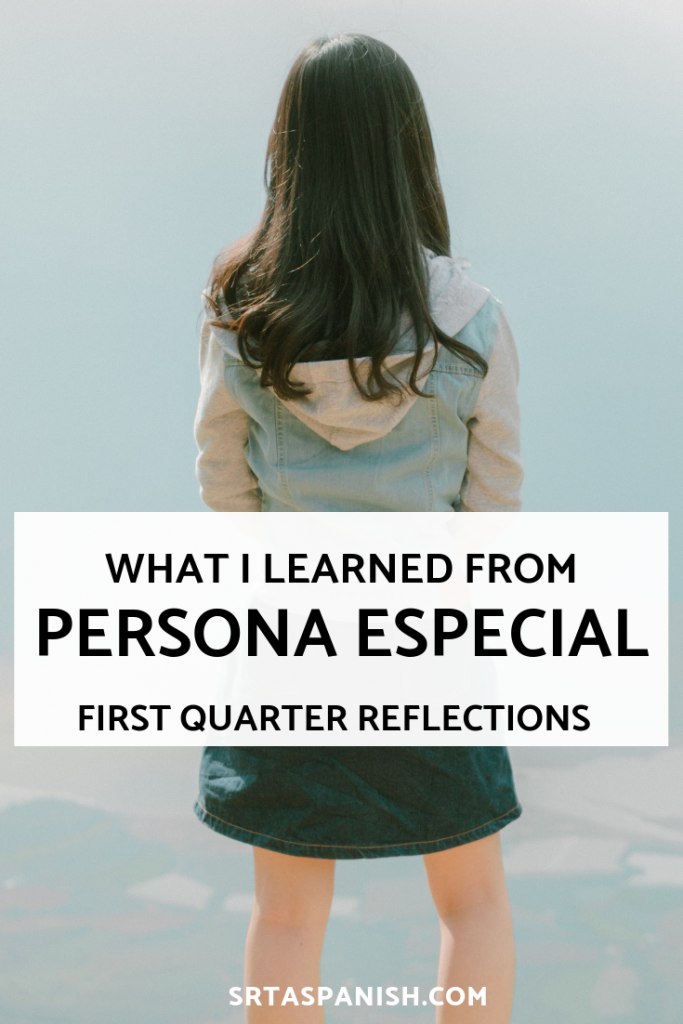 Setting Up Persona Especial:
I ask for volunteers from my classes. In the beginning, I had just one or two brave students in each class period. Now that we've done it a few times, I usually have a few hands shoot up! I make them "Uno, dos, tres, dale" (rock, paper, scissors) for the honor, and the winner moves to the special seat.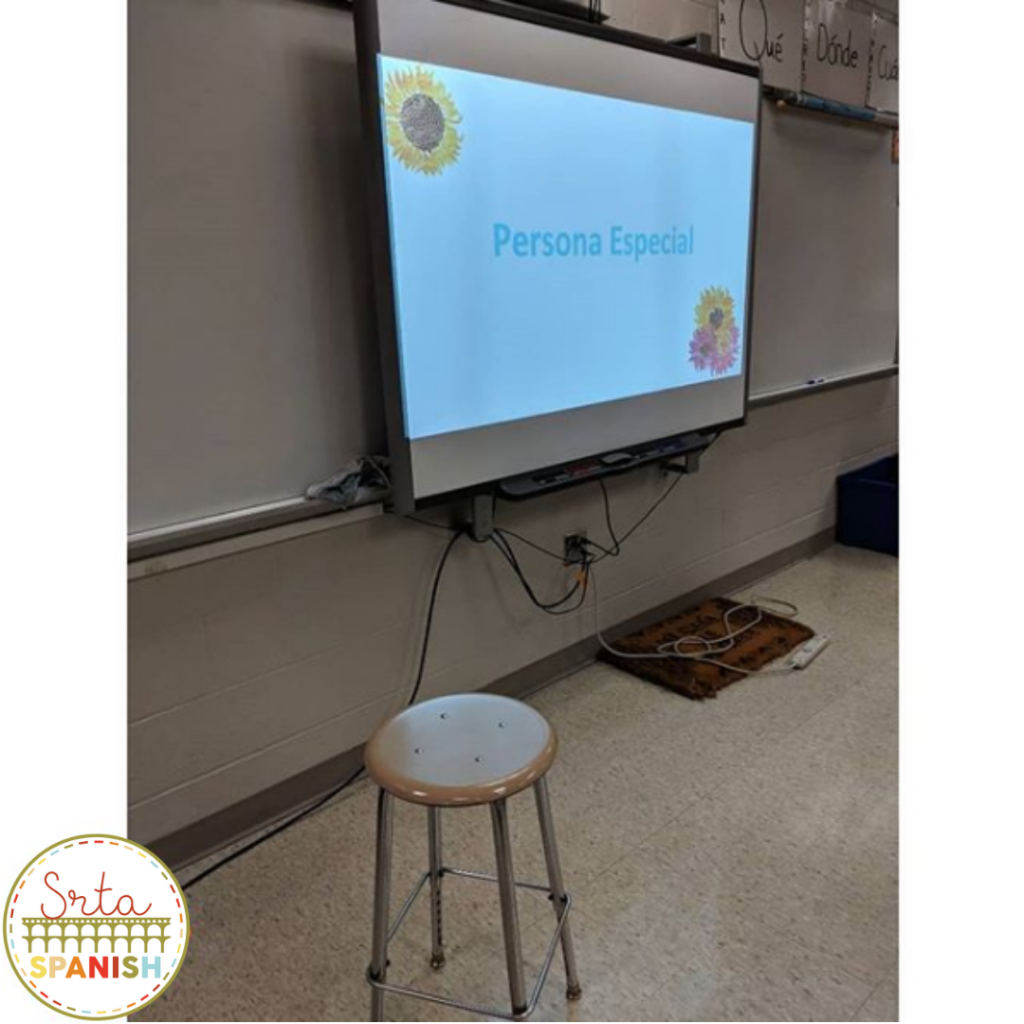 Side note – the special seat is just a stool from the science lab. But it's tall, mobile, and not attached to a desk, so that's a win. Plus, different = special.
The Slides and the questions projected. I use Slides from Mis Clases Locas, and they were a great starting point, especially since when I first started this routine. I really wanted students to be successful, but also felt like I wasn't really sure what I was doing! They were a great safety net and launching point to help find where I wanted to go with it.
During the Persona Especial Interview:
As I interview, I take notes on the whiteboard. I start with their name, and how to spell it. I write down their interests so we have a list of those words, and then other bits and pieces. I LOVE when my students signal me to write things so they can see them, like we practice. I've also been making sure to write out the classes every time because that's required content in Spanish I in my district. I'll also circle with myself in the questions so they can hear some more "yo" form, but pretty minimally. The focus is on our Persona!
My students aren't taking notes during the interview. They are supposed to be actively listening. Some days that goes better than others. I do a little bit of circling with the information given from the Persona Especial, and sometimes do quick PQA with the class. Sometimes my students add in our rejoinders. For example, "What do you like?" comes before "Do you play any sports?" so pretty often our P.E. will tell us they like to play something, then we get to that spot and I'll just ask the whole class if the P.E. plays sports. "¡Es obvio!" Hah! Alrighty then, guys. Moving on!
Every few questions I've added slides for students to review. We interview the student for awhile, and then the class as a whole recites, "(X) name is _____. (X) is ____ years old. (X) is from _____. (X) lives in a _____ in _______." This is meant to be just a quick review. I wanted to give them a chance to talk, to say some of those words they're hearing, and to get some more repetition in a different way. We do this about 4 times total during the whole interview, adding on information as we go.
After the Interview:
As we wrap up, I thank the student for being our Persona Especial, and our class gives the person a brief round of applause for stepping up. Then, I instruct the students to take out a sheet of paper and a pencil. They have three minutes to write as much as they can about the person. It's not a TON of time, but they have been doing pretty well with it!
I leave the structures up on the screen. My thought with this is that I want them to be practicing – reading and writing – accurate structures. Any notes I wrote on the whiteboard remain up for the as well. After the first few weeks I created a different sheet for the Persona Especial to use afterwards, that specifically includes the structures in the "yo" forms instead of the third person. Again, I really want them to be seeing and practicing with accurate forms, not forcing the output on their own. I don't think they're ready for that just yet!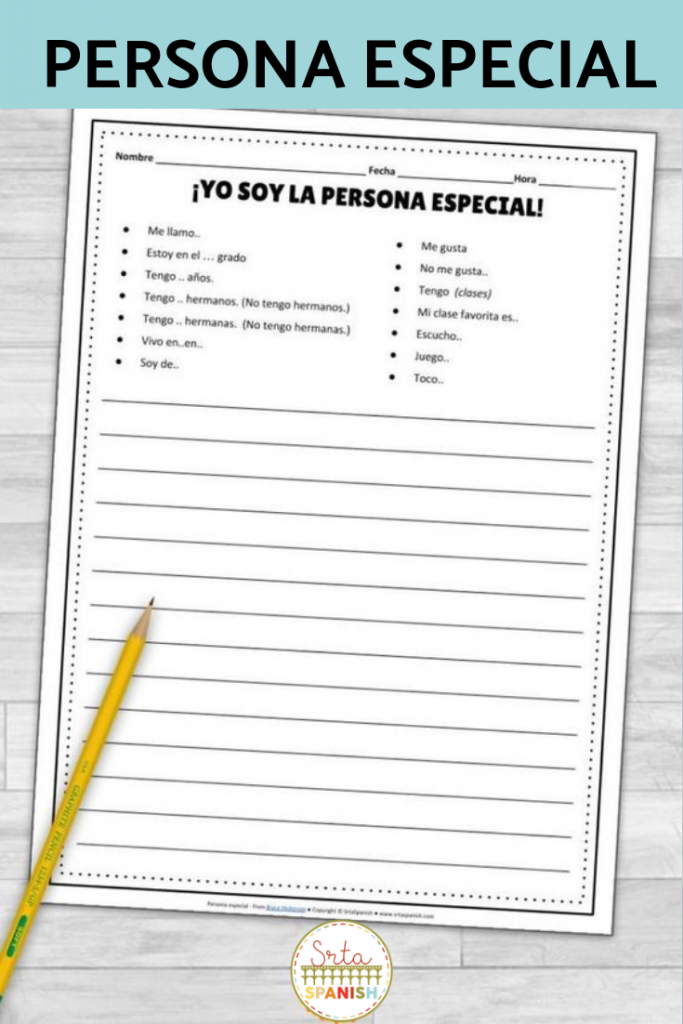 When the timer is up, they count their words. They make a note "N de P #____" (número de palabras) on the bottom of their sheet, then record "P.E. #__". (Persona Especial number..). I've been keeping the writings from week to week and plan on using them at conferences to share some of the students' work. The students also like to see how much they can write!
What's Next for Persona Especial?
For the next quarter, I want to start incorporating a form William Langley shared in the iFLT/NTPRS/CI Teaching Facebook Group. The half sheet includes spaces for students to write in three ways:
¿Qué dice la persona? What does this person say about him/herself?

¿Qué digo yo sobre la persona? What can I say about him/her?

¿Qué tenemos en común? What do we have in common?
You can download his sheet here, free!
I love that it allows them to practice multiple forms – even nosotros! I think this will cause us to slow down a LOT, but that's not a bad thing. In fact, it's a great thing. I worry that I'm going too fast, which is one of the reasons why I try and write a ton on the whiteboard during the interviews – I write a lot slower than I can talk!
Also looking towards the end of the semester, I would really like to make sure we get to every student, BUT I also don't know how to do that with big class sizes. Do I shorten the interviews and do multiple interviews each Thursday? I don't want to feel like we're rushing the students. Do you have any suggestions for me? I'd love to hear them!