Are you looking for ways to give your students more input? Check out these Spanish reading comprehension passages and activities to support your students! You'll love how easy it is to download the set of readings and give them to your students – just print and go. Here's where you can find more than 20 sets of Spanish reading comprehension passages!
How can students practice reading comprehension in Spanish?
There's lots of different ways you can get your students to practice reading comprehension, but the simplest answer is more reading! Specifically, more reading, at or juuuuust above their current level. They should be able to easily understand most of the passage.
Readings that recycle high frequency verbs and vocabulary your students are familiar with are a great way to support your students. Add in images and footnotes and you have a recipe for successful comprehension!
Do you need Spanish reading comprehension passages with questions?
Each of these sets of readings comes with several pages of worksheets and activities to support your students! You can have them complete the scavenger hunt sheet as a gallery walk, or you can have them work individually on the Spanish reading comprehension worksheets that go with each set. Check out this example!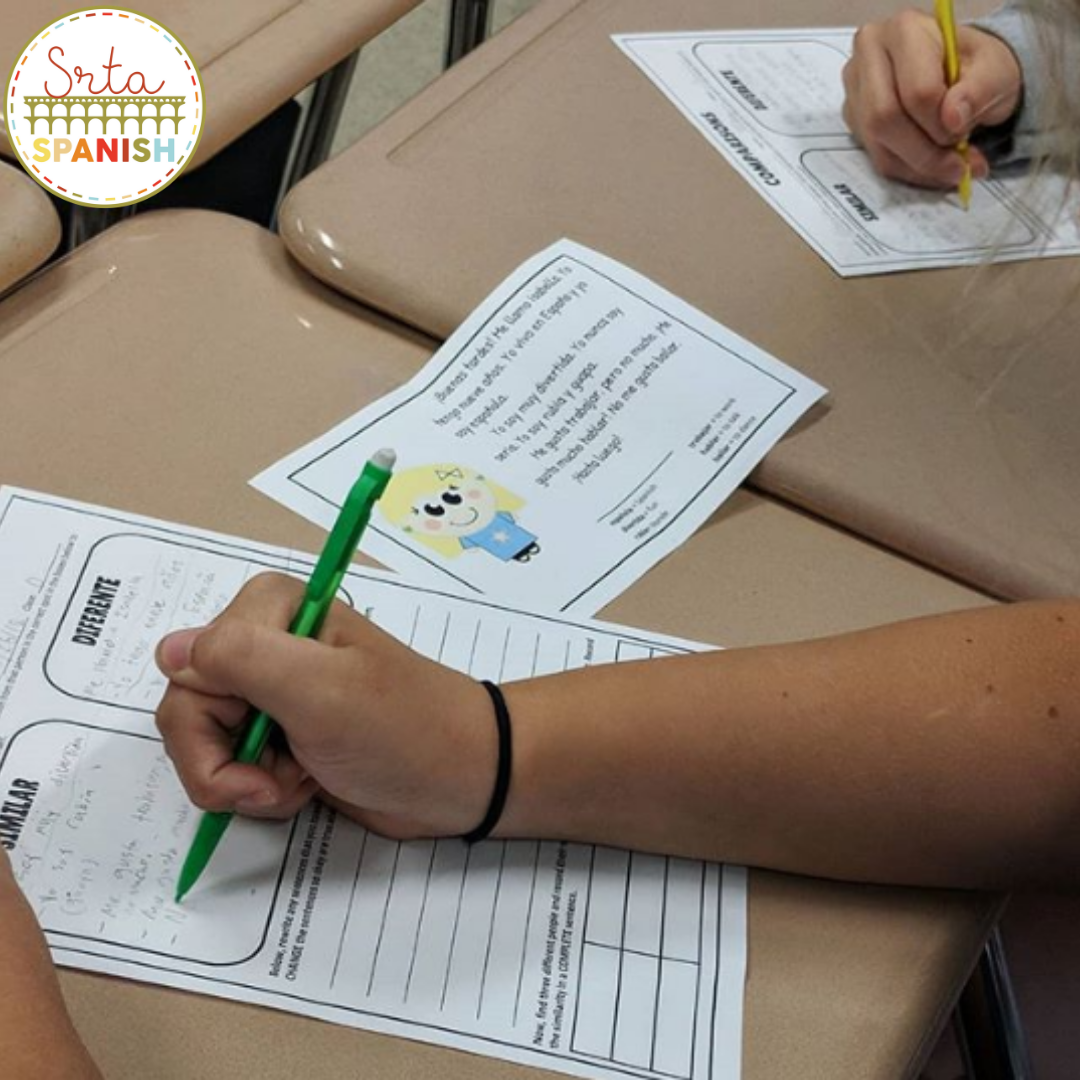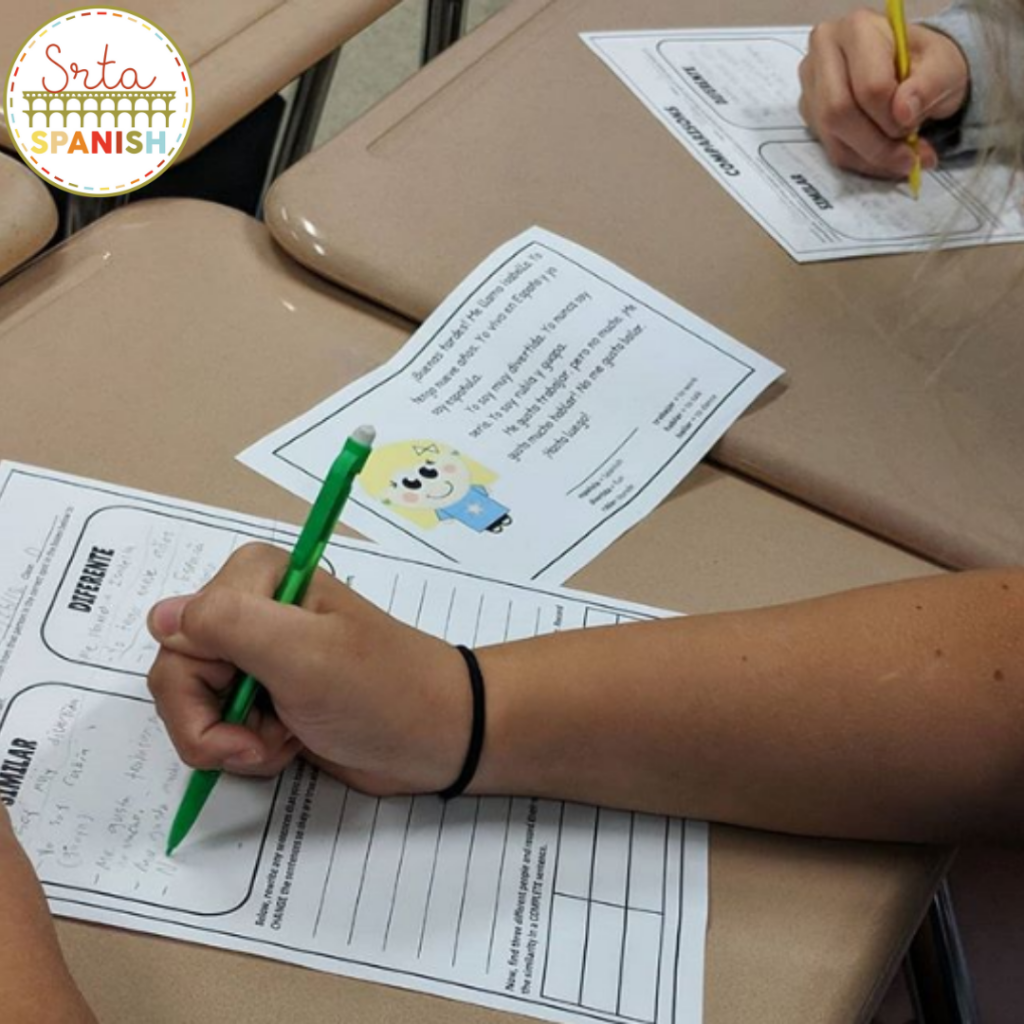 Where can I find reading comprehension passages?
Right here! There are more than 20 sets of passages – each set has at least 10 readings in it, plus questions, activities, and more. Printable and digital versions of every single page are included so you can choose what fits your students' needs the best!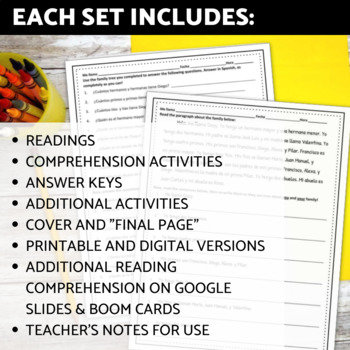 Engage your Students with a Variety of Topics
It's great to have sets of reading comprehension passages that you can use for different units that you teach. Sometimes students connect more strongly with the material when reading about a topic that's particularly interesting to them, or that they find relatable!
Asian and Pacific Islander Heritage
Cuando Era Niño
Cuando Era Niña (one person's perspective at different ages throughout her life)
En la ciudad
Las mascotas
La familia
Daily routine and reflexive verbs
Introductions and personal descriptions – famous women
Introductions and personal descriptions – students
Introductions and personal descriptions – Hispanic Heritage Month
Ir a infinitive – summer plans
La escuela and daily schedules
Los pasatiempos
Los animales
Los deportes
Black History Month (see below for the free download!)
Famous athletes
Famous scientists
Thanksgiving
Weekend chat
Vacations
Halloween
La ropa
See each of these more closely HERE!
Do you have any Spanish Reading Comprehension Passages for free?
I do! You can grab this set of readings to celebrate Black History Month in your classroom at the sign up below to get the set of readings and questions to go with them: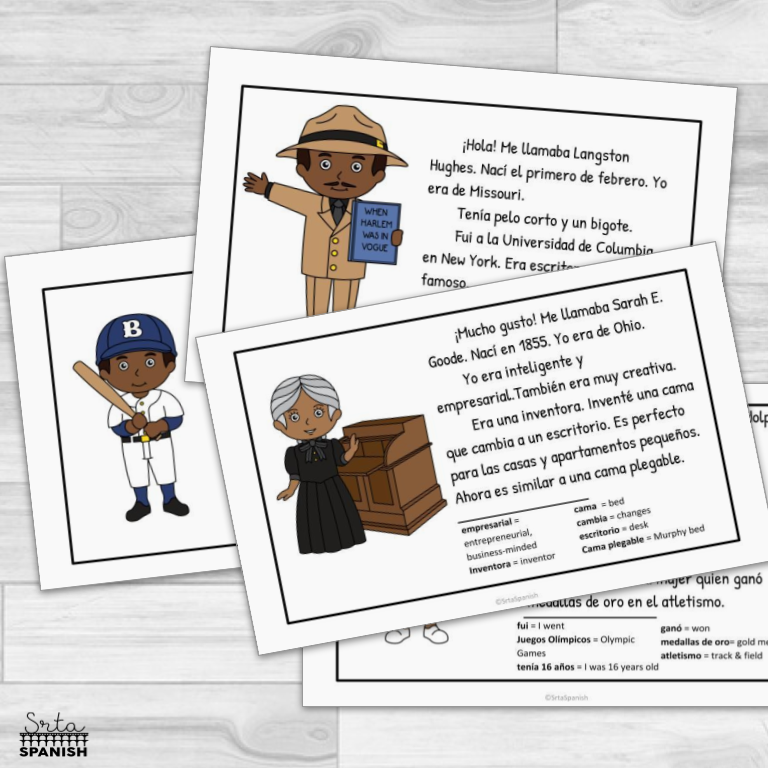 This resource includes a scavenger hunt activity in English, perfect to use for a Gallery Walk activity! Hang the readings around the room, make copies of the scavenger hunt, and you are good to go! The example is also included in my larger bundle of Gallery Walks, which you can purchase here. 
Download and SAVE!
Right now the bundle is discounted at a special price! Check it out: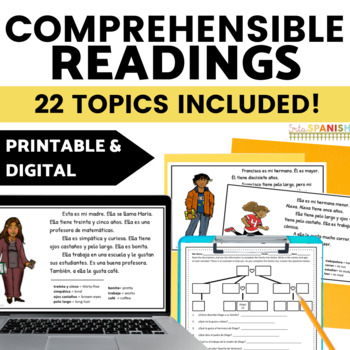 Spanish Reading Comprehension Passages Worksheets and Activities
Save yourself time with this VARIETY of readings for your novice Spanish students! These short readings are a great way for your students to get lots of input! Now in DIGITAL AND PRINTABLE OPTIONS!
– 83 MB – Zip