Llamas are huge right now! There are so many fun variations of classroom displays, decor ideas, and school supplies that are llama themed – it's bad for my bank account! This post is all about LLAMAzing Classrooms in elementary, middle, and high school classrooms – there's something for everyone here!
Without further ado…are you ready to be..LLAMAzed?
Bulletin Boards and Classroom Displays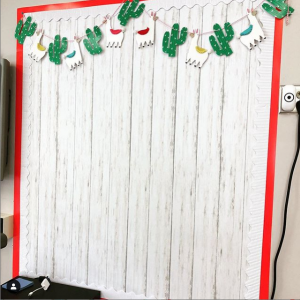 This board from @thedenniscrew is so pretty! The simple background is just so clean!
@srtalibertad combined the dates from Sra. Cruz and my llama calendar set to make this awesome display! I also love her letter board next to it 🙂
Ashley Lewis was prepared for Back to School night with this fun llama donation board! Each llama has a different way parents and guardians can help support her classroom.
Señora Richards used my ¿Cómo Te Llamas? display with her students to start off the school year! I LOVE how colorful and bright the llamas are!
The DRAMA LLAMA from @lasenorasara gives me some serious llama-envy! What a fun way to encourage using rejoinders during class!
Llama Themed Seating
Okay, if you follow @sra.davilamadwid on Instagram you KNOW she loves llamas! Look at this DIY Classroom Chair she did! It turned out…llamazing! (hah!)
How cute is this seating/storage DIY from Ashley Lewis ?! If you're using flexible seating in your classroom, this is a great addition to your llama theme!
Llama Doors
Señora Simmons has this super cute door to welcome students to Spanish class! I love the papel picado and the paper flowers too! Check out more of her llama theme here!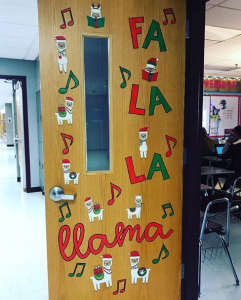 @sra.davilamadwid put together this door to decorate for the season! How fun!
Llama Resources!
I am SO excited to start Free Voluntary Reading (FVR) with my Spanish classes this year. These llama bookmarks from Erin at The Engaged Spanish Classroom are so cute and punny! Perfect for a little fun while they read!
Labels are a quick and easy way to get your students seeing a lot of Spanish around your classroom! They don't have to be huge or obtrusive, and these llama labels are adorable!
Erin at The Engaged Spanish Classroom has some pages that you can use for coloring OR print and go posters! Talk about multi-functional – great for fast finishers, or just some fun!
More back to school resources! I love having question words up to support my novices as I ask them Yes/No, Either/Or, and other, more complex questions. You can grab these here!
LLAMAS GALORE!
Click here to save this post for later on Pinterest!
Whew! Those really are some LLAMAzing resources for some bright and beautiful classrooms! (Psst..are you sick of reading LLAMAzing yet??). If you've got some llama envy, never fear, I've got you covered! HERE are all of my llama themed resources, perfect for back to school! Print and go to save you time, bright and adorable to help bring cheer to your room!
I'd love to see what other llama finds you've got in your classroom! Tag me on Instagram @srta_spanish and share your beautiful rooms!
You may also like my post on DIY Classroom Decor! Check it out here!