Are you looking for review activities for stem changing verbs in Spanish? Students need plenty of practice with stem changing verbs so let's look at these engaging stem changing verbs Spanish practices you can use with your middle school and high school classes!
What are the 4 types of stem changing verbs?
It can be hard to practice stem changers when your students are first introduced to them! In this post, we're going to look at practices for E-IE, O – UE, U -UE, and E-I stem changing verbs. You may choose not to introduce all of the stem changers at once, and instead just look at a few. In these practices, I've included:
cerrar
comenzar
competir
dormir
empezar
jugar
mostrar
pedir
pensar
perder
poder
preferir
querer
recomendar
repetir
servir
You'll notice it's a mix of -AR, -ER, and -IR verbs. Usually by this point in the year, students have already become familiar with regular present tense verbs, and even some of these stem changers as they are high frequency verbs!
How do you find the stem of a verb?
And just how do they change? Where do they change? Your students are going to have lots of questions! I like to start this with a set of guided notes to walk them through the different kinds of stem changing verbs and give them some practice.
Stem Changing Verbs Spanish Practice Worksheets
After introducing the verbs to students, I like to do some practice activities! Crosswords, word searches, tic tac toe games, boot verb sheets, Boom Cards, maze games, El Toro, and ¡Corre en Círculos! are some of my favorite options for this.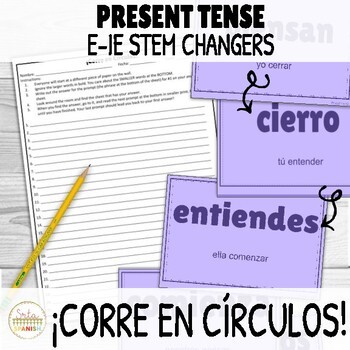 Boom Cards, maze games, and ¡Corre en Círculos! are all games that give instant feedback to students, which can be really nice for them as they're trying to get this information down.
Exit Tickets for Stem Changing Verbs
I love doing a quick exit or entrance ticket to check on my students' understanding. These are usually short, 5-10 question formative assessments that just give me an idea of where my students are at.
These let me know if we need more practice, or if we're ready to move on with the unit!
Stem Changing Verbs Spanish Practice Activities
Many of the engaging activities that I shared above can be found in my set of Spanish Present Tense Stem Changing Verbs Bundle. These practice worksheets are perfect for helping your Spanish students master stem changing verbs. These activities include common stem changers!
If you would like to take a closer look at everything included in this resource, including a list of verbs included, you can find it in my shop.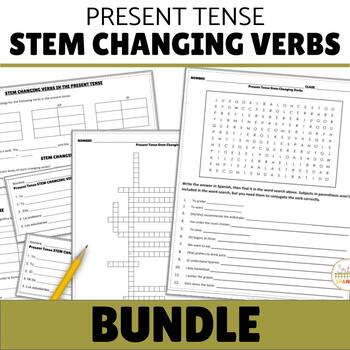 Save These Practice Activities
If you'd like to add some fun stem changing verbs Spanish practice to your classes, be sure to save this post!  Just add the pin below to your favorite teaching board on Pinterest. You'll be able to quickly locate this post the next time you're looking for engaging Spanish practice activities!