Feeling like you're stuck in a rut with your writing activities? This fun combo makes for great practices with lots of laughter!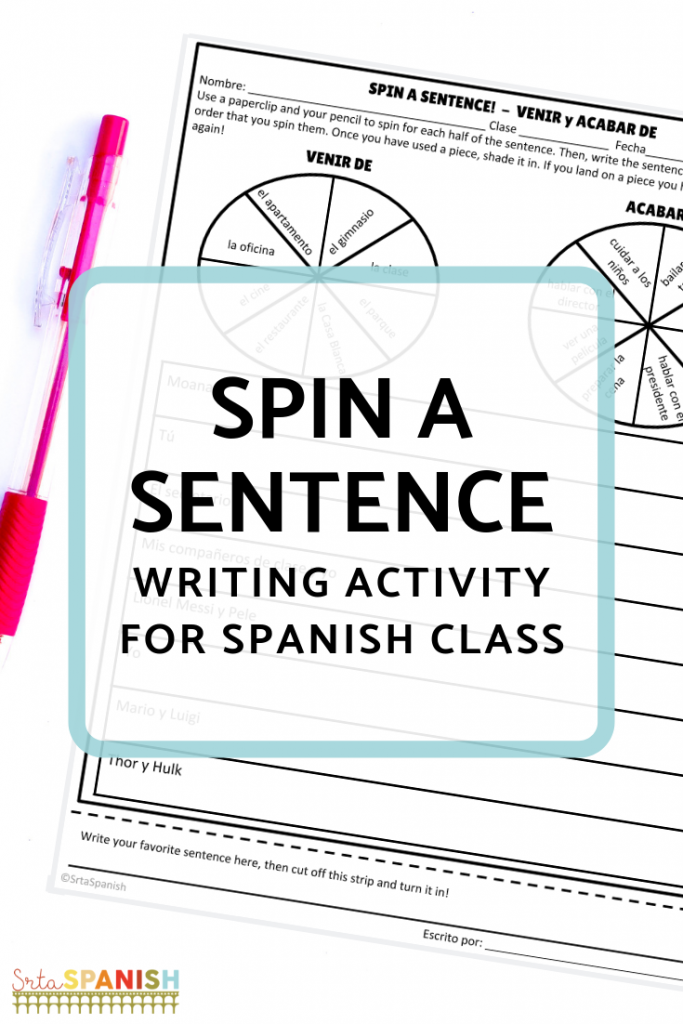 Our Spanish Is are currently in the chapter where they work on venir and acabar de. We've introduced the concepts and have been practicing with them for awhile. I wanted to give them more chances to practice so we decided to have a little fun with a few writing activities!
Spin a Sentence Writing Activity
After a warm up, we started with a spin a sentence activity. For this writing activity all you need is a paperclip and a pencil for the spinner. Students spun once for venir and once for the acabar de + activity piece of their sentences. Then, they wrote a sentence using the provided subjects. Finally, students picked their favorite sentence and wrote it on the bottom of the sheet, then tore off the strip of paper.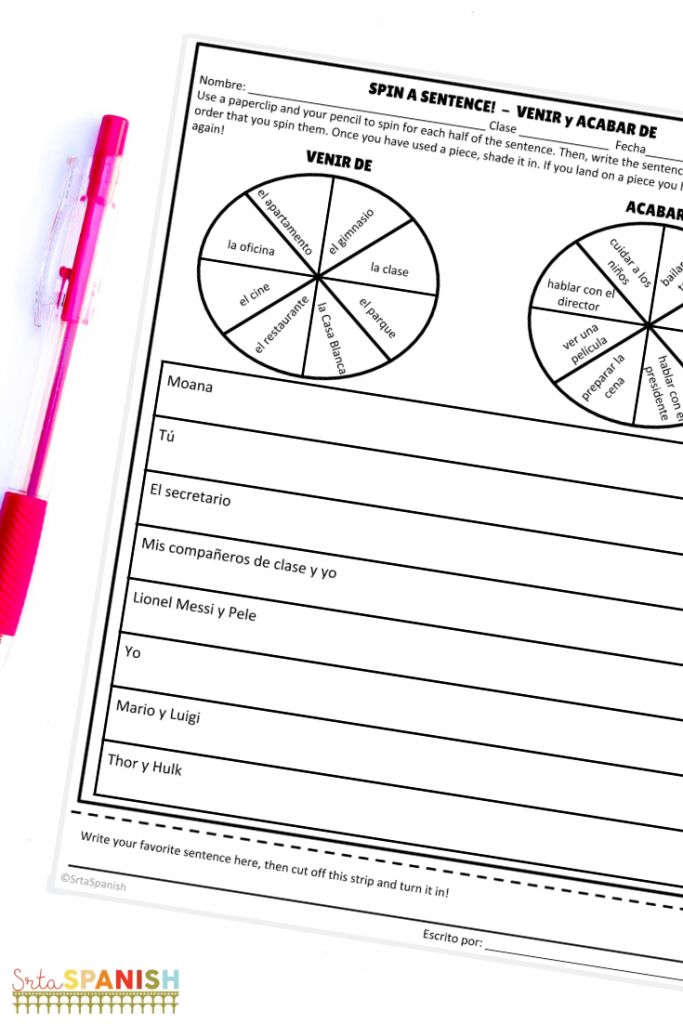 Already an email subscriber? Click HERE to go straight to the exclusive library of free teaching resources.
Then, I had them turn in the strips to me. As they turned them in, I checked them for accuracy, gave them some feedback, and giggled with them about some particularly silly sentences.
Telephone Pictionary – Writing and Drawing
Set Up
I wanted a way for them to share their favorite sentences, and get some more practice so I decided to turn to an old favorite! Telephone pictionary is so fun and a great way for them to share their sentences and add an extra layer of comedy and engagement. Martina Bex has a great post AND resource for this activity on her blog – she calls it Write, Draw, Pass. I printed off her sheets, made copies, and passed them out to students.
My students sit in cooperative learning groups of 4 students. I had them combine the six groups of four into 3 groups of 8, because this game is more fun with slightly larger groups.
Game Play
I passed out the favorite sentences to students and had them record the sentence in the first box. (WRITE). They illustrated the sentence in the second box (DRAW), folded over the sentence so they couldn't see the sentence, just the image, then they handed them off to their neighbor to their right (PASS). We continued this cycle around, then unfolded all the sheets and looked at how it had turned out. After they had shared within groups I gave them a little bit of time to move and share them with each other outside of the 3 small groups.
The end of class came too soon! In the future, I need to make sure to leave more time for telephone pictionary because it was rushed. Twelve minutes was enough time to do five steps, but I think twenty minutes would have been better – more time to set up, explain, draw, share, and laugh!
You might also like my post on Running Dictation for another way to change up writing practice!