I've heard about running dictation from a few different places, but Keith Toda's post here is where I ran into it first! Basically, running dictation is a way to do a dictation that incorporates teamwork and movement!
Watch Here
Set Up:
The three days before doing the running dictation, we told the story. Then, we put it on a Google Slides and made it pretty big (like..50pt font) so it was easy to see. My co-workers and I planned on doing the running dictation after spring break so we could have something that was active and energetic, but focused on Spanish – perfect for all of the energy we have coming off of break! Three of us planned on this activity, so we put the sentences in the hallway between all of our classrooms. We labeled the sentences A, B, C, and so on, so the students would be able to tell which ones they had done.
Students got a sheet with space to record the sentences, as well as space to illustrate the sentences they were writing.
Ground Rules:
They worked with their assigned partner, or a group of three depending on the attendance

One person walked out into the hallway, memorized a sentence, returned and repeated it to their writer, making sure they knew which letter they were recording.

Once they got halfway, trade jobs.

The exception to this was my group of three, which rotated jobs every sentence, with the additional job of one student illustrating the sentences as they went.

No phones, no papers, no support other than their brains to remember things!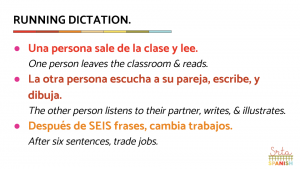 Wrap Up:
I checked their sentences for accuracy and sent a few teams back into the hallway. Their next steps were to cut all the boxes apart, illustrate each sentence, and put them in order. It was great to have the next steps up on the screen because all of the teams were finishing at different times!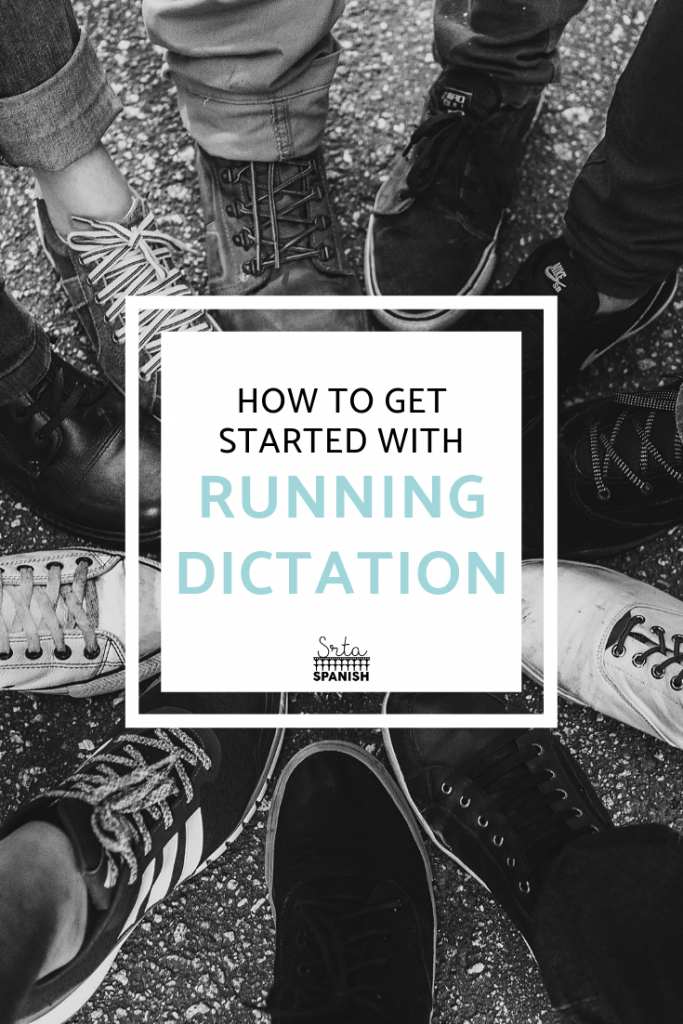 Reflections for Next Time:
As I mentioned, three of us did this activity at once. We had taped the sentences up in the hallways, which worked for most of us..but one co-worker's students could see a few of the sentences from the window by their classroom door! Whoops! She rearranged the sentence placement for the next class period.

We had a pretty wide variety in sentence length. I had my students split up by letters, so there was no choice, but the classes that didn't have assigned sentences had a problem with one partner picking all the shortest sentences. Next time, I think we should be more careful in the sentence length, or just designate which sentences they are doing so that doesn't happen again.

There were a LOT of sentences. Like..a lot. Like…18. (yeaaaa….I said a lot). Some of them were super short, but I think it was a bit much, even with the 3-word sentences.

We did this the Tuesday after our Easter break and I am SO MAD we didn't hide the sentences in Easter eggs. GAH! Next year.
Running Dictation Activities
If you're looking for some activities to go with your units to save you time, check out these pre-made sets I have for you!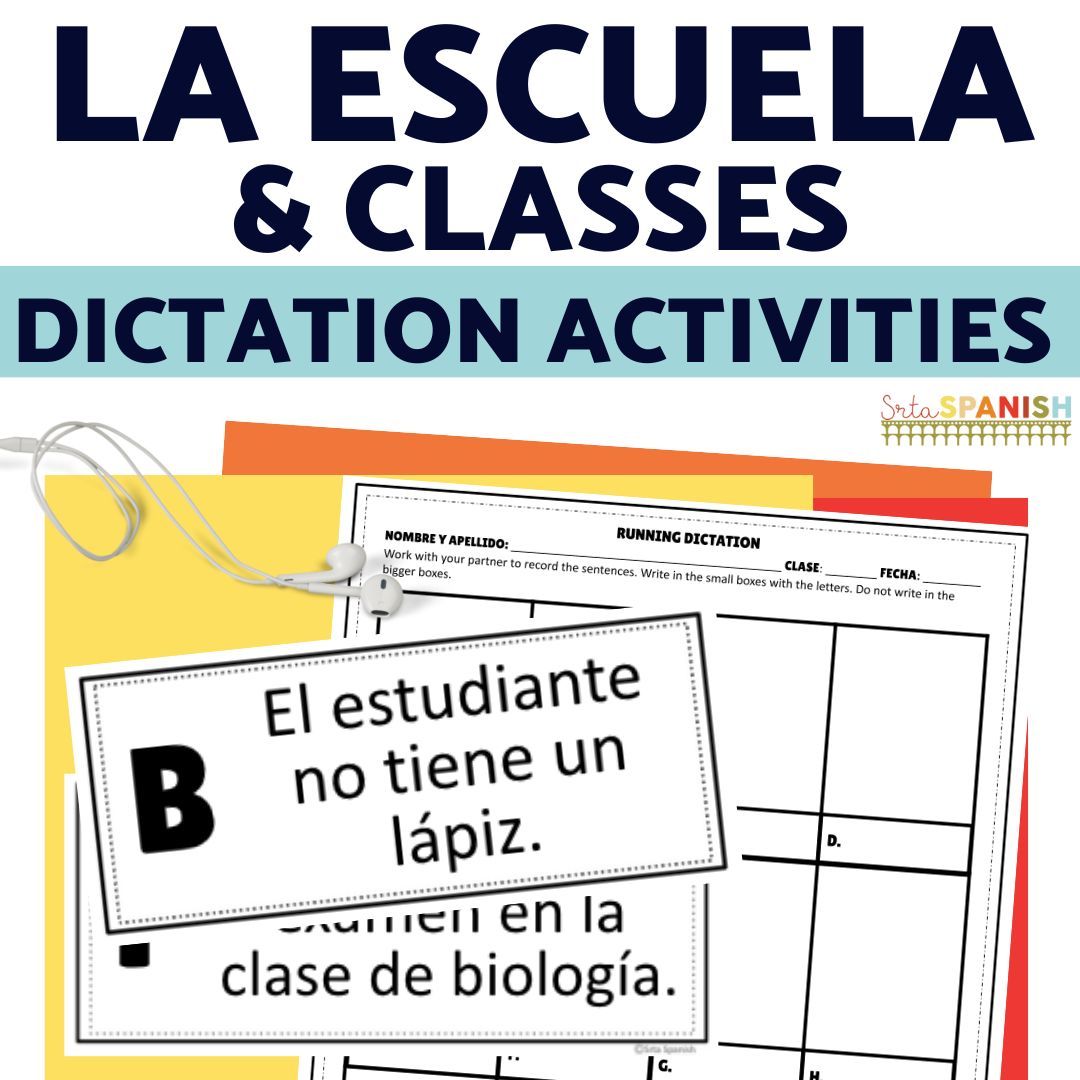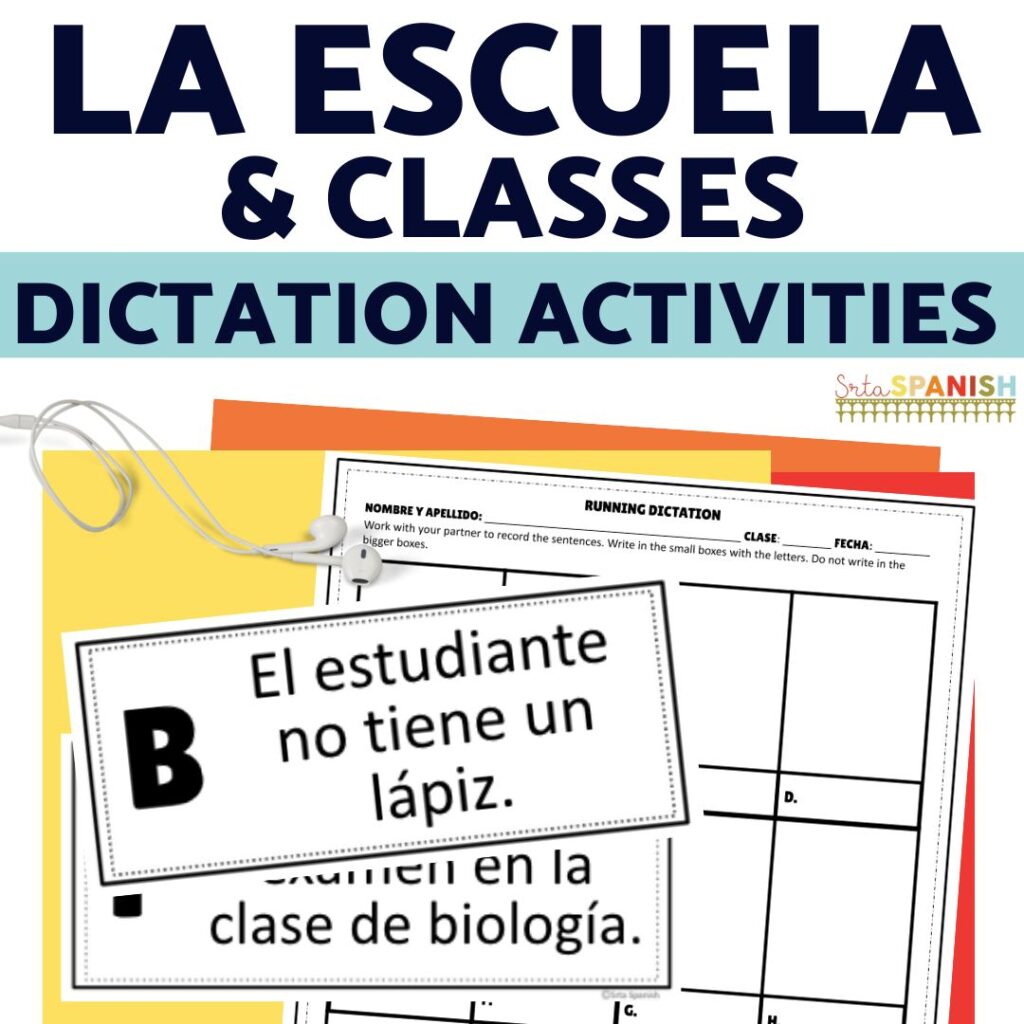 Running Dictation in Spanish Class
Have you tried a running dictation before? Do you have any tips for me? If you haven't, what other questions do you still have?