Day of the Dead has got to be a Spanish teacher's favorite holiday, right? It's a beautiful, culturally rich celebration, and there's lots you can dig into with your lessons. You can do full units on this topic every year and never run out of stuff to teach!
If you're looking for lesson plans for Día de los Muertos, check out my post here!
Around this time of year, fun items start popping up in stores. It's SO hard to resist the urge – and why bother? They're fun, and they can add to your lesson by having something physical in the room with you and your students.
This post may contain affiliate links, which means if you click through and purchase something using my links, I receive a small commission. Thank you!
I present to you, in no particular order…
10 Day of the Dead Items Every Spanish Teacher Should Have:
1. Sugar Skull Leggings – Seasonal attire is always fun, right? Why not be comfy, cute, AND seasonal with sugar skull leggings!
2. A New Teacher Bag – This backpack has adorable patterns all over it, plus a backpack is better for your shoulder health. Think long-term!
3. Day of the Dead Posters – Pop these in a frame and you have some easy decor that's fun to look at!
4. Sugar Skull Lanyard – My school requires us to wear our badges at all times. I'm pretty sure my name badge NEEDS to be hanging from this lanyard STAT.
5. Sugar Skull Throw Pillow – UMMM yes. Your classroom library needs these and so do you! Plus, I love that it's a set! You get several in one!
6. Papel Picado Banner – I mean..your students COULD make this, but then do you know what your floor is going to look like? Your janitor will thank you.
7. Day of the Dead Photo Booth Props – An excellent addition to any fiesta, plus, if you throw up a photo booth then Spanish class will be all over Instagram. Can you say increased enrollment?
8. Flower Crown – You're the Reina in your clase, so you definitely deserve a crown to go with your title. Plus, it'll be amazing for your #teachergram along with the photo booth!
9. Sugar Skull Tapestry – Okay, back to the classroom decor for a moment. HOW COOL IS THIS? Such a neat design!

10. Day of the Dead Doodle 'n' Color Book – This book is full of hand-drawn super cute doodle designs inspired by Dia de los Muertos, just waiting for you to color them! The PERFECT way for you to unwind after your in-class fiesta!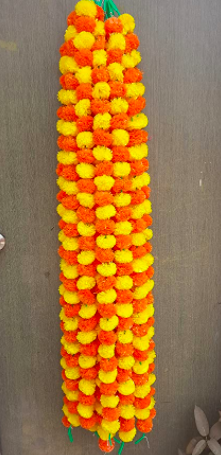 BONUS – check out this marigold garland – it could be fun to add to an altar in your classroom!
What are your favorites? Comment below and let me know, or tag me on Instagram @Srta_Spanish!
Share this page with friends!