Inside: Lesson plans and activities for Thanksgiving in Spanish class
Thanksgiving is one of my absolute FAVORITE holidays. Halloween doesn't even come close, in my opinion. Don't @ me, as my students would say. Today, I want to share some of the ways I bring Thanksgiving spirit into my Spanish classes, without leaving the Spanish behind!
You can either use these activities as stations (Check out my post on stations here!) or just pick one or two for the week leading up to the holiday!
Looking for Thanksgiving activities, but NEED it to be digital? Check out my blog post
here
!
Writing Activities
Bring out..the TURKEYS!
Seriously. The Turkey of Thankfulness is one of my favorite activities, and it's super accessible to novice learners and upper levels! This is definitely one of those activities where you can just slightly change the expectations and boom – applicable across levels. Spanish 1 students can easily list nouns and upper levels can write more complete and complex sentences – all sharing what they are thankful for!
If you wanted to, you could definitely do the "hand turkey" – students might remember that from grade school! (Search Pinterest if you need more info!) Check out this link for a print and go turkey and printable banner!
If you're not into the turkeys (or maybe you did them last year and need to change it up) you might like this scaffolded writing sheet!
Finally, I love these print and go or post and go writing options. You can use them before or after break, but personally I prefer them for the day after break for a low prep way to ease back into things!
Speaking Activities
Sarah Breckley shared this post with two options for sharing Thanksgiving feelings in her Spanish classes and I love it! You can be sarcastic and silly with it, or they can be sweet and sincere! Either way.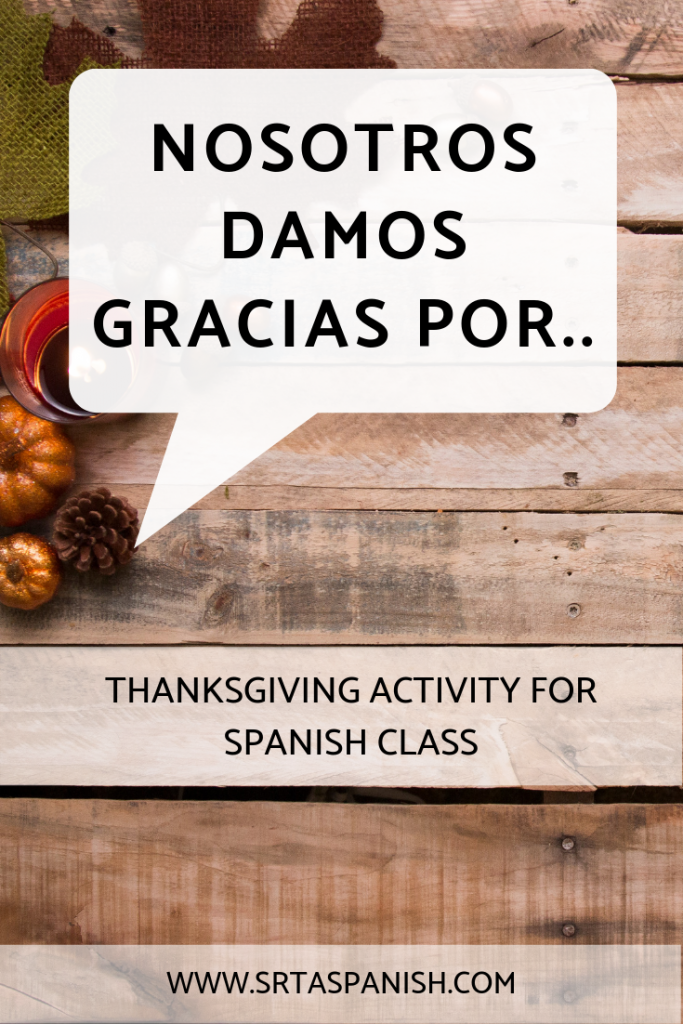 Have you ever played "Add-on"? Each player adds something to the list, and then the next person says the first, thing and adds something to the list. In this case, you could definitely play "Add-on" starting with the phrase, "Nosotros damos gracias por.."! You could play with the whole class or in small groups.
Reading Activities
Infographics are great for reading!
You can print them or post them in an online LMS for your students. Change the task to fit their level – Ones might look for cognates while twos answer questions! Up to you.
Check out my Pinterest board here for some more images! I really love the one with different ways to say turkey!
You could also check out Spanish Mama's posters for Thank You and You're Welcome in Spanish! They're really cute and perfect for the season.
Listening Activities
This may be the best part! If you've seen my Música Miércoles post, you know that I am loving using music in my classroom. Here are my top two picks for Thanksgiving songs:
"Gratitud" by Fonseca – This is what I would call an "oldie but a goodie". It's also super straightforward! There's no analyzing, it's a clear list! There's a ton of words that even your novice students can recognize.
"Si No Te Tengo A Ti" by Álvaro Soler – Who doesn't love Álvaro? His songs are full of fun rhythms, and he sings clearly! This song is nice because there's a LOT of "tengo" in it so students hear it a lot, but the chorus is also really comprehensible. To connect it to the holiday students can do a little reflecting to talk about what is important to them. Love it!
Do you do anything for Thanksgiving in your Spanish classrooms? What do you like to do?
Drop a comment below, or tag me on Instagram @srta_spanish! I love to see what other people are doing in their classroom!