Celebrate Day of the Dead in your classroom with stations! You've heard me say it before, I LOVE doing stations in my Spanish classroom! They are a great way to provide choice and allow students to learn in a small group setting. Especially for a holiday or celebration like Día de los Muertos when you have SO many activities to choose from, doing stations is a great opportunity to include more than one topic! This post includes several options for station ideas and crafts you could include for your secondary Spanish classroom. Here are some great Day of the Dead Activities for Spanish class!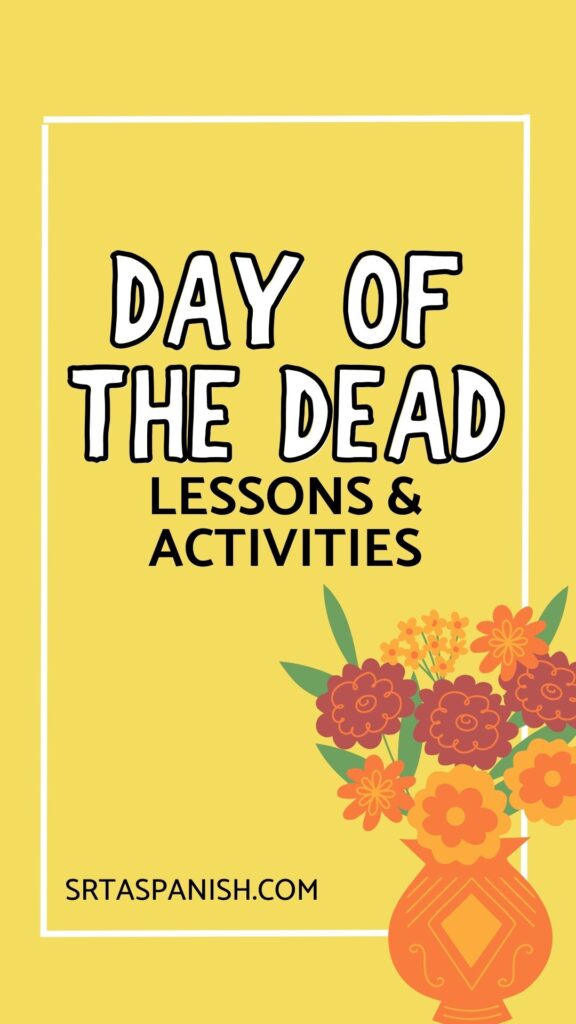 Watch the Video
Why Teach Day of the Dead in Spanish Class?
I think it's a great celebration to include in our classes. Depending on where you live, students might be confusing Día de Muertos with "Spanish Halloween" – which just isn't the case! It's great to teach them about the history, culture, and traditions of the celebration. I also like to do a comparison activity so they can see just how different the two holidays really are!
What ages and levels do you teach Day of the Dead?
For these specific stations, I've used them with 6th and 7th grade exploratory classes (culture classes). I've also used them with Spanish 1 and 2, 8th grade through 12th grade students. I've done it in Spanish and in English, depending on their level. Finally, I've done these stations as a very structured, timed rotation (see my post on stations here!) and as a more open-ended choice based activity. It just depends on the class and what they can handle!
Day of the Dead Activities and Stations
Chumba la Cachumba Song
While this song isn't Day of the Dead specific, I love all the skeletons and it is super comprehensible for novices! I like to use this with a cloze activity with numbers.
Day of the Dead Reading Activities
Calaveras and calacas are everywhere around Day of the Dead – why!? Let's talk about the importance of these symbols and why they are all over the place during this celebration. It's not about the "scare" factor for this celebration. After the reading I just have them do some short comprehension questions!
Another great reading to do is on the history of this celebration. Read an article and talk about the different pieces of the celebration and the cultures that have combined to get to what we see today!
Simple Day of the Dead Art Project
I love this project SO much because I am not artsy, but even I found this simple to do! You could do it as your whole lesson for Day of the Dead, or you can fit it in as a station activity – up to you! Check out the blog post with the step by step lesson plan here or download the print and go templates here.
Label an Ofrenda
Ofrendas can be a little confusing to students who are new to the celebration. They are intricate and beautiful, and there's a lot that goes on them! I like to have students complete an activity where they read a short description of a piece of an ofrenda and put it on the ofrenda where it belongs. I especially like to do this as a hands on activity, but we've done it digitally as well! Download it here.
"Día De Los Muertos" – by Team Whoo Kazoo + Ringling
You've probably seen this short before – it's simple and beautiful! I love to watch it with classes and talk about the emotions we feel and how the little girl might feel at different parts of the short.
Compare and Contrast Day of the Dead and Halloween
This comparison activity is a great option to help students realize the differences between the two holidays. Sometimes students can do this as part of the station rotation, and sometimes it works better as a wrap up activity for students to synthesize all of the info they learned about during class. They read short descriptions and sort them between the two holidays in this hands on activity!
Day of the Dead Activities for Spanish Class
There are TONS of options for stations! If you're feeling overwhelmed, or would like a print and go option to save you time, check out my stations for Día de los Muertos! I have 7 different activities that include a variety of modes and hands-on options for your novice students.
Día de los Muertos Lesson Plan for Spanish Class
In this post we walk through a one day lesson plan you can use for Day of the Dead. Check it out here!
Day of the Dead Alternative Assignment
Do you need an alternative assignment for Día de los Muertos? Sometimes students need an another option instead of participating in the activities with the rest of the class. Head on over to my other post to get some more ideas and some options for helping those students learn about a different aspect of culture!
Spanish Teacher Tees
If you're looking for a fun tee to wear during your lessons, check these out!
The ol' classic, "I'll just wait until it's quiet" classroom management technique. Check out these options:
They each come in different colors, too!
Don't forget to pin this for later!