This simple switch has saved me so much time and effort every time I do a speaking assessment with my students. Check out this idea for giving speaking assessments while using rubrics in Google Forms.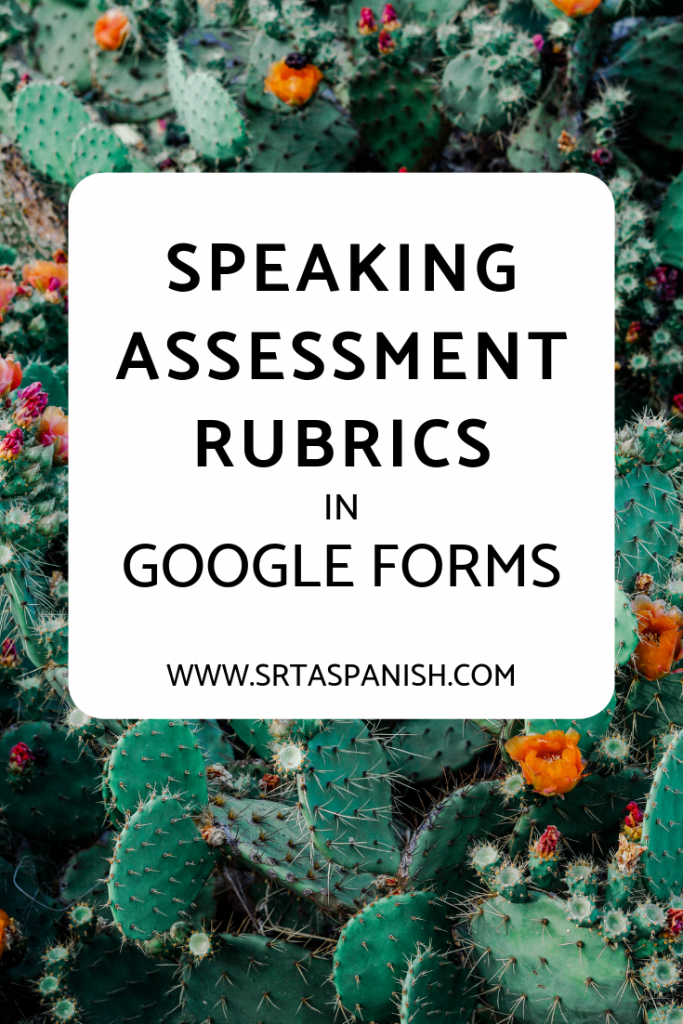 Over the last few years, our Spanish department has had a lot of conversations about how we want to assess students. A few of our teachers piloted assessing Reading, Writing, Speaking, and Listening in four, equally weighted categories in our grading system. Almost immediately, it became very, very apparent that our assessments included almost overwhelming amounts writing and reading, minimal listening, and barely any speaking. In an effort to change that, we started trying to include quick, mini-assessments of speaking skills. Just little conversations about whatever our topic or theme was, to get an idea of where they were, but still be manageable in a 45 minute class period that has 30 students. I've been loving how that's going – the students and I actually get to have a quick 1:1 conversation, and it seems to help them feel less terrified of speaking in front of someone.
However, one thing I was NOT loving about those mini-assessments were the copies. They usually wound up being 7-12 points, but when you have 150 students, copying all of those little rubrics – even on a third of a sheet! – takes a lot of paper and feels wasteful. I started playing around with using Google Forms as a rubric, and finally have gotten to a point where the system works well for my students and I. Totally painless, super fast and easy to use, and NO PAPER! Woo!
How to Use Rubrics in Google Forms
Set up your Google Form.

Make sure it is collecting emails (that's how students get a copy of their feedback!) and that you have REQUIRED the necessary information. I always require first name, last name, and hour for easier sorting on the spreadsheet later.  Make sure you go to the options and select "Send a Copy of Responses".
2. Create your rubric!
This is essentially the same as whatever rubric you used before, just move into a Form.
For most of the assessments, I give students a bank of example topics or questions beforehand, that all have to do with structures we have been working on. Those topics go in the drop down of "Question Asked".
Then, the headings for the rubrics become the "question" and I make the points the "answer" to the multiple choice question. Total points are required (it's quick math on the spot), then there is a spot to type additional feedback.
If I begin hearing a lot of the same errors, I will add checkboxes to the additional feedback so I can select what applies to that student, as well as leaving one as "other" so I can type in something specific to that student. Hopefully the images below help explain what I'm talking about!
3. Use it!
During a speaking assessment day, all students will be working on something individually (reading, listening, or maybe a study guide, but have the rubric open in a tab on their devices. When it is their turn for the assessment, they bring their computer over to me, we have the conversation, and I quickly select the appropriate places on the rubrics in Google Forms, then click submit.
Generally, while I do this, I also have my computer open to the online grading system. In between students, I enter grades for each of them, so by the end of the class period, the student and I have had a conversation, they received their feedback in an email, I have all of their responses in a spreadsheet, and have recorded all of their grades in the online grade book. BOOM!
PSSST…..I have a screencasted example of a rubric here!
If you try using rubrics in Google Forms, let me know how it goes for you! If you have any questions, let me know that too! I hope this system helps!