This is the year of routines for Spanish I and our transition to CI! Mondays we Weekend Chat, Tuesdays we do FVR, Wednesdays are Música Miércoles, Thursdays we do Persona Especial, and Fridays we Picture Talk or Movie Talk. Students expect and look forward to the routines! I don't think there's a day they look forward to more than Música Miércoles, so I'm excited to share what it looks like in my classroom.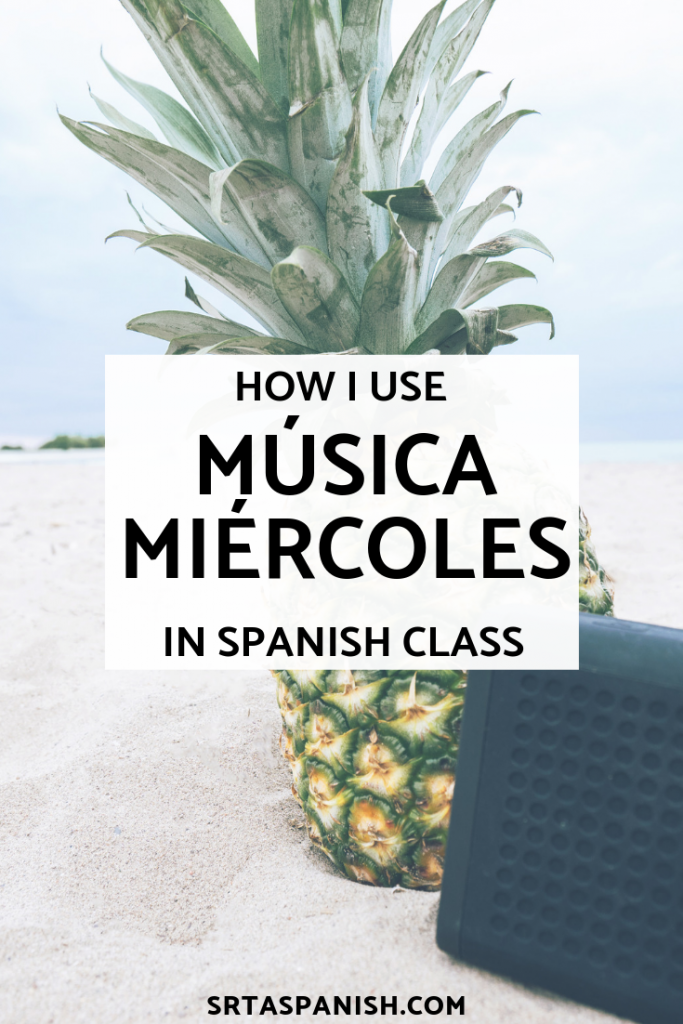 Click here to check out all of my daily routine posts!
Watch the Video on All My Classroom Routines!
Getting Started With Música Miércoles
Música Miércoles comes from Allison at Mis Clases Locas. She has a wonderful post talking about how she uses it and the benefits on her blog HERE! She also makes it super easy to start in your classroom with her resource on TpT. If you're considering implementing this routine in your classroom, this makes it zero prep for you to use!
Yes, this post could easily become an ode to Allison! I love this routine, my students love this routine, and she has done all of the work for you. She even includes Google Slides! You can simply purchase the resource and be ready to go. In this post, I'd also like to share how I use her resource in my own space, with my students!
How I Use Música Miércoles
Do you have to follow district pacing guides, and give assessments by certain times? I do. Música Miércoles has become the way I'm covering the objective "Students will be able to use the verb 'ser' to talk about origin." Allison has included a variety of artists, from all over the world! She includes their nationality in her presentation, and I add a slide before the song to introduce the artists and what country they are from so we can practice that target.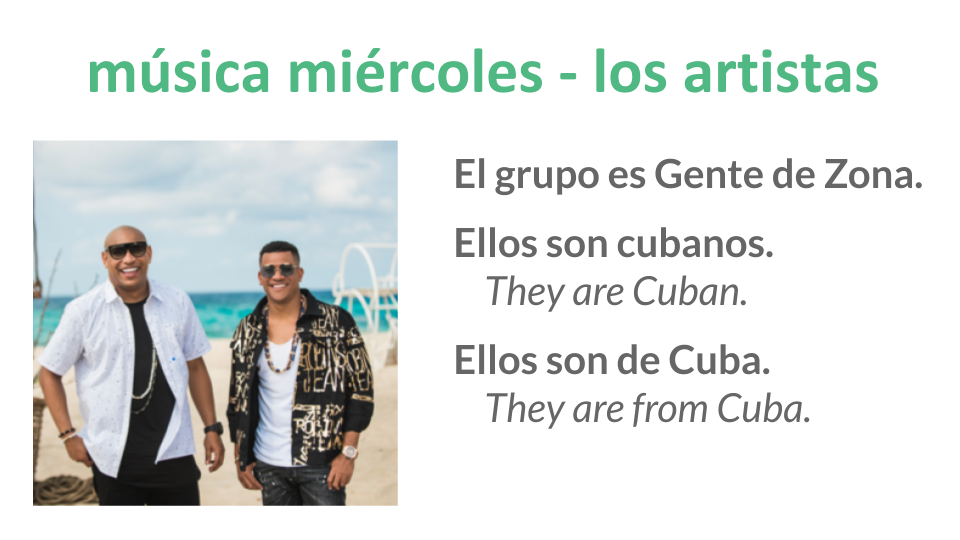 Some days we circle this a little bit, some days I pull up a map to make sure we're all clear on WHERE the country is, and some days we go over it and move on. Either way, they've seen this set up about 9 times already, and in a way that's interesting and applicable to what we're talking about.
Then we go to the slide from Allison's resource and watch the video! Another benefit to having her resource is that she has watched the videos and selected alternate videos where it's more appropriate than the official ones. Hurray for time-saving!
After the video, we do a chat about our opinions. Allison also includes a discussion question or two for each video (seriously, she makes it so.easy.). I usually add in a slide like the one above to practice more gustar, along with other questions that fit the specific song that she has provided.
What I Love About Música Miércoles
Okay, there's actually a lot of things I love about this routine, but I'm going to try and keep it short. I love that my students are hearing people other than me speak Spanish, and experiencing culture in a way that is accessible to them. They connect with the music and they enjoy watching the videos and talking about them afterwards. I love that I am being introduced to different music and artists. It's breaking me out of a rut and introducing me to new things that I enjoy. I also love that Allison has made it so easy to use. Out of all of the routines I've started this year, this one requires the least effort on my part thanks to her resources!
Do you do Música Miércoles in your classroom? I'd love to hear about it if you've tried it or are currently implementing it!