Family words are one of those things everyone has to cover, whether you teach with a textbook or not. This year I have been introducing and practicing la familia vocabulary in a few different ways and I think it's been great! Check out these easy activities, stories, videos, and reading activities for ideas for family Spanish vocabulary activities!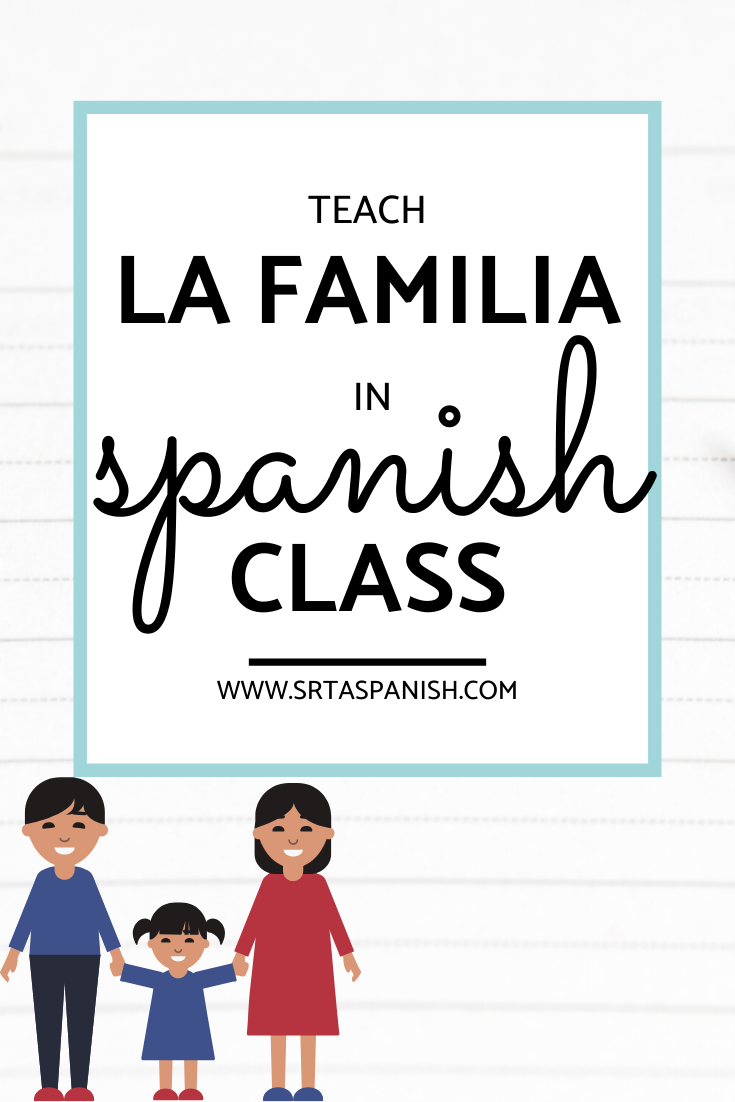 Spanish Vocabulary Activities for La Familia
Special Person Interviews
Persona Especial or Special Person Interviews – I usually include a question about how many siblings they have, and then we briefly chat about their names, and how old they are.
Story Telling or Story Asking
Use a story in story telling or story asking! I love this story to practice some family vocabulary! The main character lost something and runs from family member to family member asking if they have it. It's also great practice for direct object pronouns!
Picture Talk
Do a Picture Talk! Have you heard of awkwardfamilyphotos.com? There are tons of goofy pictures that didn't turn out quite like they hoped. Perfect for picture talks!
Not familiar with picture talks? Check out my blog post here!
Gallery Walk for Family Vocabulary in Spanish Class
Gallery Walk – You know I love a good gallery walk to get students moving, or pull a reading out to practice! This gallery walk has students read about different family members and place them on the family tree!
Classroom Display
Build a family tree display! Bring in pictures of your family, or print off pictures of a famous family and use them to create a classroom display or bulletin board.
#authres
There's nothing better than finding the PERFECT authentic resource (authres) for your classes! This commercial is so clear and perfect for your novice students – and they'll beg you to find the other ones in the series! Check out the post here for some free resources!
Scavenger Hunts
Get them up and moving! ¡Corre en Círculos! are one of my favorite activities, and the one I use for family vocabulary is particularly engaging for the students because it is not just translating! Students read a clue describing a family member and have to figure out who is being described. Tricky! Click here to see it in my store.
Puzzles and Worksheets for Family Vocabulary in Spanish Class
Maze puzzles are a great way to reinforce vocabulary! I like to use this set of mazes as a fast finisher option after doing the ¡Corre en Círculos! I mentioned earlier. There are also several practice activities where students read descriptions and try to fill in the family tree, or describe people according to the family illustration! These are great to get students reading and thinking about how family members are related! Grid puzzles are also a great option for a fast finisher! Here's a free one from Mme B's French Classroom that I love to use!
Make a Mini Book
Wrap up your family unit by creating a page for each family member in a mini book, OR write about one family member with details on each page! Download the freebie here, or do this with any sheet of computer paper.
Family Vocabulary in Spanish Class
There you have it friends! If your students haven't mastered family vocab after all the ideas included in this post, you'll have to put some more time in searching Pinterest and TpT!
So tell me – how do YOU go about teaching family vocabulary? Do you have a resource or activity that has been your "go to" for years? Shout it out in the comments below!