If you're coming to the end of your family unit you might be looking for a project. Maybe you've done the family tree in the past and you just need something different, or you want to offer an alternative to a student where a family tree project might be a little difficult for them due to their personal history. Here's a mini book that can turn makes a great family vocabulary review activity or assessment for Spanish class!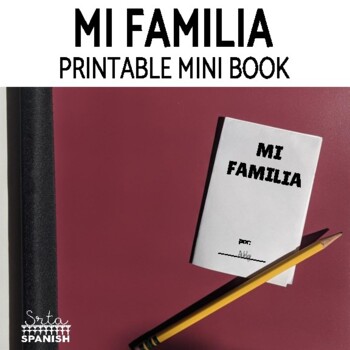 Celebrating Each Family
This printable mini book has a LOT of flexibility and options included, and that is done purposefully. Everyone's family is different, and not all students are comfortable sharing about their own families. I've included options for students to share about a specific family member, several family members, or just create a mini book without any sentence prompts at all! As always, you know your students best, so consider their situations as you plan.
How to Use this Family Activity for Spanish Class
Students cut and fold their books. Then, they write their sentences and illustrate them on each page! There are several versions students could choose from to fit their family. This tutorial can be helpful for students when they're creating their book:
Materials Needed:
Printed pages – either choose the option you want for your students or print a variety and let them choose. It might be fun to print them on a brightly colored paper!
A pair of scissors
Writing utensils – a pencil, and, if you would like your students to color, crayons, colored pencils, or markers
Family Activities for Spanish Class
As you wrap up and review your family unit, your students will love practicing with this mini book. Click here to download the freebie!