It's no secret that ¡Corre en Círculos! is one of my favorite activities to do with my students! It's an incredibly flexible activity that you can use for vocabulary, grammar, and reading practices!
I LOVE using this activity in my classroom. I probably do it at least once a chapter because it can be used in several different ways, to practice several different things. It's excellent because it gets students up and moving out of their chairs while being focused on practicing the language. Because of this, it's perfect for those days you just need a minute, or if you've lost your voice and JUST CAN'T. Engaged, independent students, practicing concepts they need to work on? That's the best kind of "teacher break" there is!
Feeling lost? Check out my post on ¡Corre en Círculos! here for a walkthrough of what it is and how to use it!
Here are some variations on ways I use ¡Corre en Círculos! in my classroom!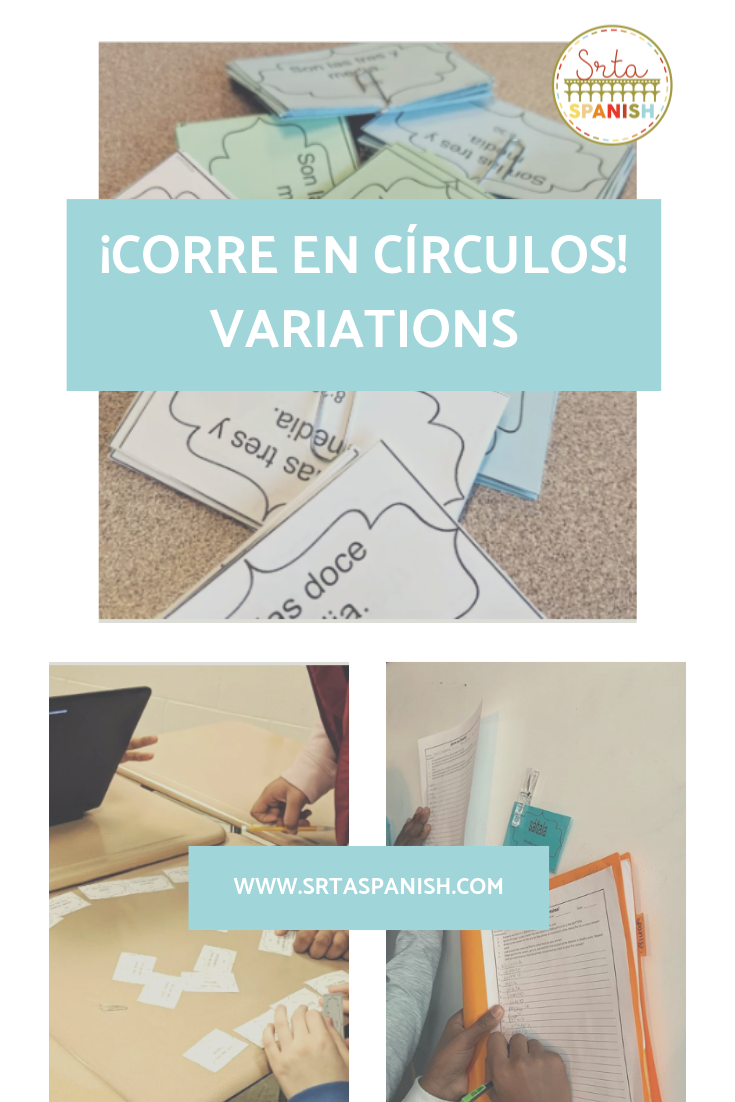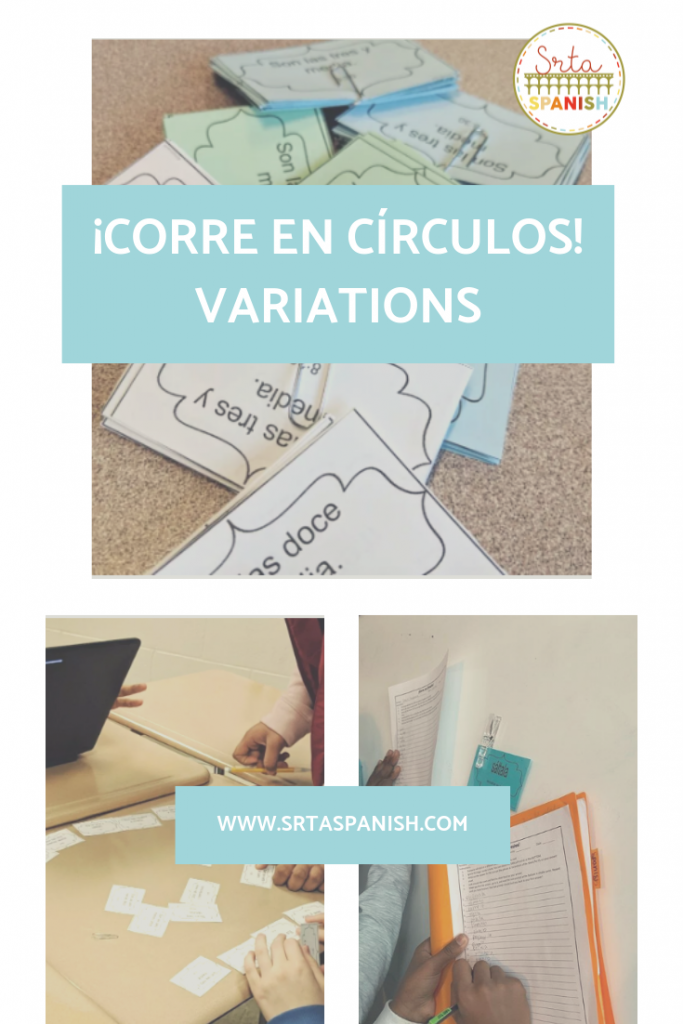 Watch the Video
I Have, Who Has?
I Have, Who Has is a pretty common game to play, but it can be a great quick review to use these sets! You can play as a whole class or as a small group, and it's best for reinforcing or practicing a skill they already know.
How to Play:
Each student receives 1 card. If there are extras, pass them out to other students. All cards must be in play or "dealt".
Students turn cards face up and read what their cards say.
Choose a student to start. That student reads the prompt at the bottom of the card. For example, "Who has yo-hablar?"
The student with the answer stands up and says, "I have (answer), who has, (prompt)?"
This continues until the first student's answer is called!
I like to do this as a timed competition between classes, or as a quick sponge activity in a unit.
Station Activities
I really love incorporating stations. They're a great way to give students some small group practice, play games, and can give you some time to work with students in a leveled setting. I have a whole post on how I do stations in class!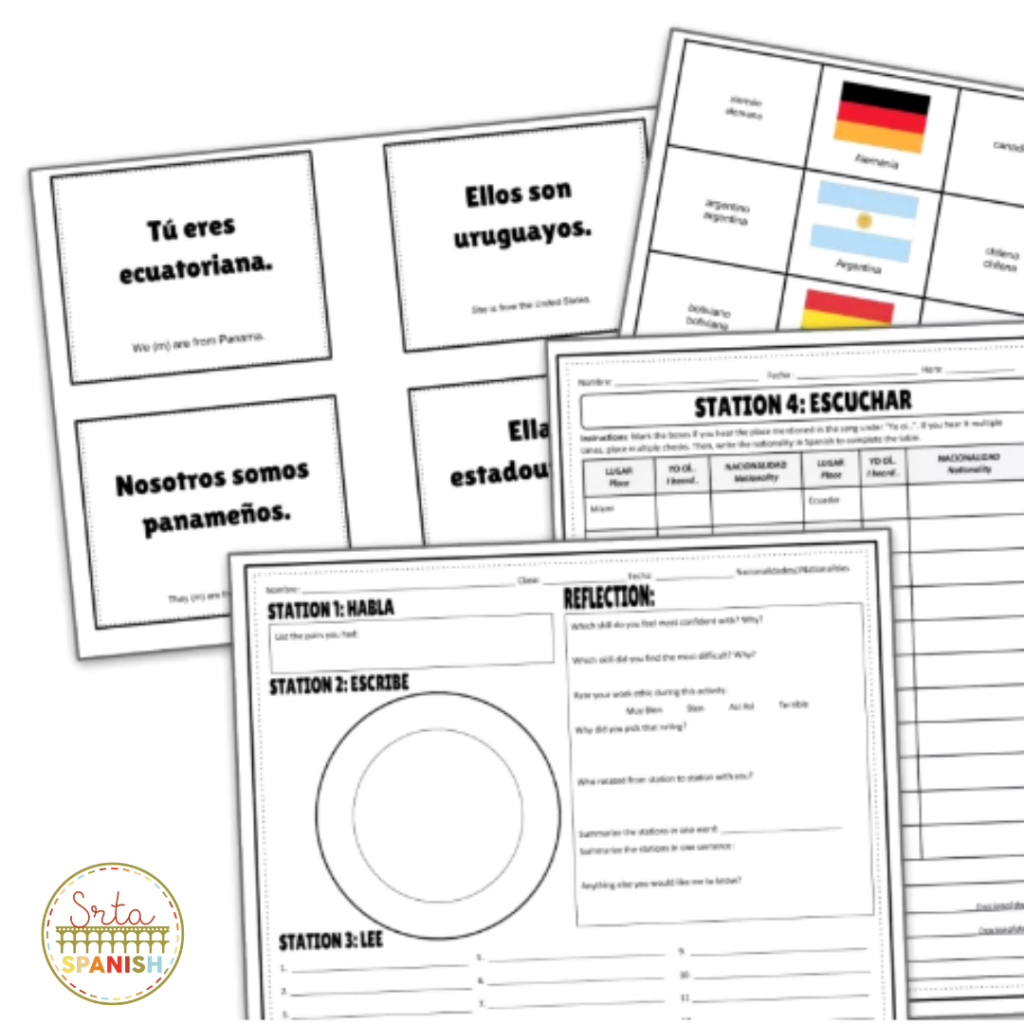 A smaller loop of ¡Corre en Círculos! is perfect to finish in time for a station rotation! This free download of weather vocabulary would be a great addition to a station day to practice weather. I also have a set of stations for nationalities vocabulary that includes a mini ¡Corre en Círculos! set in a print and go pack!
MINI Versions!
Did you know you can print PDFs in SMALLER versions? That you don't have to print each page full sized? Check out these mini ¡Corre en Círculos! versions of my Telling Time set in comparison to the paperclips holding the sets together. WHOA!
Why would you bother making them small? Well, small sets work perfectly to have on hand for fast finishers, OR even as another option for stations!
Several of my sets have multiple versions for differentiation. What I'll often do (and what actually happened in the picture above) is students will complete one version from the walls in the traditional activity set up. Then, they'll grab a puzzle version of the next option and work on that!
I've also used these when I've had students on crutches who don't want to walk around for ¡Corre en Círculos! on the walls, or as an alternative option for differentiation to fit your students' needs.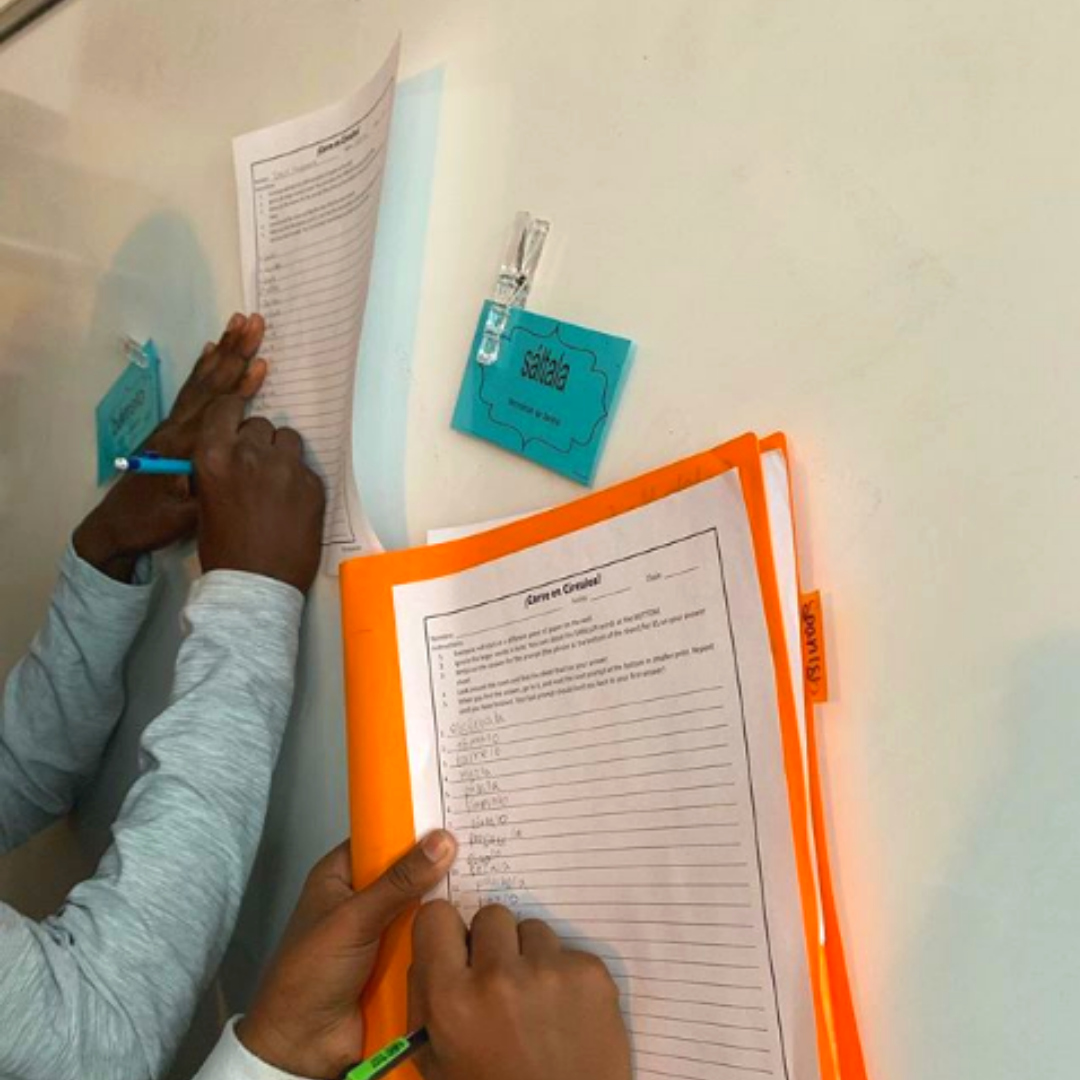 It's also just a great paper saver! I know many teachers have to spend their own hard-earned money on that beautiful Astrobright paper, so this is a great way to save on your copies! Señora Babb shared this pic on her Instagram of her students completing the affirmative tú commands set with mini posters!
Not sure how to make PDFs print multiple pages to a sheet? Check out this handy tutorial on YouTube!
How to Print Mini Versions of ¡Corre en Círculos!
Reading Activity
When I started my journey into CI/TPRS and storytelling strategies, I also started trying to move away from the grammatical practices that are removed from context. With that in mind, I took a story we had been using in class, tweaked it, and turned it into a ¡Corre en Círculos! activity for my students! It was super fun. Here's how it worked:
Students read sentences in Spanish and recorded the English translations.
When they finished the loop, students cut apart their answers.
Students matched their English pieces to the story in Spanish to put it in order according to the sheet.
Students illustrated sentences from the story to show comprehension.
Boom! It definitely took us almost the entire 48 minute class period, but they got SO MUCH reading practice in. I also really liked that the original loop was out of order because they then got to re-read the story and put it in order once they finished. Plus, they were actually thinking about the meaning of each sentence in the loop, instead of just recalling the story from class. Click here to download the activity I used with my students!
Which variation are you most excited to try? Do you have any questions for me? Drop a comment below and let me know!