Inside: Using Social Media for Class Novels, from Sarah Whisenhunt at Sarita's Wisdom.
Hola! My name is Sarah Whisenhunt, but I'm known to my students (and pretty much everyone else) as Sra. Whizz. I just finished my 15th year teaching high school Spanish in Southwest Virginia. I've been married to my incredible husband for 10 years, and we have a beautiful tortoiseshell calico cat. I stay very busy during the school year. Along with teaching, I co-coach our Academic Team, I am Club Director of our Interact Club, and I coordinate our school Homecoming Week activities. I don't know how successful I'll be, but I've decided to add blogging into the mix! You can check that out at here, as well as, follow me on Instagram at saritaswhizzdom and Twitter at caraluna34.
This post contains affiliate links, which means if you click through and purchase something using my links, I receive a small commission at no additional cost to you. Thank you!
I have followed Ashley for quite some time on Instagram, and her posts have both inspired and helped me tremendously!  I also appreciate how she interacts with her followers. She treats us like colleagues, except our school is out in the digital PLN!  She's always encouraging her followers to share how we use her resources. She doesn't do this for popularity, bragging, or exposure.  She genuinely cares and wants to see how we use something she's worked so hard on! So, when she asked me *cough* months ago to blog about how I used her awesome Instagram and Snapchat social media templates, I felt honored and definitely wanted to.  I am happy to share two of the ways that these products made parts of my spring semester easier, more engaging, and more memorable!
Instagram Templates for Chapter Review
I first purchased the Instagram templates in a moment of rush and (honestly) desperation.  I don't know about you, but even if I know I need sub plans, things get in the way that make plan B or beyond necessary!  Purchasing these the afternoon before my absence were no exception.
We actually were ahead in my lesson plan with Spanish 3's reading of Mira Canion's novel Fiesta Fatal. Students read through chapter 6, and finished activities from the teacher's guide to support those chapters earlier than expected. That left me with little time to change my sub plans. I knew I couldn't start anything new. We had dug into those chapters and had great discussions with the supplementals. I needed to find an engaging way to review.
Enter my two teaching life BFFs: Instagram and Teachers Pay Teachers.
Ashley had posted about her social media templates. Knowing that of her three great choices, Instagram and Snapchat were more popular with my students than Twitter. I decided I wanted something with the ability to be a more in-depth presentation.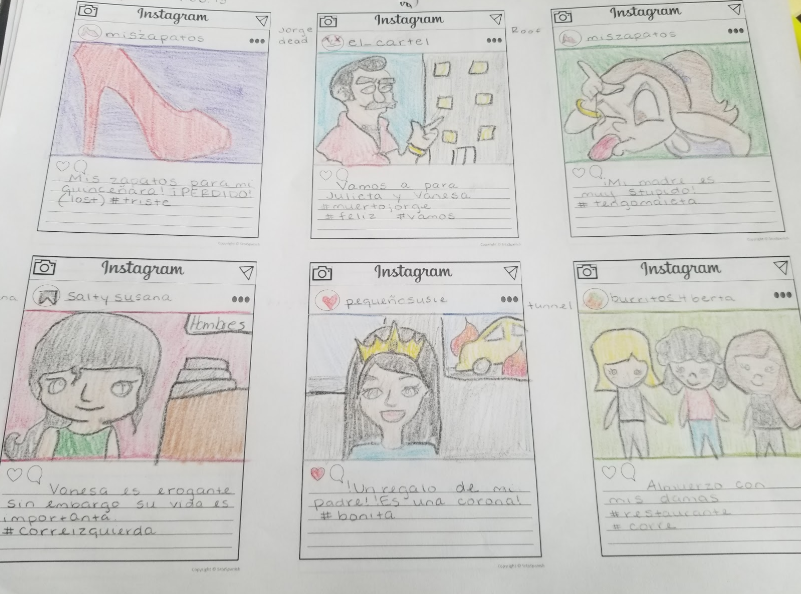 Instagram won out because of the length of "post" students could create and the snapshot "photo" students could make. I downloaded the product and decided to use the template that allowed for the most writing space.
I left instructions for students to work in pairs or groups of three to make six Instagram posts, one for each chapter we had read.  Students had to include usernames and a caption, along with colored images (the black and white filters weren't acceptable). Hashtags and tags were optional.
What Happens Next? Snapchat Prediction Activity
Riding high with the success of using social media templates to review a class novel in Spanish 3, I was ready for Spanish 2 to have the same chance with its class novel, Brandon Brown Quiere Un Perro by Carol Gaab.  I planned this as a review of the whole book, and thankfully it made for (another) nice sub plan when I had to miss!
I chose Snapchat for Spanish 2 initially because I wanted to save a novel review with Instagram for Spanish 3, since I often teach the same students in both.  (Thinking back, I do believe I could easily do the Instagram in both levels, as the novels change.)
I made a good decision with this group of students, however, as Snapchat was their social media of choice (Thank you, personalized questions and answers!). 
Students worked in small groups to create a snap story that happened after the ending of the book. *No spoilers* The groups pretended they were Brandon's prima Jennifer, and she thought what happened to Brandon was too good not to share! The groups created four snaps to make the story, kept the Spanish short, and added the pictures. Like with Instagram, no black and white allowed, but they could add hashtags, as well as, bitmoji/emoji stickers, tags, etc.
Once again, I was very pleased with the creativity. This made a nice, informal assessment. It also allowed students to creativity think beyond what they read in the book based on character development.
Both of these lessons happened early in the semester, as students were getting back into Spanish and/or learning the ins and outs of my classroom and how I conduct things.
These gave students a creative outlet with less pressure to show what they know than a traditional quiz, test, or question and answer assignment. It also gave me a chance to see how they viewed the characters and content we studied in the novels. This allowed me to get some different perspectives.
Show What You Learned
I flipped the social media templates later in the semester, during our discussion of Semana Santa.  Spanish 2 had the Instagram template: making posts about religious and cultural aspects they "saw" during the week.  Spanish 3 had to do a drawing and writing retell of our real-life cascarones prep and cracking we did to celebrate. Both served as formal assessments, and both produced wonderful results.  
Twitter Options
I have yet to use the Twitter template, and honestly I'm not sure I will.  That's SIMPLY because my students don't use Twitter as much as Instagram or Snapchat.  If you have students that love to Tweet or check the hashtags, Ashley has you covered!
I think you could easily turn any of my examples above into something more Twitter friendly.  I can think of some Twitter ads a pet store could tweet that even Brandon Brown's mother would RT, as well as some pretty aggressive subtweets Vanesa in Fiesta Fatal would write about her experiences.  (Don't know what a RT or subtweet is?  Ask your students!)
Connect With Your Students!
The big thing, I think, is you need to think about how your students use social media.  Approach an activity with these templates from their perspective.  If you're not sure, ask them! 
It will make for a great topic, and likely one that will be engaging in the target language!  From there, you have a strong foundation on how you can use these templates for activities that will be both educationally creative and beneficial to students' language acquisition and production. 
Of course if you're not sure, hopefully my examples here help, or you can feel free to ask me for some ideas. And, I'm pretty sure Ashley will be there to support you too, just like she has for me!