One of my favorite units at the start of the year is students introducing themselves to others, and talking about themselves! It's great to get to know them and build our classroom community, as well as develop those skills. I can't wait to share some of my favorite reading activities to teach introductions and personal descriptions in Spanish class!
Readings for Comprehensible Input
One of my favorite strategies to help students develop their confidence in reading is through gallery walks. This strategy is effective because students get a lot of opportunities to interact with both the grammar and vocabulary from the unit. They become more confident as they read several selections and are successful at understanding the meaning in the short paragraphs!
I love using gallery walks because students can focus on a small selection at a time, instead of seeing all of the readings at once. This helps them not to be overwhelmed when they realize they're actually reading a lot in their second language!
Students also like that a gallery walk allows for them to get up and out of their seats – or sometimes, even outside of the classroom!
Find Someone Who..
A few years ago, I started posting the readings around the classroom with a scavenger hunt "find someone who" activity. I love that this requires them to read for a specific piece of information in the paragraphs, not just wander around and look at them!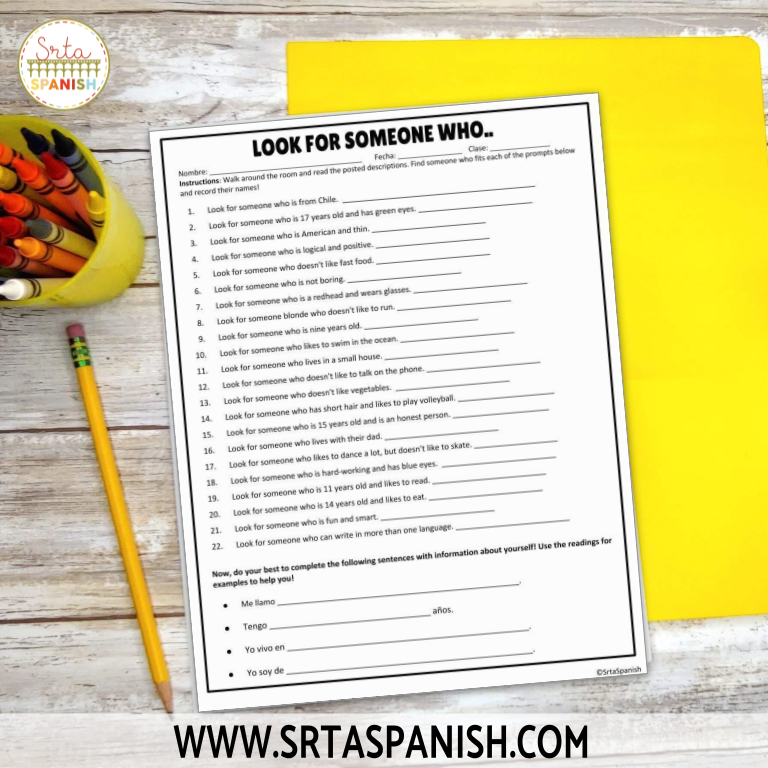 Often at the end of the scavenger hunt I will have a section for students to do some scaffolded writing. In this example, the students are completing a short paragraph introducing and describing themselves, much like the characters from the paragraphs!
Writing Activity for Introductions and Personal Descriptions in Spanish
As students finish up the gallery walk, it's nice to have an extension activity! I love having them do a writing activity that is really a sneakily disguised re-reading activity. This helps them get a little bit more out of the texts, but in a way that is different enough from the gallery walks they don't feel like they're just doing it again!
In this writing activity, students find a single paragraph from the posted readings. Then, they list anything they have in common with the character, as well as anything that is different between them. Then, they re-write the things that were different, but change the sentences to be true for them. This step allows them to start writing about themselves, while using the support from the paragraph's sentences to help them.
Finally, they search the readings one last time. This time, they are finding three people they have something in common with, and recording the sentences that are the similarity in the chart at the bottom of the page.
Reading Comprehension for Google Slides and Boom Cards
Another option for these readings is to use the reading comprehension questions! Each short reading has three comprehension questions so students can read and check for understanding. These are available as both Google Slides and Boom Cards, in case you prefer one over the other! Click here to check out the Boom Cards reading comprehension set!
Reading Activities to Teach Introductions and Personal Descriptions
Click here to check out these reading activities for introductions and personal descriptions! The best thing about these passages is that they can be used on Google Classroom as part of your distance learning. Thank goodness!
These short readings are a great way for your students to get lots of input! It includes 22 short readings about different people written in comprehensible language. Each reading includes vocabulary supports at the bottom of the page to help your students be successful.
In this reading activities bundle, you will have access to over 120 short passages. Click the image below to check it out in my shop.
You can also find these reading comprehension activities in Boom Cards format! Boom Cards are great for distance learning and can also be used for stations. Check them out here.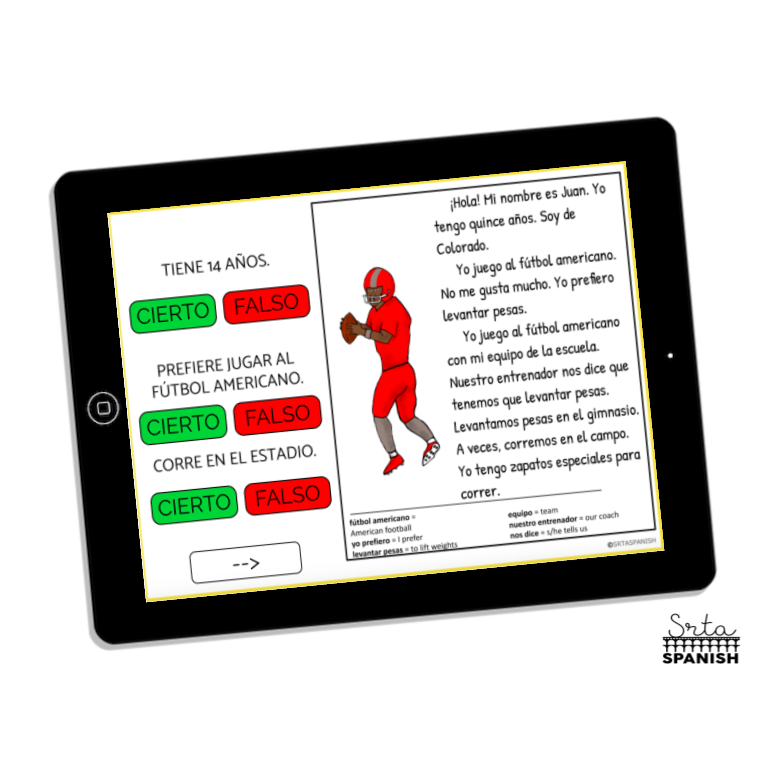 ---