Interview season is upon us! Last week we were chatting about questions that you can prepare to be asked during an interview. This week we are going to talk about questions that you should ask during an interview. Before I really get into it, I just want to remind you that an interview process is not just about you finding a job it's about you finding a school that's a good fit. One of the worst things that can happen to a teacher is to be hired or working in a school where your philosophies don't align with that of the school, or the school environment just isn't a healthy place for you. That's why these questions to ask during a teaching interview are so important!
I really want you to keep in mind that when you're having an interview it is not a one-way conversation. This is a two-way street – you are evaluating the school as much as they are evaluating you. Do not be afraid to ask questions, do not be afraid to ask for clarification if the answers aren't satisfactory.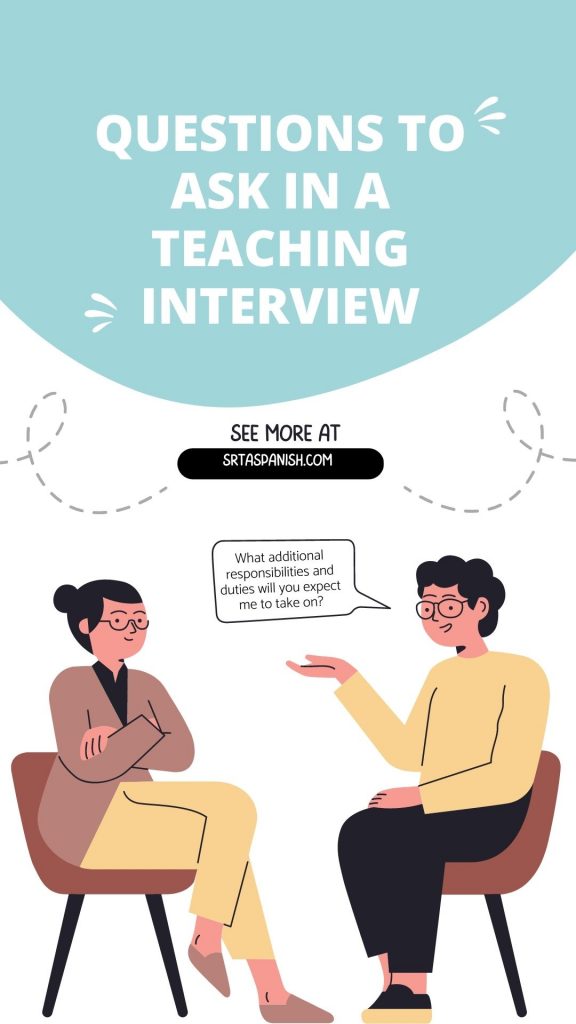 Watch the Video – Questions to Ask During a Teaching Interview
Questions to Ask During a Teaching Interview
School Environment
What is your enrollment like year-over-year? Both as a population and in your language programs?
What additional responsibilities and duties will you expect me to take on?
What does the contract day like? How many classes, what are duties like, etc.
What does the day look like?
What is the teacher retention rate in your school?
Is there class size limit, and if so what is it?
What kind of student should take an upper-level language course?
What system do you use for teacher evaluations, and what data is used to determine teacher performance?
Do you speak a language other than English?
What is a goal that you are having your teachers work towards right now, or what is a school-wide goal for improvement?
How do you evaluate in a second language program, especially if you don't speak the language that they are teaching?
What is the strongest characteristic of the World Language Department?
What is your personal philosophy on language learning as a member of the administration?
Do you offer opportunities for professional development, and if so can you tell me a little bit about them?
What do you do on campus to support new teachers?
What would you say is the best part about working for the school and what would you say is the most challenging thing about working at the school?
How would you describe the school's culture?
Get a tour of the school if possible because it will tell you a lot about the school environment.
School Policies
What is the school policy on missing or late work? Is there a school wide policy?
Is there a school wide discipline plan? What do the procedures look like?
What is the school policy for retakes?
Can you tell me about the school policy on cell phone use?
What resources are available for struggling students? How are those students identified, and how are they served?
Materials and Support Provided
What is the students' access to technology?
Are there laptop carts? How do you get access to the carts and how often or how frequently they are checked out?
What technology will my room be equipped with for instruction?
Will I have a classroom at all?
Will have a classroom this year, and if so will I consistently have a classroom or is it just a one-year thing?
How many traveling teachers do you have in the school?
Is there a curriculum available or will I need to create all materials and resources for my students?
How many different preps will I be expected to teach, and how much time will I have to prepare for them?
Is there a department, and if so how do they currently collaborate?
What common planning time is in place for that collaboration?
How to Prepare for your Teaching Interview
First, sit down with the list of questions you may be asked and come up with responses for each. Don't practice too much – you don't want it to come off as rehearsed!
Then, look at the list above and pick out 5-10 questions that are the most important to you. Feel free to write them down on a notepad and bring it along with a copy of your resume. It will make you seem even more prepared!
Save this post to share with a friend!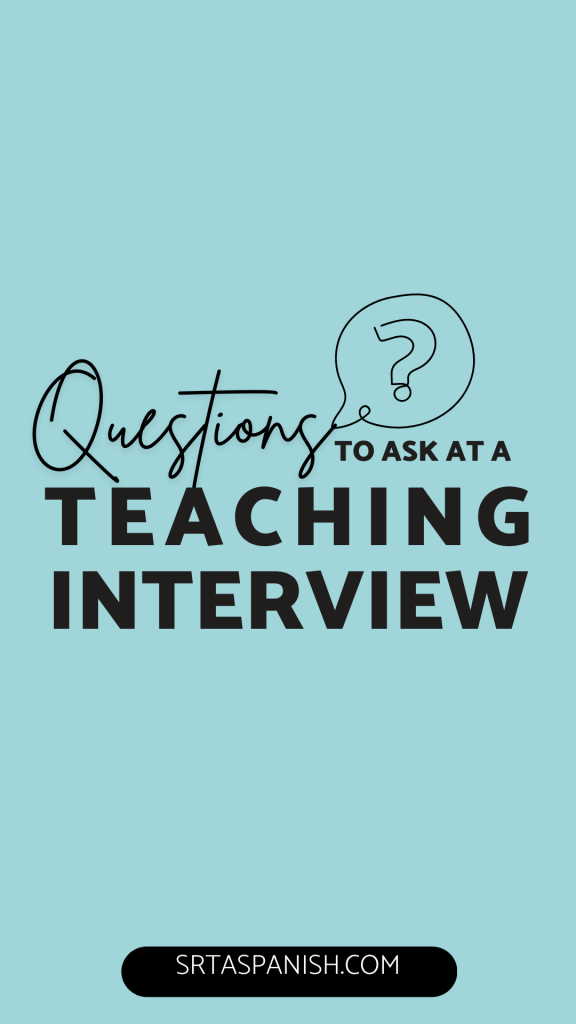 You may also like..