Anyone need a little extra help for back to school? The past few years have been SO crazy, and I know many of my teacher friends are needing some extra love. Today I wanted to share three ways to get free resources to support you this year!
Giveaway
We are giving away F-I-V-E $250 gift cards to TeachersPayTeachers.com. Yes! FIVE!! Just think about what your wishlist would look like after one of those gift cards got used on it! 😍 TPT has amazing digital resources, classroom decor, holiday activities, projects, stories, and more. Everything you need to support you this year! Click here to go enter!
2022 Resource Libraries
We also gathered two huge resource libraries for you that are full of 50+ FREE resources. Go download them for free here: 2022 Elementary Spanish Resource Library and 2022 Secondary Spanish Resource Library.
Free Resource Library
Don't forget my free resource library! Subscribe and gain access to all of the free resources for you to download whenever you need them to help you. You'll also get weekly newsletters from me with more ideas, resources, tips, and lesson plans to support you.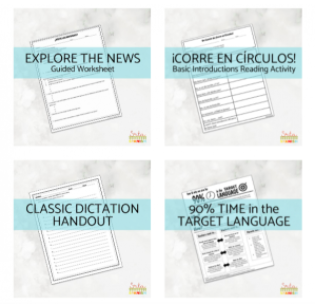 In addition to access to the free library, subscribers will also receive emails from me with helpful blog posts, free resources, and product updates.
Already an email subscriber?
Click HERE to go straight to the exclusive library of free teaching resources. Use the password emailed to you to grab all the freebies. Lost your first email? Look at any recent emails from me (Ashley) and the password is in each email I send at the very bottom. Make sure you check your SPAM folder or Promotions Tab if you can't find emails in your inbox.
Best of luck with the giveaway, and happy back to school this year!