Retakes can seem overwhelming at first, but with the right system in place, it gets easier to handle!
My goal as a Spanish teacher is to help my students become proficient. In my first years of teaching, I was never against retakes but, I did struggle with how to organize retakes in a way that was meaningful for my students and simple for me. We have gotten a lot closer this year to a system that works for us in our department, and I wanted to share it with you.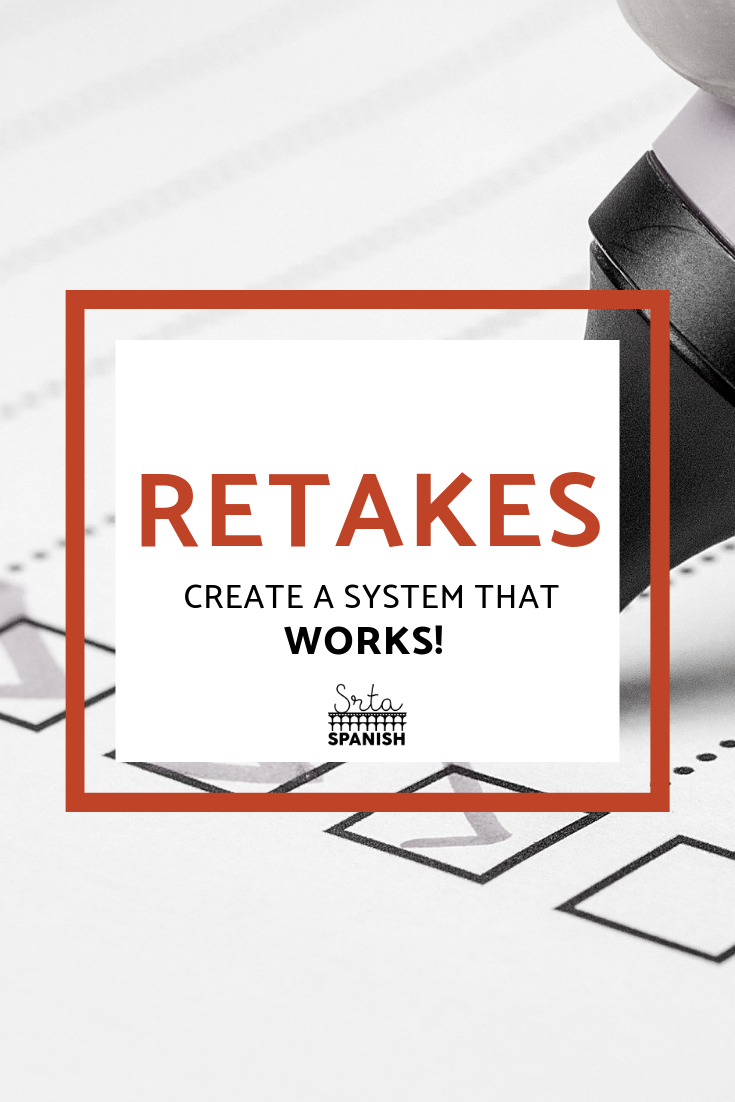 Our Steps to Retake:
Students complete an assessment AND receive feedback. (Sometimes students approach for a retake before receiving feedback because it "didn't feel good". I always tell them to wait to see the feedback, but if they want to they can start brainstorming their plan.)

In order to do a retake on a learning target students must create and submit a retake plan with four activities to practice that target. If they want to do multiple learning targets from a test, multiple retake plans are needed.

They submit the plan to me for approval via Gmail and I will make suggestions or approve the plan. This step seems like busy work to a lot of them, but I've found that some students struggle to come up with appropriate practices. This is a vital step to make sure the practices are actually useful! We do include a Resource Bank on the end of the Retake Plan template, but it's still challenging.

Next, they complete their plan, and show proof of completion: screenshots, completed practice activities, recordings, etc. I go through it with them and provide feedback. Sometimes, this feedback means do more practice, or schedule 1:1 time with me or a tutor to help them really lock it down.

Finally, we schedule & do the actual retake. Then I grade it, and the second score replaces whatever they got on that section before, for better or worse.
Scaffolding the Retakes
Of course, there are bumps in the system. For the middle school students, our department has been creating a retake plan with the separate learning targets ahead of time. It really simplifies the process for them. They look at their feedback, select targets, and email with their selections. For high school, I've found that it helps them to see and use an example plan or two at the beginning of the year. Eventually we move away from that and help them think about what they really need to work on. This helps them take responsibility and reduces our workload.
Scheduling Retakes
Where do you find time to do all of the retakes? I have a HUGE resource within my school. There is a monitored room that is open before, after, & during school. Teachers provide academic support to students, but also give make-up tests, or retakes. Once a student has completed a plan, I put the copy of the second assessment in the center and then it is on the student to figure out when they'll get there. Arguably, this gets rid of one of the biggest headaches of retakes.
A friend of mine has written a post on how he manages scheduling retakes within Google Calendar. Check it out!
P.S. Upon my asking to link to the post in this blog, he suggested adding this bit of information:
A major problem I have been running into lately is that cancelled appointments don't disappear from the calendar. A student can cancel the appointment on their calendar, but it keeps the name on your calendar (you have to physically open each event to see if the student's name is crossed out.)
A cancelled appointment also opens it for other people to claim, but then I may end up with what LOOKS like three kids on one appointment slot, with no way to tell which two cancelled unless I open each event.
Google famously has not yet fixed this glitch, and it does cause a bit of a problem, so maybe telling students to be SURE before they make an appointment might be a good idea.
Check out his original post for more details! You may also want to keep an eye out for his webinars, as he has a lot of neat Google Suite tricks up his sleeve!
Not Ready Yet? Don't Worry!
In my first few years of teaching, I KNEW I should be doing this, but I didn't know how to set up a system and I was exhausted trying to plan and maintain teaching the regular curriculum. I couldn't imagine doing retakes. If that's you, that's okay! Do what you can. Also, don't forget there's a whole WORLD of Spanish teachers. If your boat is sinking, please don't forget you can ask for help.
Here is the link to the retake plan and resource bank my department has developed for our students.