This year has been SO exciting so far! We're incorporating a TON of new routines into Spanish I. One of the new things I'm trying to make sure I include is a daily brain break in Spanish! As we go through class I've really upped the level of Spanish being used (trying to hit that 90% time!) and I'm definitely feeling the need for breaks.
There are a TON of great ideas for Spanish Brain Breaks out there, but I actually found it kind of overwhelming. Which ones do I use? How do I remember them all? How do I get organized? I knew I needed something to help me make sure I incorporated them, and I wanted to be purposeful about them.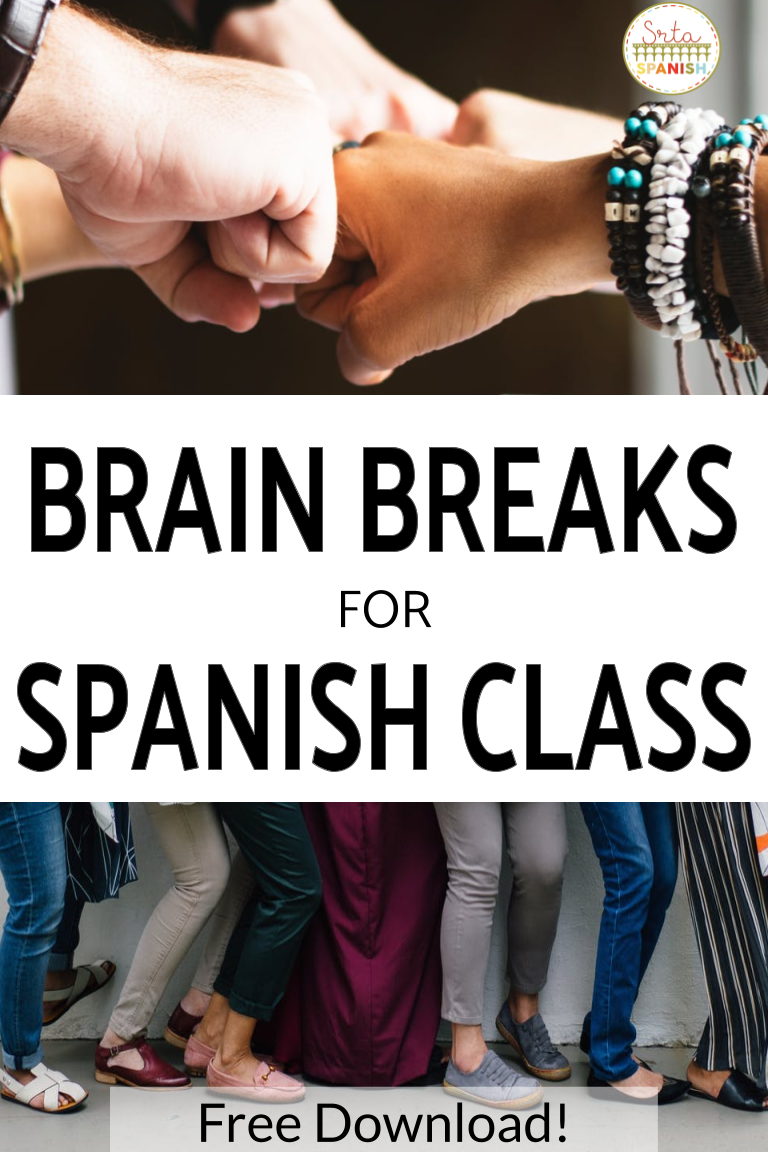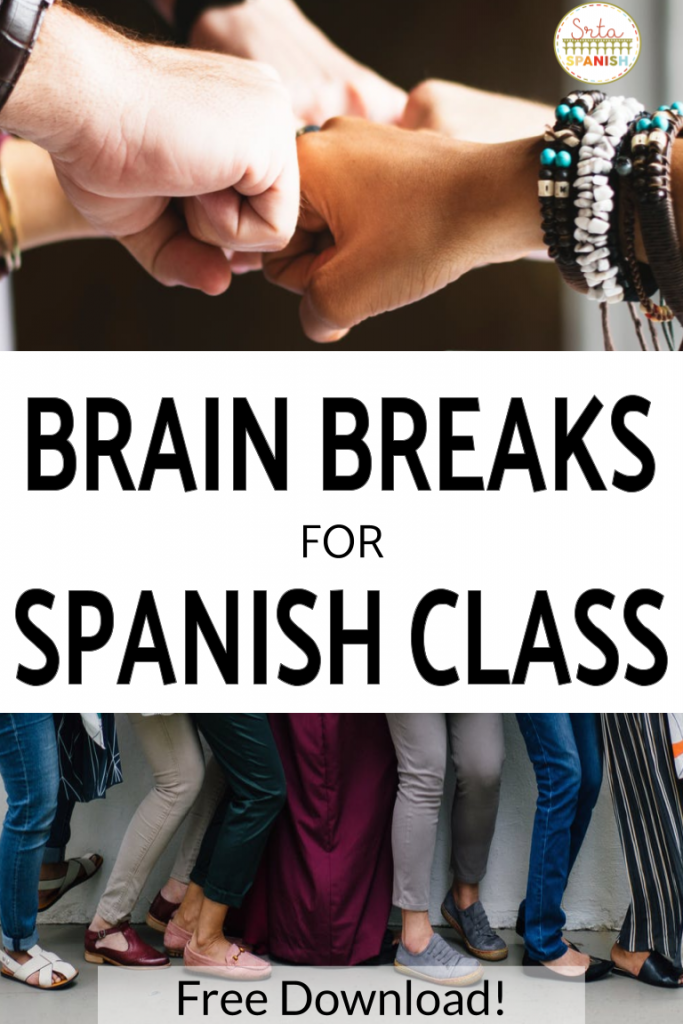 Click here to check out my post on socially distanced brain breaks!
Brain Break in Spanish Video
Google Slides to Organize my Brain Breaks for Spanish
It's (probably) no surprise that Google Slides were my solution.
I started a set of Google Slides, one slide per Brain Break. Then, I sat down with my computer and Googled my heart out. I added instructions, visuals, and links on each Slide until I had a decent "bank".
Then I went to my daily Slides that had my lesson plans and just inserted them where they might be needed. I started with one and did that and a variation for starters. Then I added a few more.
My teammate and I have been really purposeful about which brain breaks we use when. For example, the first week of school was a lot of variations on name games and nice to meet you's.
This week we did "Chocolate" as a brain break because we had a reading about chocolate! I really wanted them to hear the word in Spanish several times to help them learn how it should sound before we did the reading.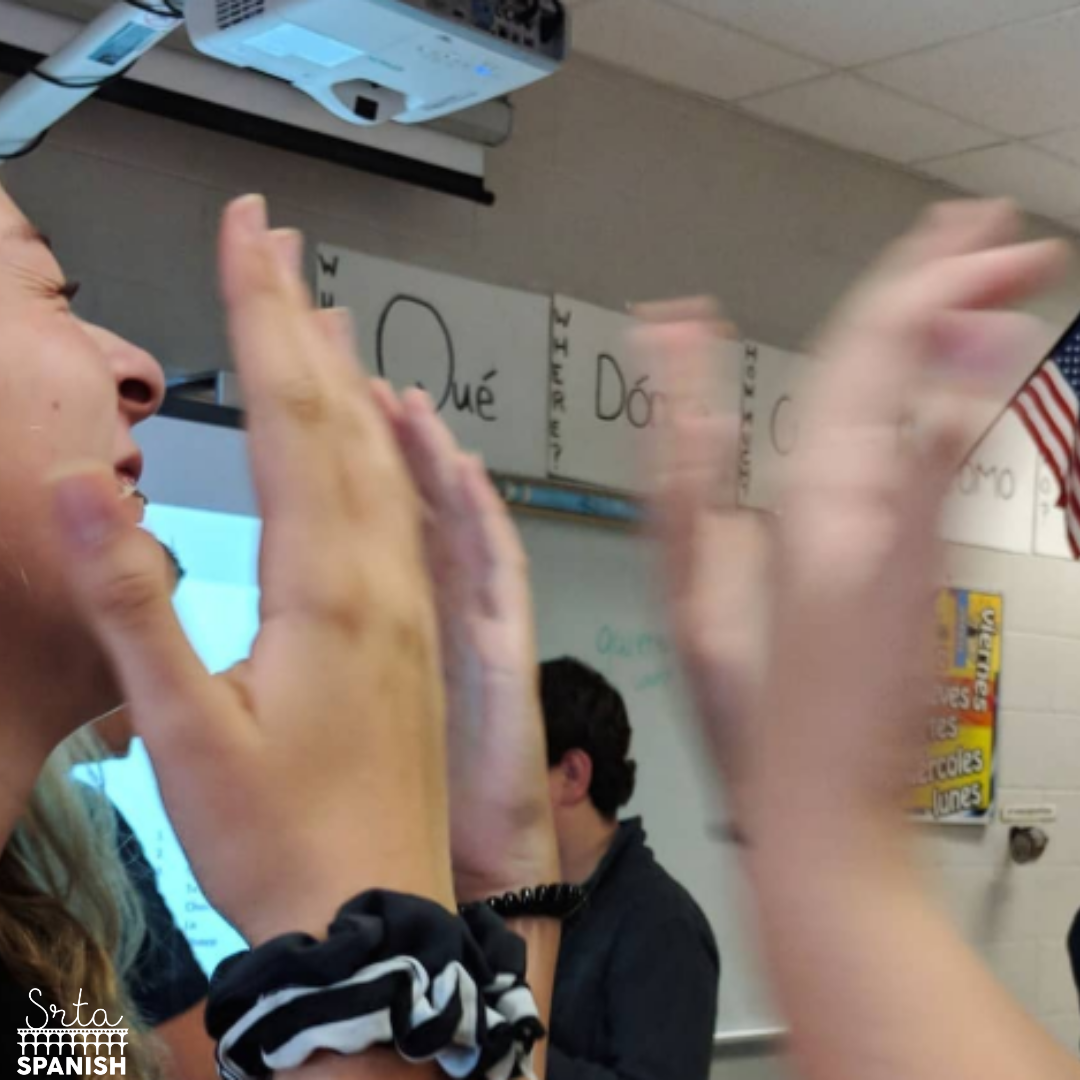 They're not always something "focused" on what we need. Some of them are just silly, and that's perfect! Do what works for your classes.
Add Google Slides to Your Google Drive
If this sounds like a strategy that could work for you, here is where you can access the presentation! PLEASE do not request Edit Access. Follow the instructions on Slide 3 to be able to make changes to the presentation!
I cited sources in the speaker note sections of the Slides. If you're confused, check out those notes! Lots of them include video or picture examples of how to do things.
A large number of these came from La Maestra Loca! If you've never checked out her blog you MUST. It's amazing and full of ideas, visuals, and videos! SO so helpful.
What Should I Add to my List of Brain Breaks for Spanish?
It's week three of school and we've got a pretty solid handle on about ten different breaks. I will continue to add more as I go – I know I've only scratched the surface of the ideas that are out there!
Do you have any favorite Brain Breaks that I should add? I'd love to try them out!
If you use these, I'd love to see them in action! Tag me on Instagram @srta_spanish, or on Twitter!
Have fun!