One of my favorite things about February are the hearts. They seem to suddenly appear everywhere you look – pink, red, purple, with ribbons, lace – and sometimes with chocolate inside! If you are looking for some great ways to bring some fun heart activities for Spanish in your middle school or high school classroom, I have some wonderful ideas for you!
If you are looking for some great ideas for bringing the Valentine's Day season into your classroom, be sure to keep reading. I have awesome ideas for writing, displays, puzzles, and more. I have some great decorating ideas that will have your classroom looking like Cupid stopped in!
Some of the links in this post are affiliate links. This means if you click on the link and purchase an item, I will receive an affiliate commission at no additional cost to you. Thank you!
Heart Writing Activities
In this heart writing activity, students decorate their heart and draw pieces of it. Then, students fill in the pieces to describe what has a piece of their heart! It's very sweet and fun to see what your students come up with.
Have you seen this positive plates writing activity from Mis Clases Locas? I think it would be a great class building activity. You could give it a sweet Valentine's twist by taping hearts to students instead! Then students fill them out with compliments, adjectives, and other kind descriptions.
Heart-Shaped Manipulatives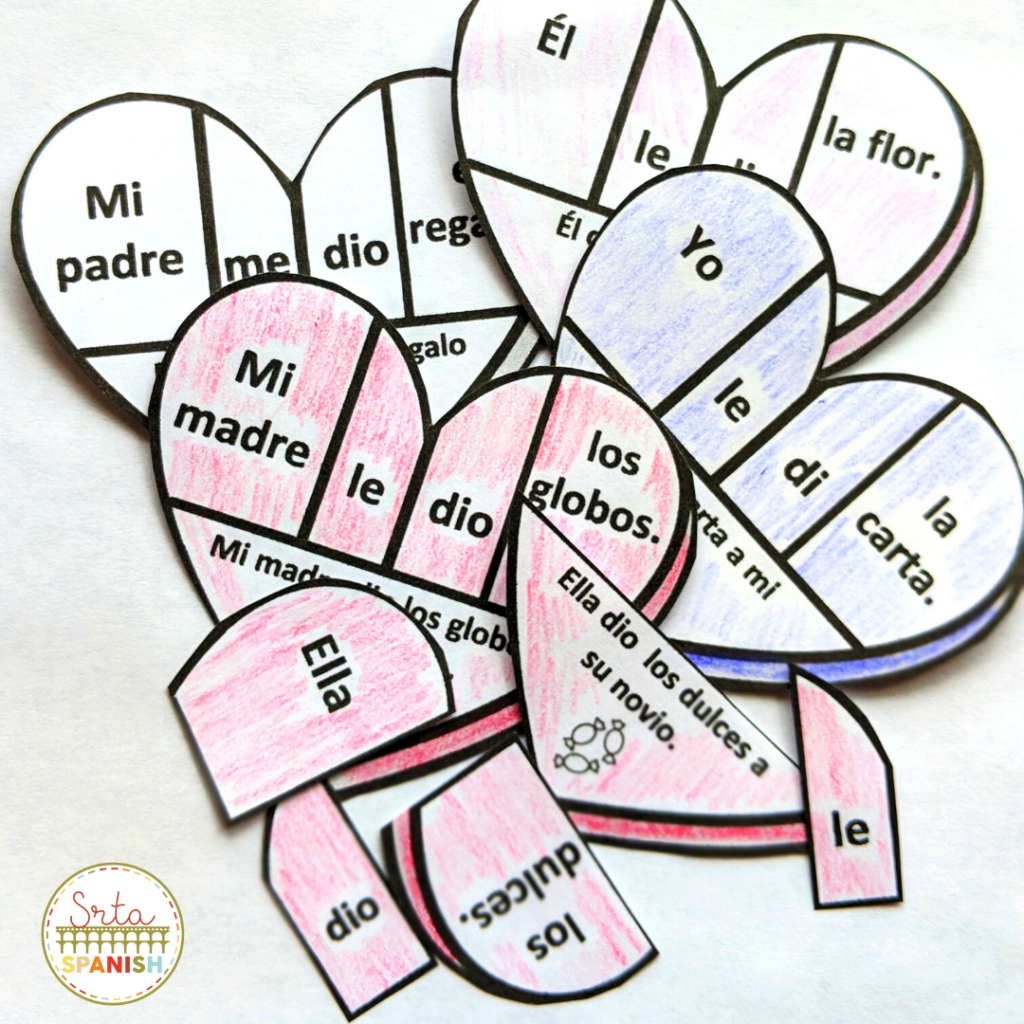 If your students need a great way to practice their skills with object pronouns, I've got some heart puzzles to help with that! Your students can assemble their hearts while working direct, indirect, and double object pronouns. Check out them out! (Direct objects // indirect objects // double object pronouns)
If you want a simple, but fun activity full of seasonal vocab, your students will love this conversation hearts matching game! It's also fun to pair this game with real conversation hearts in Spanish!
I've also written before about how I love Grid Puzzles! My friend Heather has a great editable grid puzzle that's heart shaped! It could be a great way to practice vocabulary in February.
Classroom Displays
All you need is love! – I always wind up singing that song in my head when I walk by my This World Needs Love display. I love to hang it in or near my world language department classrooms because it comes in English, Spanish, French, and German! Plus, the variety of heart flags are cute and welcoming. It's one of my favorites!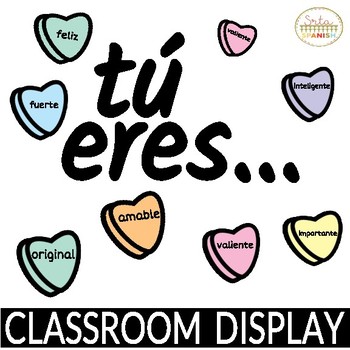 Now is always a good time to reinforce ser and adjectives! In my post on Teaching Adjectives I write about my word wall and how helpful it is to refer to during the day. This display is a great way to do that! Just print off these cute candy hearts with a variety of Spanish adjectives to hang around the phrase "tú eres.." to make a fun display in your classroom, door, or a bulletin board! Click here to check it out!
Looking for more?
Check out my post here for Valentine's Activities for Spanish class! Or, you may also like this post on Black History Month in Spanish class!