Boom Learning is a great tool for your classroom! The site hosts what they call boom cards which is really their name for digital, interactive task cards. These cards allow for digital manipulatives (no need to cut anything out!) and have the option to give you data on each student's progress. Boom cards in Spanish class can give you all sorts of options to practice and give your students more comprehensible input in an engaging way!
Sounds great, right? It is! Let's look at them a little closer.
This post contains affiliate links, which means if you click through and purchase something using my links, I receive a small commission at no additional cost to you. Thank you!
Already familiar with Boom Cards? Check out my other posts on them here!
Why should you try Boom Cards in Spanish Class?
Boom Cards allow for easy differentiation- you can give different decks to different students or tell them which cards to practice in a certain set
Immediate feedback – students are prompted to choose again if the incorrect answer is chosen.
Self-correcting – the digital task cards have the answers built in!
Time saver- no prep or grading necessary!
Multi use – Boom Cards can be done individually, as a class, or in small groups.
What do you need for Boom Cards in Spanish class?
In order to use Boom Cards you need just a few things:
a computer, tablet, phone, or interactive whiteboard with updated browser
internet access
a Boom Cards account
How much does Boom cost?
There is a free option that you can use to quickly share the Boom Cards out to your students via your learning management system, such as Google Classroom. They do have paid options that give you insight into your students' practice as well.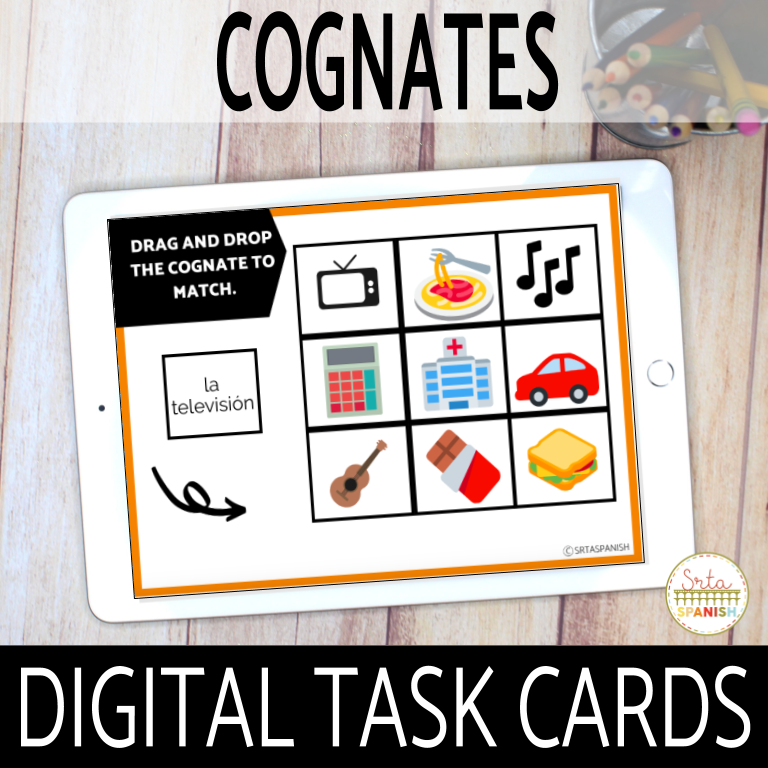 I love the drag and drop feature that allows students to move the pieces and get the manipulative practice without me spending prep time to print and cut things out!
Click here to see all of my digital task cards available in one bundle! Remember, a bundle allows you to save 20% off the total price and gives you tons of ready-made options to use with your students.
Like the idea, but you're not sure? Click here to go to my library of Boom Cards and try out a whole bunch of different sets!