CI, TPRS, ANATTY, OWI, TPR..these are just a few of the alphabet soup chunks you may have seen floating around the internet as you browse and research methodology. World language education is full of acronyms, and it can be overwhelming at times! Today we're going to dig into that first one and get a better look at what Comprehensible Input (CI) is, and where to start using it in your classes.
This post is part of my HOW TO TRANSITION TO CI METHODS series. Check out the other posts here!
Defining CI & where to start? (this post)
Watch the Video
Comprehensible Input is not a teaching method.
Comprehensible Input is not a teaching method. Comprehensible input is a message in the target language the learner understands. It seems to me that what most people mean when they say they teach using CI is that they've switched from an emphasis on grammar to an emphasis on delivering that rich input to their students. If you start "teaching CI" really you are probably putting more of an emphasis on delivering Comprehensible Input to your students!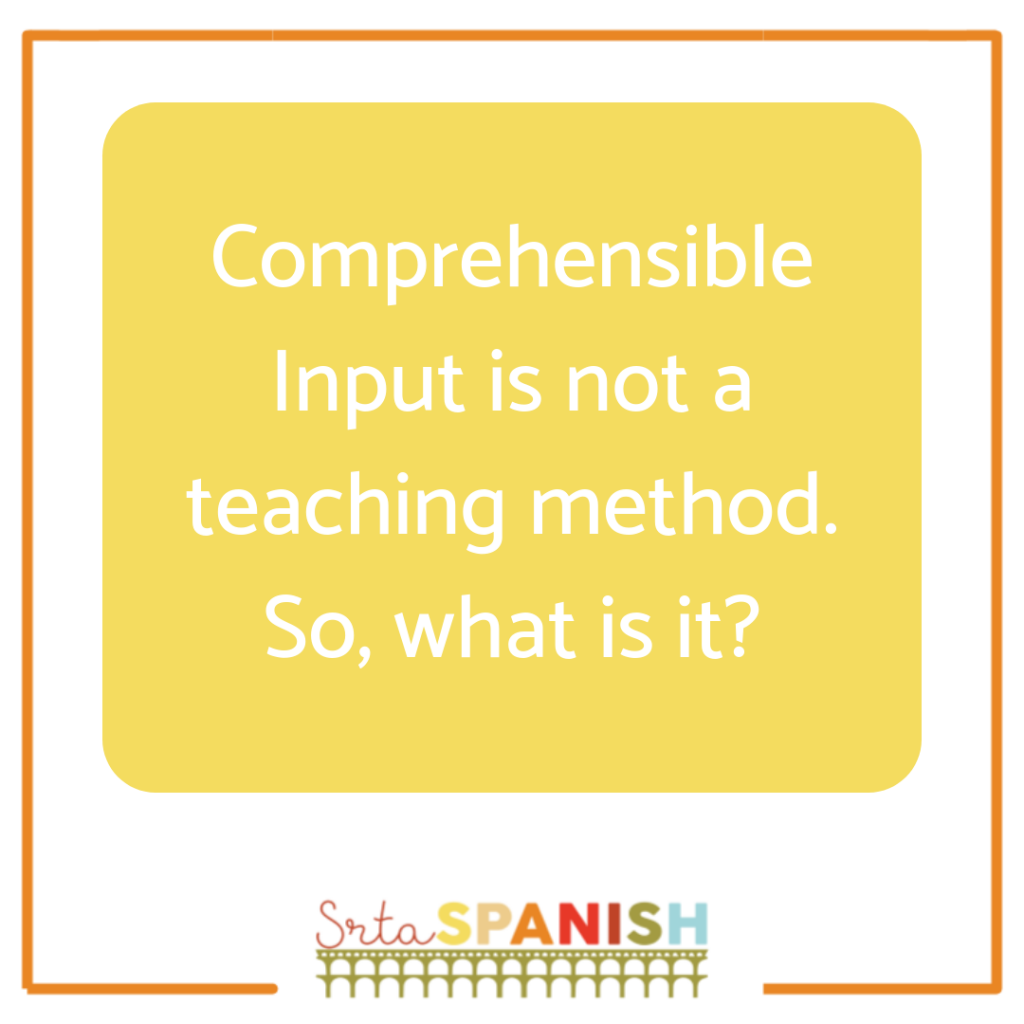 That's not to say that a teacher who uses grammar-based curriculum never uses CI! In fact, I would bet that every world language teacher has used CI in their classroom at some point in time. Students read a piece of text, or information and they understood it? Boom. CI. Students watched a video clip, or listened to music, or a recording and were able to understand it? Also CI. The teacher spoke the target language and the students comprehended it? Again, CI. The basic principle here is that a learner acquires language when they understand the input they are receiving.
Check out Spanish Mama's post here defining Comprehensible Input! She has some of my favorite illustrations that really help clarify what it is and how it works!
Not all input is created equal.
Now that we've got the basics, it's time to step it up a notch. Just because your students are understanding doesn't mean they're acquiring to their full potential! Not all input is created equal. Have you ever watched an old video and just groaned? Maybe you thought, "Oh my gosh, I can't show this to my students!" That's a great example of a source of input that is not as great as it could be! In order for comprehensible input to work to its full potential, it needs to be interesting and engaging for your students. If it isn't interesting, they'll zone out and that gets us nowhere! If your students tune out the input, they don't reap the benefits from it.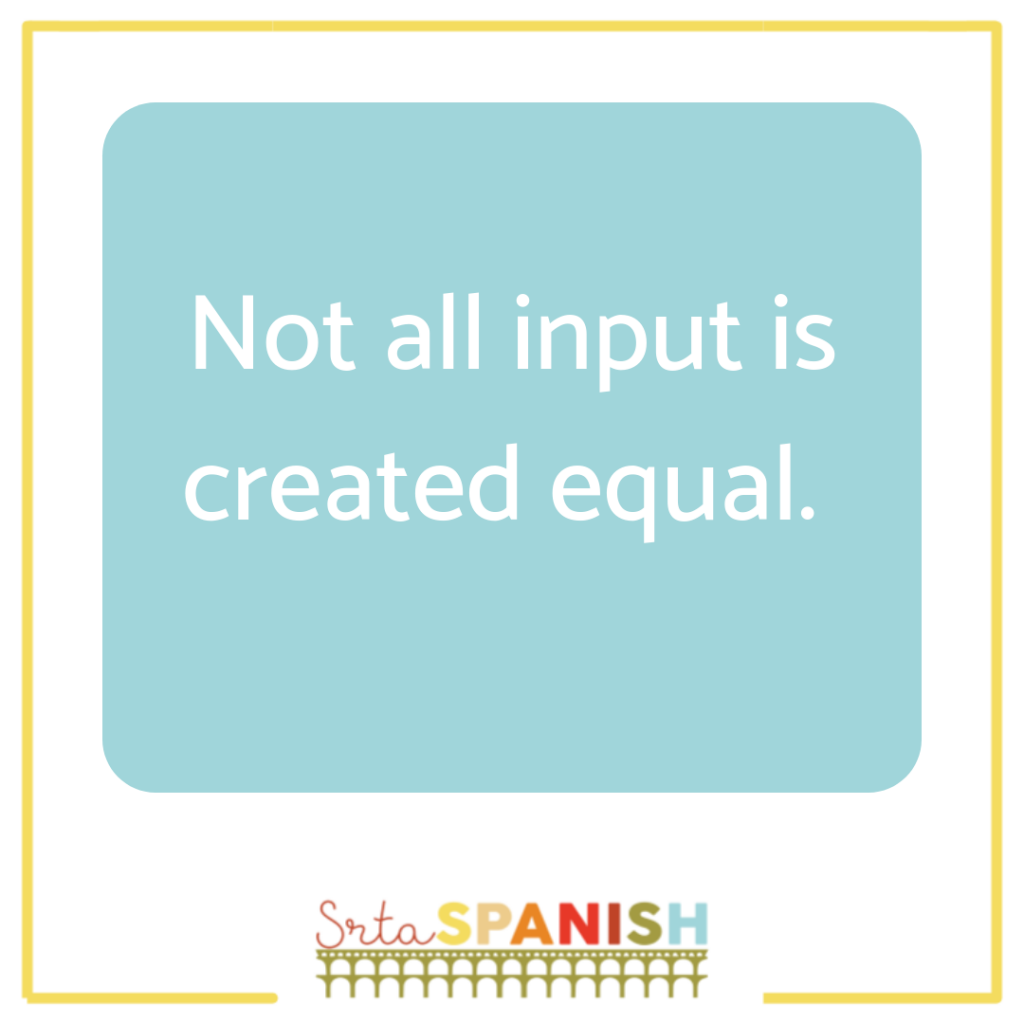 In order for CI to work its magic, there are a few important things to keep in mind. As I mentioned before, the input should be interesting to the learner. It should also be repetitive. You can't expect students to read or hear something once and acquire it. Finally, it serves your students well to have the input focus on high-frequency structures or vocabulary. How many of us have picked up a vocabulary list and thought, "When are my students ever going to need this?". That's the kind of stuff we don't need to waste valuable class time on! Narrow the focus, but spend a lot of time on those key words and structures and you will see your students flourish.
Go deep, not wide.
If you narrow the focus, how will kids know what they "need to know"? Let's look at two examples:
Spanish 2:
Last year, my twos used a grammar-focused curriculum. When we reviewed for finals, we spent time to review vocabulary we had covered. It was so frustrating, for all of us! They couldn't remember words from last chapter, let alone from the previous semester or year. They felt bad, or like they "weren't good at Spanish." I was frustrated because, "We covered it" in class, so why weren't they retaining it? Their chapters included anywhere from 50-80 vocabulary words, not to mention tons of irregulars, and other rules. It's just so much, so fast! Many of them were learning and "dumping" as they went. That's not ideal for language learning! They had so many pieces swimming around in their heads, but they weren't sure how to use the language to communicate, because they hadn't seen enough received enough input to have the patterns down.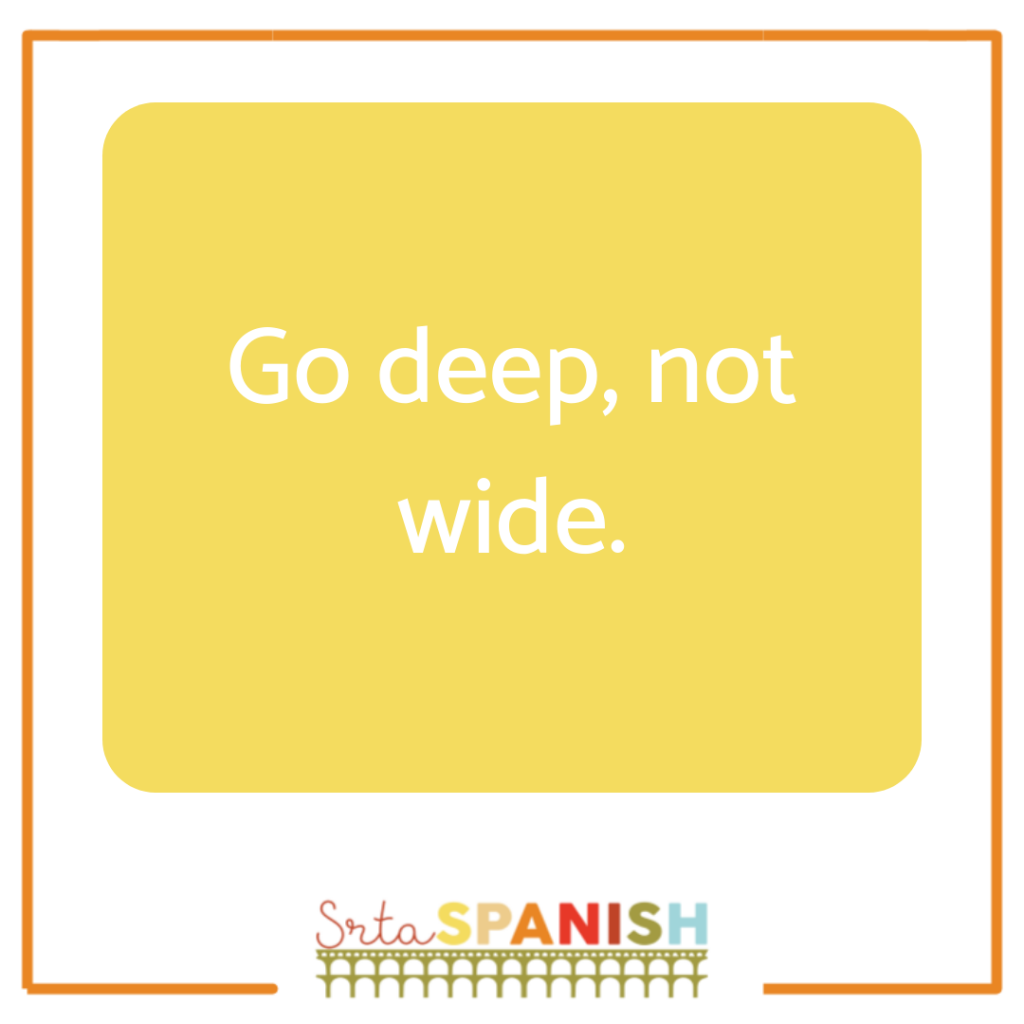 Spanish 1:
This year Spanish 1 relied on CI strategies, blending into a grammar-focused curriculum in the last quarter. At first we ditched vocabulary lists and grammar exams. They received input on skills found in my district's learning targets, in manageable chunks. Instead of a unit on adjectives, we spread them out like I describe here. Persona Especial was also great! As we interviewed students, they used vocab specific to their lives. There was lots of repetition and engagement. We focused on the Super Seven Verbs (from Terry Waltz) in multiple tenses. To meet district targets and pacing, we focused on present tense after the first quarter, except for weekend chat. On the spring final, they wrote about their weekend. Since we'd been using the preterite and imperfect naturally through the first quarter stories, Música Miércoles, and other routines, I saw my ones switching between tenses in their paragraphs. It amazed me!
What's the difference?
While my Spanish ones may struggle finding their way around a conjugation chart, they're a lot more confident communicating with the language. There are less words that they have encountered in vocabulary lists, but they're more familiar and more able to not only recognize, but also produce the words they do know. Not sure how to go about narrowing your focus in a unit? Try checking out the "Chuck-it Bucket" or the "Liberation from the List" posts to help you.
Let's recap:
Comprehensible Input is not a teaching method, but a thing you can provide to your students.
Not all input is created equal.
Go deep, not wide.
Feeling comfortable with this? Check out my post on Teaching CI with a Textbook or on daily routines for your classroom to move onto the next step!