Teaching body part vocabulary in Spanish is a fun unit to include no matter how old your students are! From elementary to high school, it's great for students to be able to describe themselves, especially if something is hurting and they need to communicate that. Here are some fun activities for teaching doler y el cuerpo in Spanish class!
Brain Breaks for El Cuerpo Vocabulary
During traditional units we would always start by front-loading the vocabulary. I really liked to include lots of songs and games to help them! Here are some of my favorites:
Simon Says
Run and Touch a Color – call out instructions for the students to follow, connect it to body parts by saying things like, "Run and touch red with your elbow".
Head, Shoulders, Knees, and Toes
Labeling Body Brain Break – I love brain breaks, but this is one of my favorites for this unit!
Teaching Doler y El Cuerpo in Spanish Class
After we'd done some work with the body part vocabulary, I would introduce doler with a presentation! The phrase "¿Qué te duele?" is introduced first with students responding and practicing the body parts, then are provided with an explanation of doler, likening it to the verb gustar. Students then complete more practices, choosing the correct form of doler and describing the body part that hurts according to the picture on the slide. It's a great way for them to ease into it, and rely on pictures to practice!
Practice Activities for Doler y El Cuerpo
After introducing doler, we do a lot of practice activities with it! One of my all time favorites is ¡Corre en Círculos! There are two versions of this activity included – one where students look at a picture and write the body part in Spanish, and one where students look at a picture and a subject and write a sentence using doler. Sometimes we use the vocabulary version as a mini puzzle!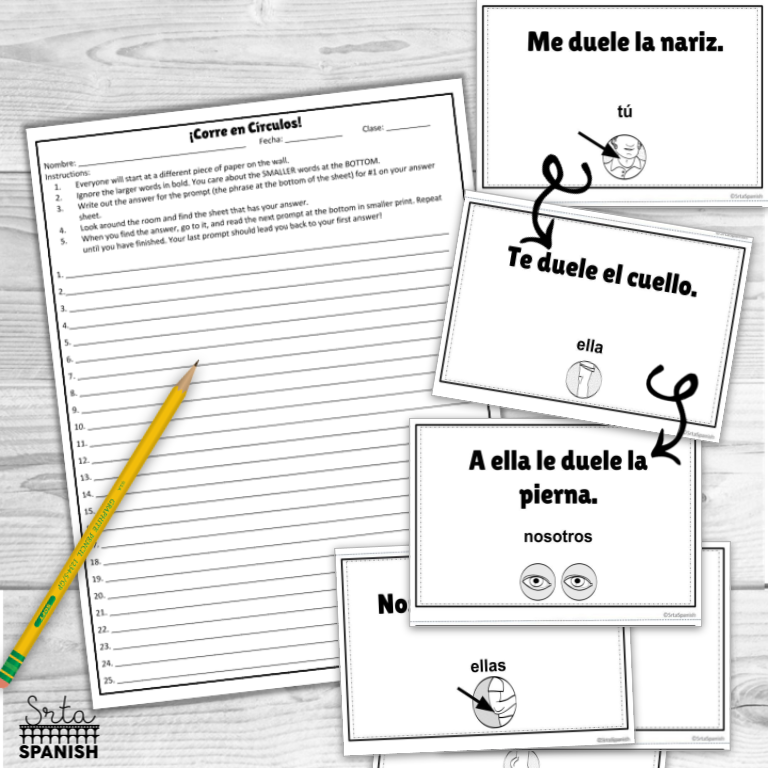 After the scavenger hunt, I like to have another practice assignment ready. The first sheet reviews the verb doler and its structures, then students practice by reading sentences and illustrating their meaning. The third page is a writing practice. Students look at a subject pronoun and images of body parts, then create a sentence using the verb doler.
Your students can practice reading, writing, listening, and vocabulary skills with these digital task cards! Boom Cards are digital interactive task cards that provide instant feedback for your students as they practice. This resource uses the online platform boomlearning.com. New to Boom Learning? Learn more about the platform here!
You can also find my bundle of activities for doler y el cuerpo in my shop!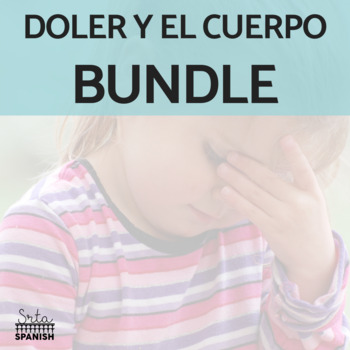 ---