Kahoot is a great tool for reviewing and introducing content in your classes. Many students may already be familiar with it and excited about it!
Getting Started with Kahoot
Go to getkahoot.com to sign in and create your own Kahoots.
You can start your own or you can search for other Kahoots that teachers have created with the Explore button.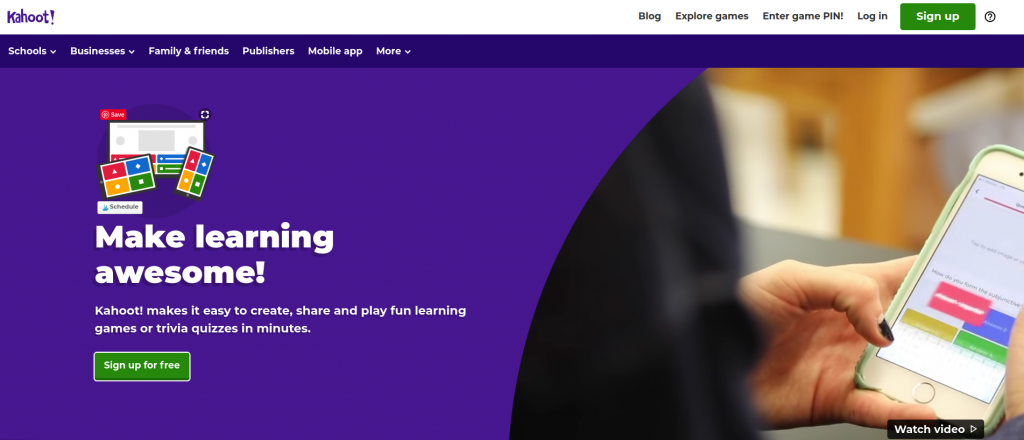 If you choose to search for Kahoots, be careful! Anyone can make them, including students, so if you find one that seems perfect for your class make sure you look it over carefully, check for typos and correct/incorrect answers.
Making Your Own Kahoot
During creation you write the question, insert media, select correct answer(s), set a time limit, and decide whether or not to enter points.
Game Time
When you start the game, it'll put a game pin up on your screen for your students. I suggest freezing the screen while they join in case they make poor choices. You can "kick" students from the game by clicking on their names, then that person's screen will turn red.
Kahoot has also implemented a 2-step join process (students enter two different codes to join the game) which is handy. I haven't experienced it personally, but colleagues have told me they have had students snap a picture of the join code, share it to their friends, then those extras appear in the game and just..throw it off by selecting random answers, or joining with inappropriate names. It's just a handy security bonus.
When the game is done, a leader board will display the top scores. Then, you can have them rate the quiz for learning, fun, how they feel about it, and if they'd recommend it.
That's all there is too it! There are a ton of already created games, and it's easy to tweak any of the games to fit your classes exactly as you need.
My personal favorite way to use a Kahoot is to INTRODUCE content instead of a review! Whoa! Check out my post on Blind Kahoot!