It's the start of a new course or semester, and you're trying to get everything ready for back to school! You'll have new students, and want to communicate your expectations and procedures right from the beginning of the year! Check out these ideas for your syllabus for Spanish class to make sure you're not missing anything important!
Watch the Video
Why have a syllabus?
Maybe you're thinking, "Eh, I teach middle school. I don't need a syllabus." Well, maybe you don't need one per your administration, but they are nice to have in place! It's really nice when you're having a conversation with a student or parent and you can just point to your syllabus that you've had in place. No, you're not changing procedures just for them. This is how you do things, and that's been clearly communicated from the start. It really helps clear up any confusion!
If you're new to teaching, or new to teaching a particular course, putting together a syllabus can help you think through what you're going to do, before everything starts. How will you grade? Will you take late work? How about retakes? What do students need to bring to class? Having all of those decisions made ahead of time can help your year run much more smoothly.
Why have a visually appealing syllabus?
Many, many people use the first day or first week of class to go through their syllabus (I don't, but you can see what I do instead here!). If that's you, chances are your students have seen several of these. You want it to stick in their brains, and you want the info to be easily accessible!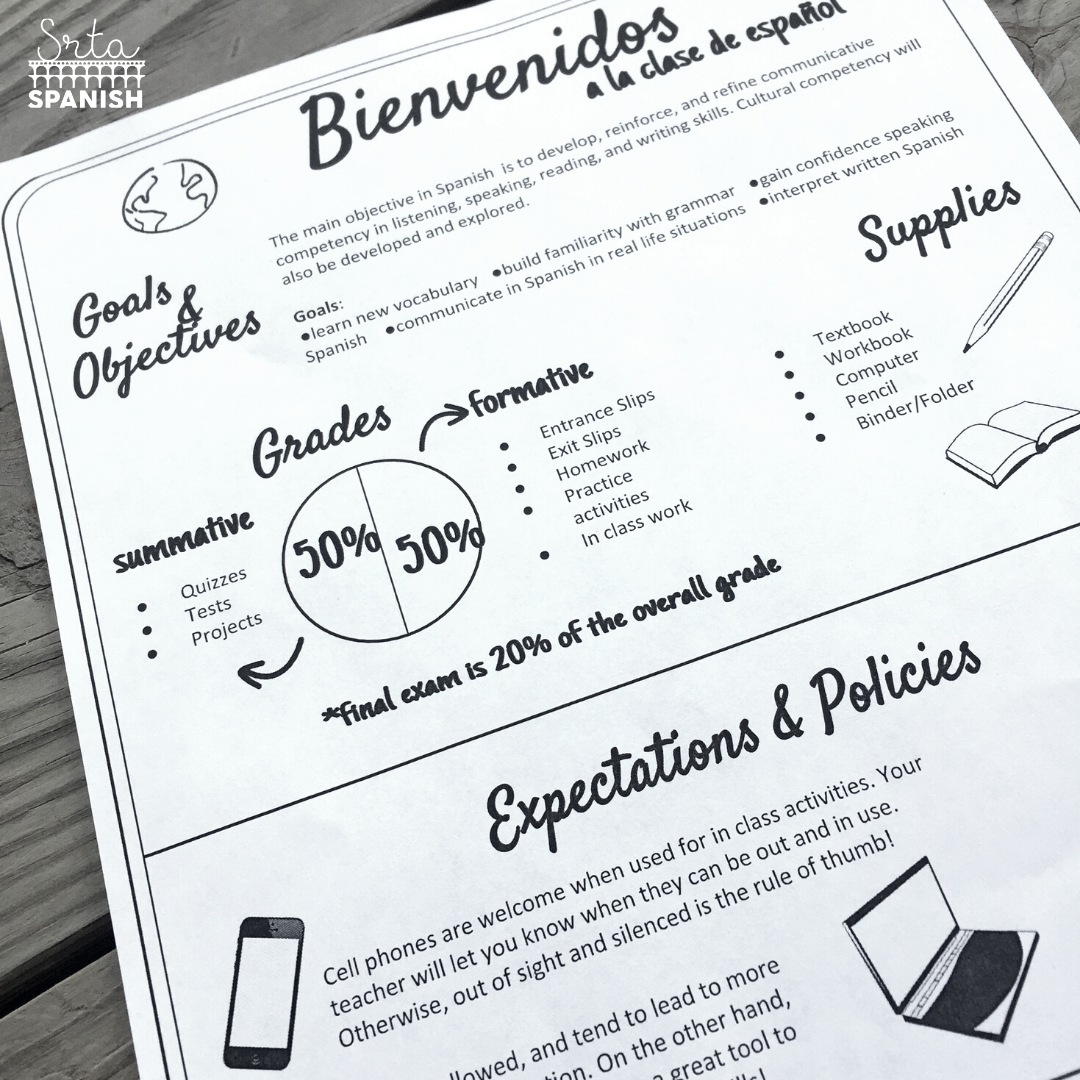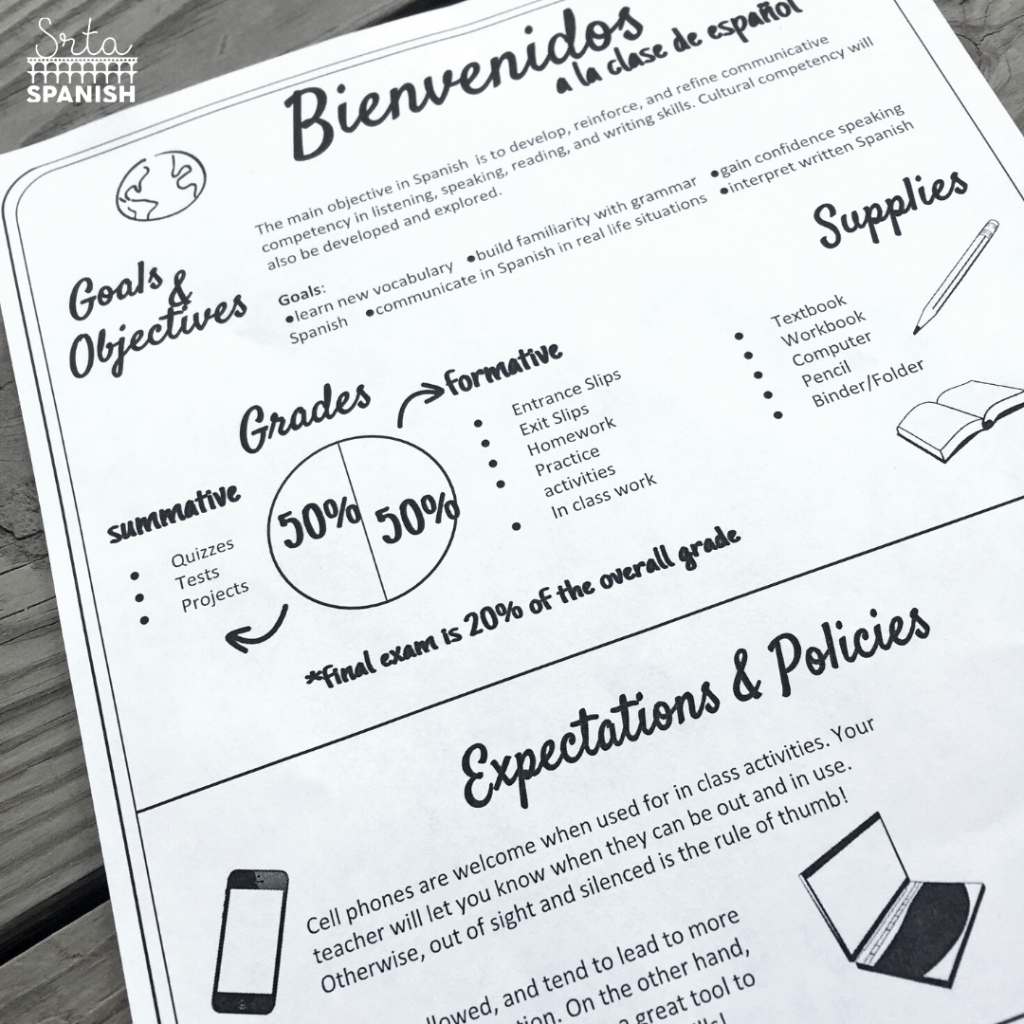 Similar to how you may set up a PowerPoint or Google Slides – large blocks of text are not ideal. Also, visuals help group the information so if they're looking back at it later, they (or you) can quickly point to the section in question.
What Should You Include in Your Syllabus for Spanish Class?
Your syllabus will vary a bit depending on the age of your students, your school environment, and your own preferences, but here are some ideas that are good to include in your syllabus for Spanish class:
course description
classroom expectations
required supplies
grading information
classroom policies
discipline
attendance policies
your contact information
Many of these are things you can defer to your school's handbook for, but if your school doesn't have something in place, it's a good idea to know your plan. For example, does your school say absolutely no cell phones and take them from students when they enter? You probably don't need a cell phone policy in that case! However, many schools leave it up to the individual teacher, so check out what your school handbook says and make your plan accordingly!
Editable Syllabus for Spanish Class
If you'd like an easy template to make your own syllabus for Spanish class, click here to head over to my store to download an editable template! The wording is already in place for you, so you don't have to fret over finding just the right words.
See what people are saying:
"Time saver for sure, I hate messing with formatting, so thanks!"
"Many students complimented my classroom rules and expectations this year. Thank you!"
"This was one of the single best purchases that I've ever made on TPT! It helped me to create a MUCH more visually appealing and comprehensible Syllabus. I wish I had gotten it sooner, but I'll continue to use this design for years to come!"
Click here to download and save yourself time during the back to school rush!