Hispanic Heritage Month is a great celebration to include in Spanish class! It's not just a single day, or even a single month. As Spanish teachers, we include this heritage year round, but I love placing a special emphasis on it during this month! It's a great opportunity to teach about history and culture! Check out these ideas for digital Hispanic Heritage Month activities with your Spanish students.
If you're looking for printables, readings, graphic organizers, and more, check out my post Hispanic Heritage Month Activities and Lesson Plans for Spanish Class here!
Videos
Check out this Pinterest board of videos that explain and celebrate Hispanic Heritage! A quick search on Edpuzzle also turned up several pre-made activities that could be a great introduction to the holiday. I wouldn't use a video as the only piece of this lesson (some of these are very short!) but they are a great, clear, and quick overview before you dig into some more culture!
Interactive Map
I've shared before how much I LOVE using Google Maps with culture in my classroom. Hispanic Heritage Month is no exception! Students navigate the map, read descriptions, look at pictures, and watch embedded videos. As they do so, they fill out the graphic organizer, or answer comprehension questions! Click here to check it out!
Websites
Fun facts for Hispanic Heritage Month
The Library of Congress, National Archives and Records Administration, National Endowment for the Humanities, National Gallery of Art, National Park Service, Smithsonian Institution and United States Holocaust Memorial Museum work together to maintain this site – lots of videos and resources!
Article from TIME explaining Hispanic Heritage Month
Digital Hispanic Heritage Month Activities
How do you educate students about Hispanic Heritage Month in your classroom? Do you do anything special, or is it class as usual? Let me know!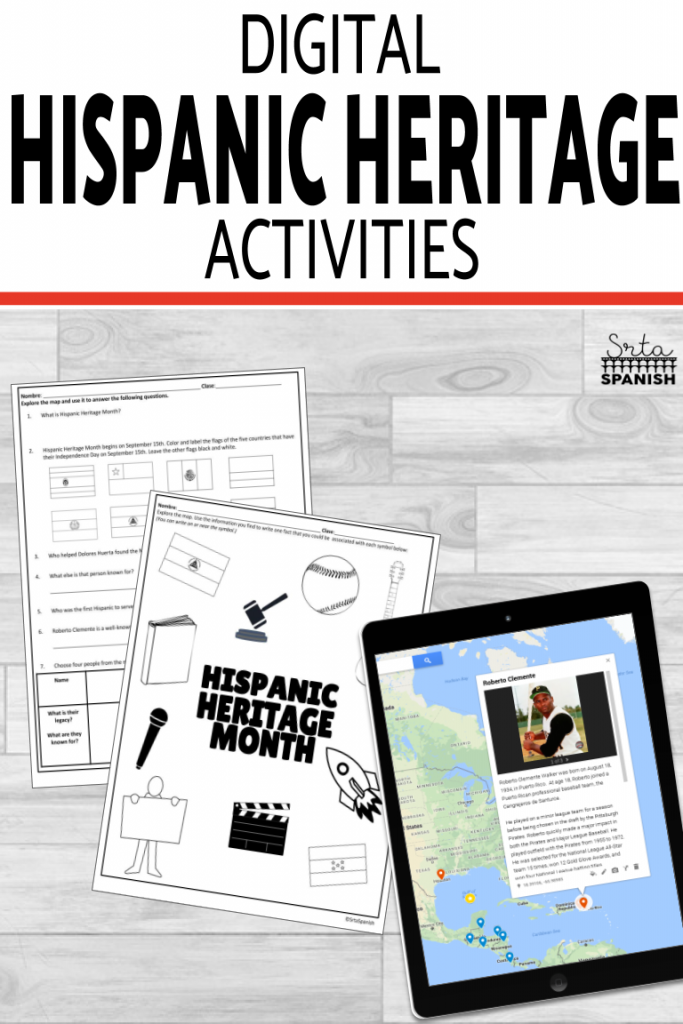 Check out my other posts on Hispanic Heritage Month!