Are you new to Boom Cards? Maybe you're wondering how Boom Cards compare to Quizlet, or looking for a comparison of Boom Cards and Quizizz? Check out this post for information on how Boom Cards measure up to some of our favorite sites like Kahoot, Quizlet, and Quizizz!
What are Boom Cards?
Boom Cards are basically interactive, digital task cards. You can use them for reading, listening, writing, digital manipulatives, and more! There's a LOT you can do with them. It's basically just limited by your imagination! Check out my blog post here for more info on what you can do with Boom Cards!
How do Boom Cards compare to other sites?
Check out this video for a walkthrough of what Boom Cards can do in comparison to other websites that you love to use with your students!
Here's a quick summary:
Don't have time to watch a whole video right now? All of the sites I compared are freemium models – free with a few paid features. I like the free versions of all of the sites and think they are very worthwhile! All of the sites are also auto-grading or self-grading. For me, that's almost a deal breaker. I don't like to use website assignments that aren't!
Since we're comparing Boom to the other sites, I decided to start by highlight just what Boom can do! These are all illustrated in my post here as well.
The long and short of it is that while some of the sites I compared do some of the same things Boom does, I couldn't find a single other tool that offers all of the same options!
For example, many sites do multiple choice or multiple choice with pictures, but I couldn't find anything that does something like Boom Card's digital manipulative features!
Here's the overall comparison so you can see how they shake out: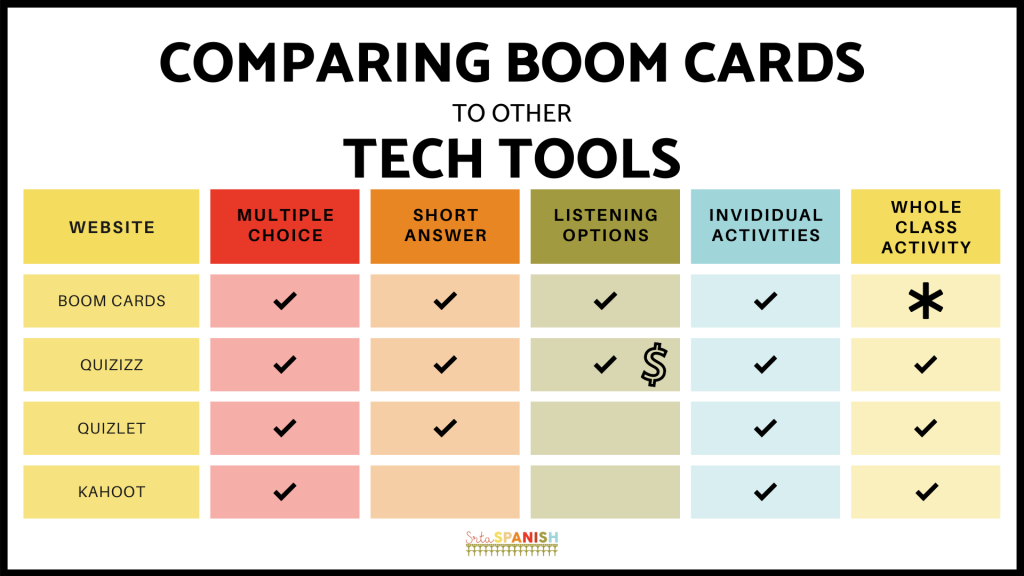 I hope that gives you some ideas of what you could do with Boom Cards and how they measure up to some of our favorite online options!
Have a question about a specific feature? Drop a comment and let me know! I'll do my best to answer!
Want to learn more about Boom Cards? Check out these posts!