If you teach your Spanish classes with a textbook, I'm sure you have a chapter where you're supposed to cover demonstrative adjectives! It can be tricky at first to come up with communicative ways to teach this vocabulary, but I have a few ideas here for you to do 3 days of lessons. Learn more about these demonstrative adjectives in Spanish practice activities!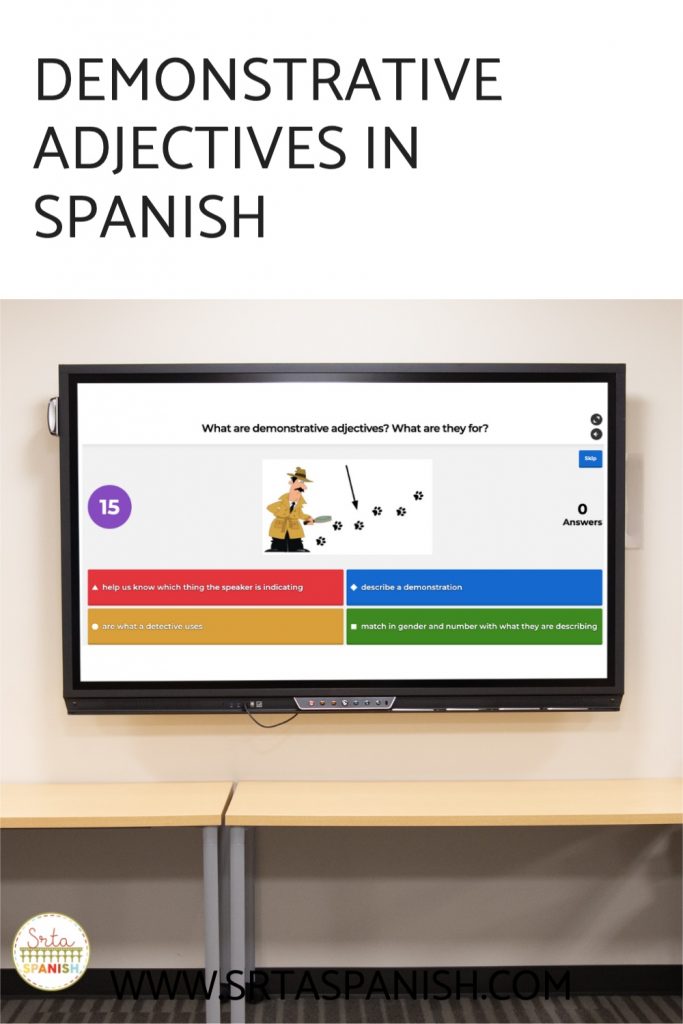 Introducing Demonstrative Adjectives in Spanish
Demonstrative adjectives are one of the skills I like to introduce with a Blind Kahoot! Kahoot itself has a lot of great resources explaining the methodology behind doing a Blind Kahoot, but in general, remember to explain to students that it isn't like a regular Kahoot- not all of the questions will be for points, it isn't stuff you already know, and the majority is stuff you'll have to pick up on as the class goes through things.
Make sure that you pause and check for understanding at the built in spots within the Kahoot- most students have figured things out before then, but it's nice to regroup and make sure everyone is on the same page. Take as much or as little time as you need with your students. Remember, this is replacing direct instruction on the topic so checking for understanding is important.
After your class finishes the Kahoot, distribute the Dibujos sheet. This is a reverse of what they have done in the Kahoot- instead of looking at a picture and matching the sentences they are now interpreting the sentence and creating the illustration. This handout will serve as their "notes" from the lesson for the day.
Demonstrative Adjectives in Spanish Practice
The following day, I often do a warm up activity with the demonstrative adjectives. I tell them the rhyme to help remember and we repeat it together. Then, check for understanding with the Dibujos sheet. Sometimes during the warm-up I'll ask if anyone is particularly proud of a drawing- you could share it via document camera, hang it on a bulletin board, or just snap a pic to share in an online LMS. Finally, I introduce the scavenger hunt activity ¡Corre en Círculos! Demonstrative Adjectives.
At the end of the second lesson, I will often do an exit slip to check for understanding.
On the third day of working with demonstrative adjectives, I like to do a Listen, Write, Draw activity. You can either read the script, play the recording, or post the recording for your students in a learning management system such as Google Classroom. Students listen, write what they hear, then illustrate the sentences.
Additional Demonstrative Adjectives in Spanish Practice:
If your students need some additional practice, Boom Cards are a great option! Boom Cards are digital, self-checking task cards hosted on Boom Learning. Click here to try out this resource in a short sample!
Want to grab 3 days of lessons and activities ready for you?
Click the link below to grab the bundle and save 20% on the activities described here!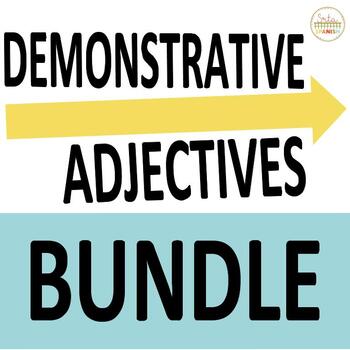 Demonstrative Adjectives in Spanish BUNDLE
Give your students lots of practice with demonstrative adjectives! Students learn and practice demonstrative adjectives using lots and lots of visuals!
– 9 MB – Zip