Research projects are an amazing way to engage students with the language and give them an opportunity to explore culture, history, geography, and important figures. These projects allow for creativity, critical thinking, research skills, and possibly collaboration. Unfortunately, they can ALSO be a total headache to organize, so I wanted to share tips for a successful Black History Month research project in Spanish class!
Save yourself time!
Click here to download a research project template for your students!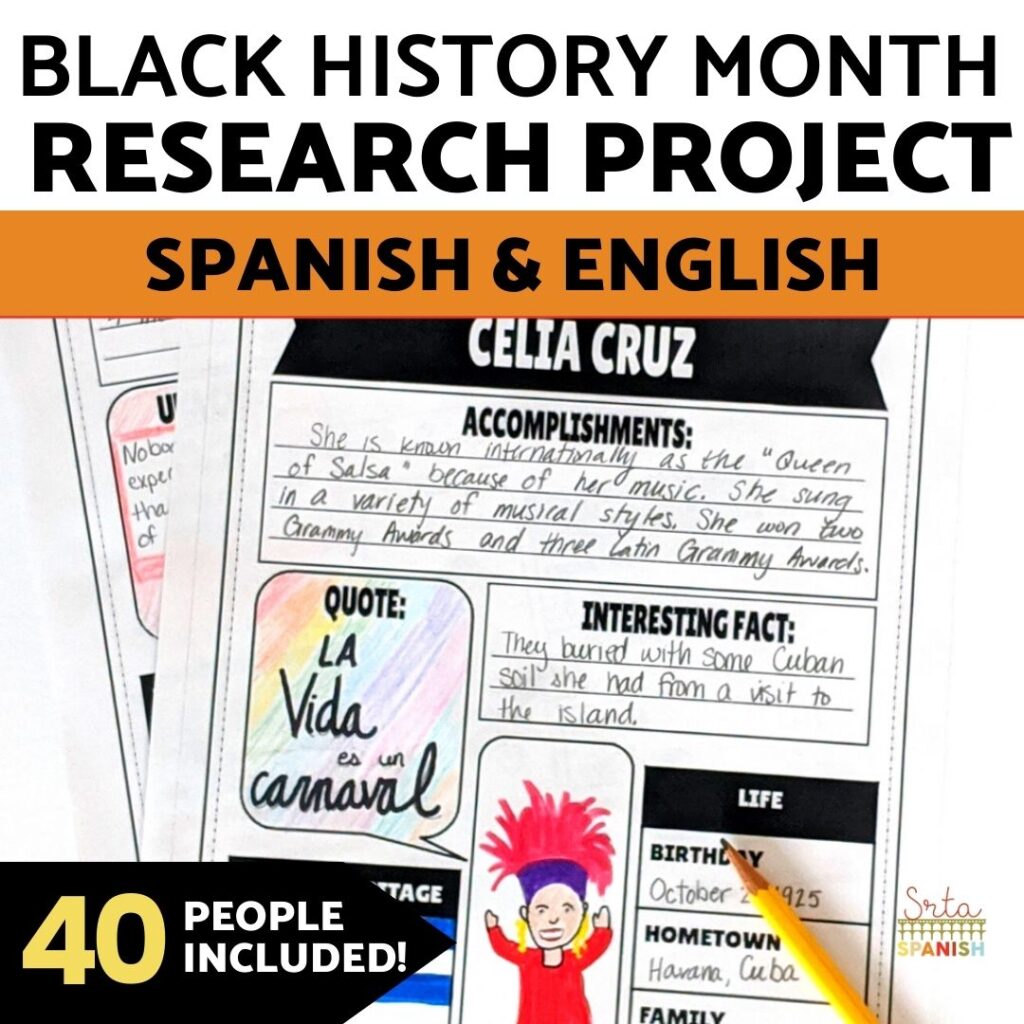 How to Do a Successful Black History Month Research Project in Spanish Class
Have clear expectations
Allow choice
Check in with students along the way
Bring in a media specialist or expert to help your students research
Celebrate their work
Tip #1 Have Clear Expectations
Make sure your students understand what you want the final projects to look like and the language you expect from them. A great start is discussing proficiency levels, like I mention in my post on How to Keep Students from Using Google Translate here. Another is just showing them an example of a completed project, or using readings as a mentor text to help model what they are capable of. These expectations will of course vary depending on the level doing the project!
Tip #2 Allow Choice
Within reason, it's a great idea to include student choice! It's one of the reasons choice boards can be so effective – students like being able to pick! I love to give students a choice as to where or what they are researching to help with student buy in. I always include a blank poster template for students to add another option, in case there's a topic they'd like to research that I didn't think of ahead of time.
Of course, this is within reason. Sometimes they want to research someone who just isn't appropriate for the setting. If you let your students choose, make sure they know that you will approve their choices before they continue with the project!
This pre-made research poster template includes the following options:
Miriam Jiménez Román
Piri Thomas
José Celso Barbosa
Gwen Ifill
Sylvia del Villard
Felipe Luciano
Julia de Burgos
Arturo Schomburg
Tatyana Ali
Gina Torres
Roberto Alomar
Laz Alonso
Nanshon Dion Anderson
Carmelo Anthony
La La Anthony
Eva Ayllón
AZ
Jean-Michel Basquiat
Ursula Burns
Miguel Cabrera
Ilia Calderón
Mariah Carey
John Carlos
Orlando Cepeda
Roberto Clemente
Celia Cruz
Victor Cruz
Taio Cruz
Christina Milian
Naya Rivera
Yolanda Arroyo Pizarro
Rosario Dawson
Joan Smalls
Jaime Hurtado
Marin de Porres
Cecilia Tait
Edgardo Armando Franco
Nicolás Guillén
Lupita Nyong'o
Arnaldo Tamayo Méndez
And, of course, the blank template to add their own!
Tip #3 Check in with students
If you want your students to be successful with their research project, you want to check in with them along the way. Don't just hand them the expectations and set them off to researching! Make sure you set points to visit with them to make sure they understand what they are supposed to do, and no one is surprised when it's time to present.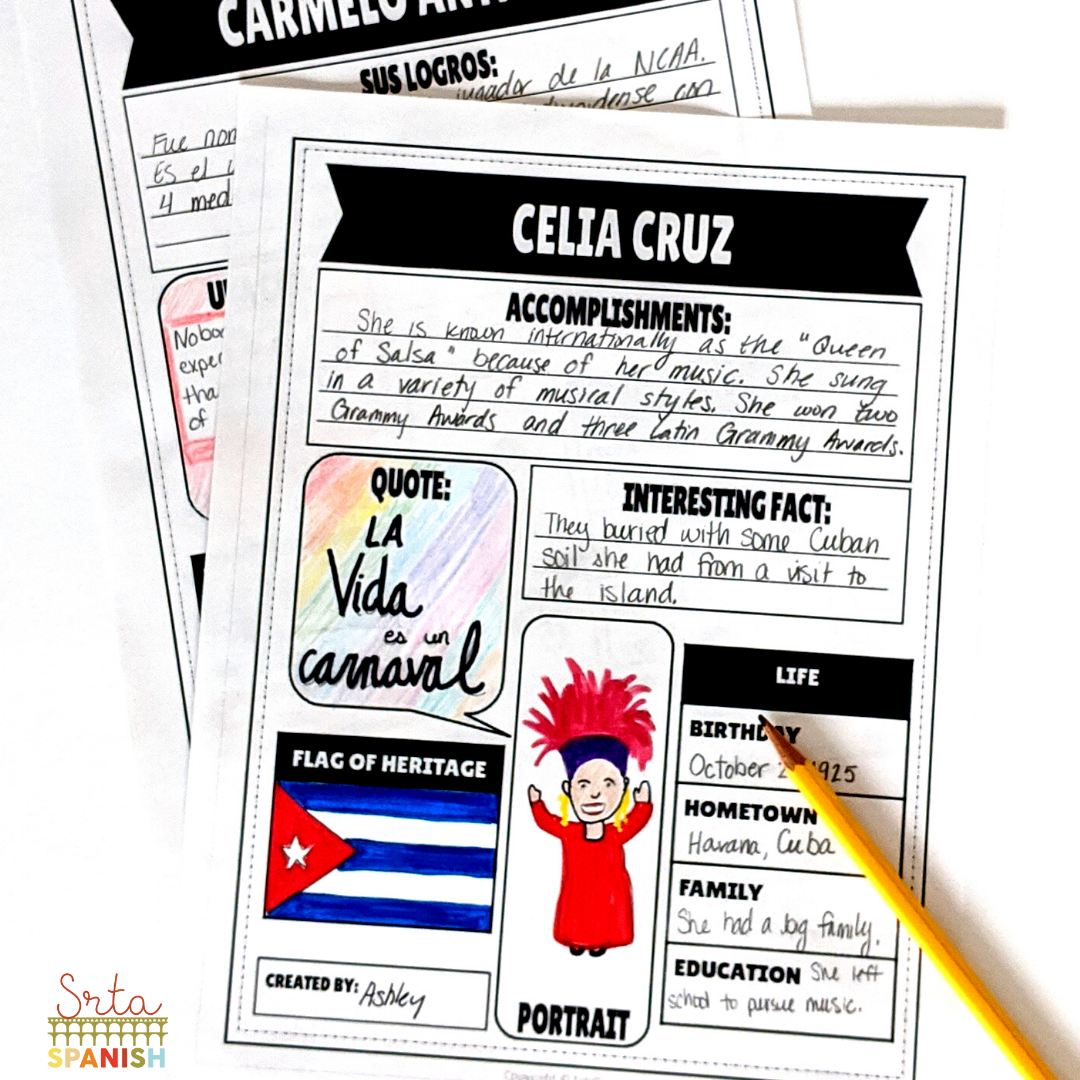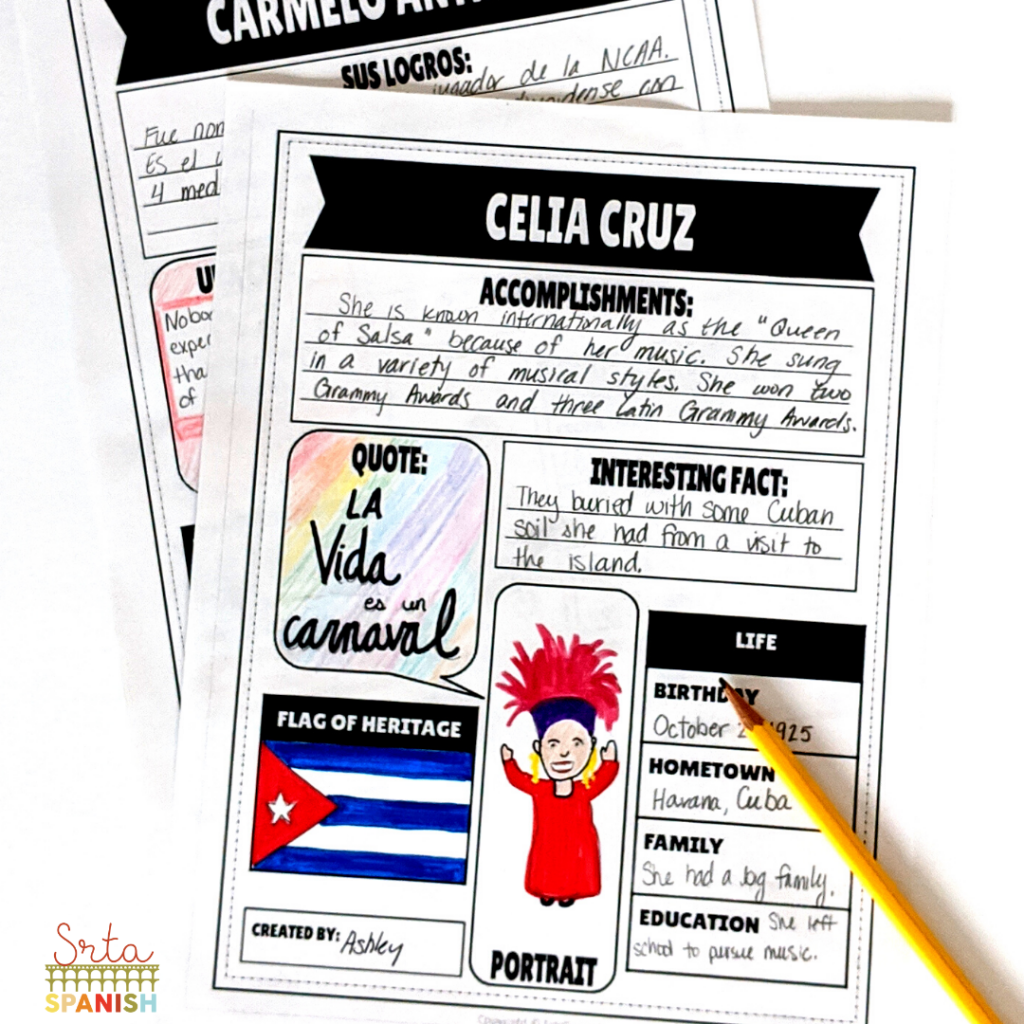 Tip #4 Bring in an expert for your Black History Month Research Project
If you can, it's a great time to lean on any resources your school has to offer. If you have a librarian or school media specialist, talk to them! They might be able to come to your room to help with research. If not, they likely have a list of student-friendly resources your district has access to to support your students.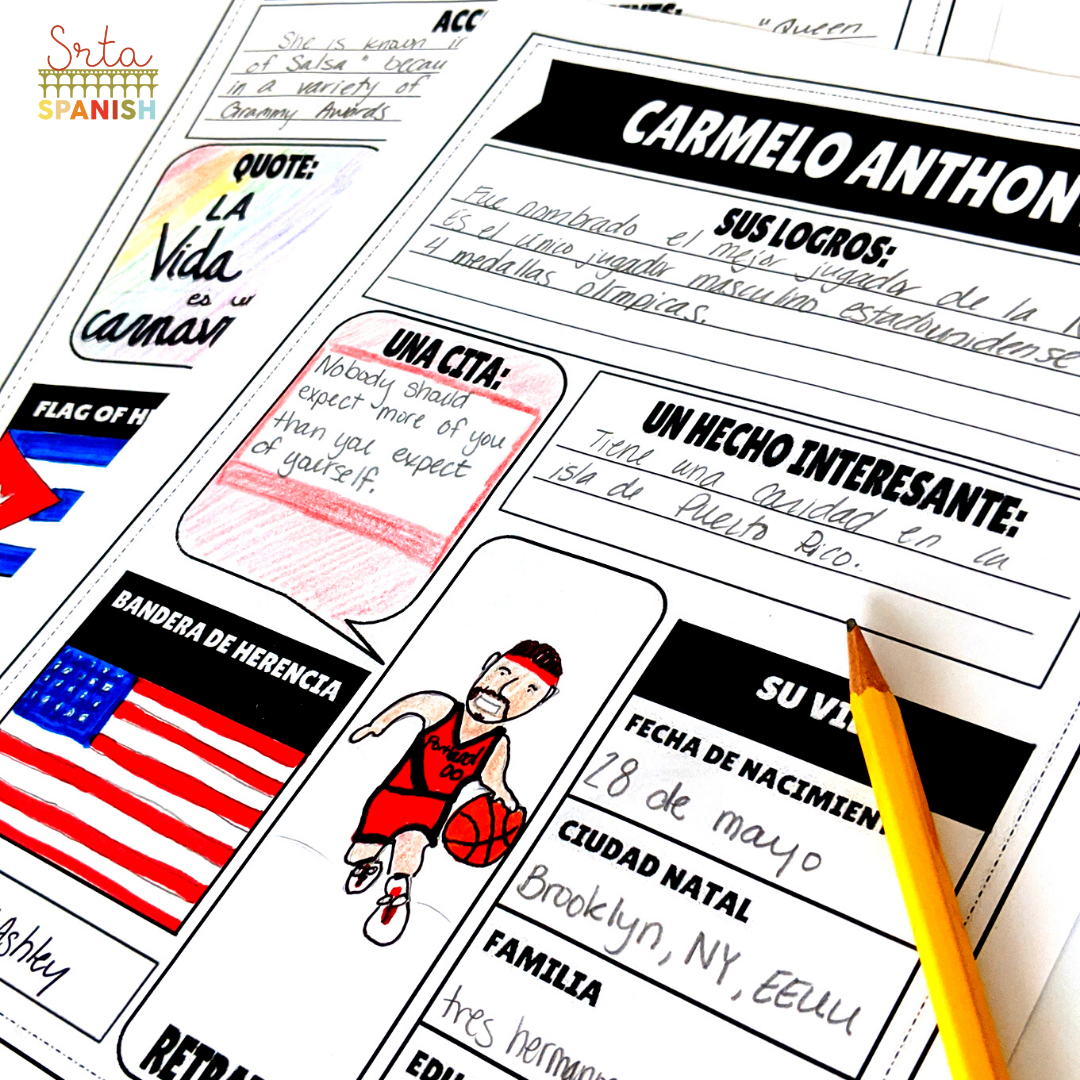 If there's no librarian or media specialist, connect with your co-workers and admin. Other subject areas do research projects, too! Does the social studies teacher have a list of sites you could snag? Is one of your admin a former English teacher who might help with a lesson on evaluating sources? You don't have to do everything alone!
Websites for your Black History Month Research Project in Spanish Class
While every school will have different security settings, I thought I might share a few options for researching. It's up to you whether you want your students to research in Spanish or English, of course, just like you can choose which language they complete their project in!
https://www.factmonster.com/
https://www.history.com/speeches
https://kids.britannica.com/
https://www.ducksters.com/biography/
https://www.loc.gov/
https://www.archives.gov/education
Tip #5 Show off their Work
Once your students are done, it's important to celebrate their hard work! Here's an example:
Click here to visit that post on Instagram
Showing off their work can be as simple or complex as you like. Two of my favorite simple options are to just hang their work on a display in the hallway or to do a rotating presentation. Put students in pairs, have them present to each other, and then swap partners. It's much lower stress than presenting in front of the whole class, and doesn't take as much time!
Download now!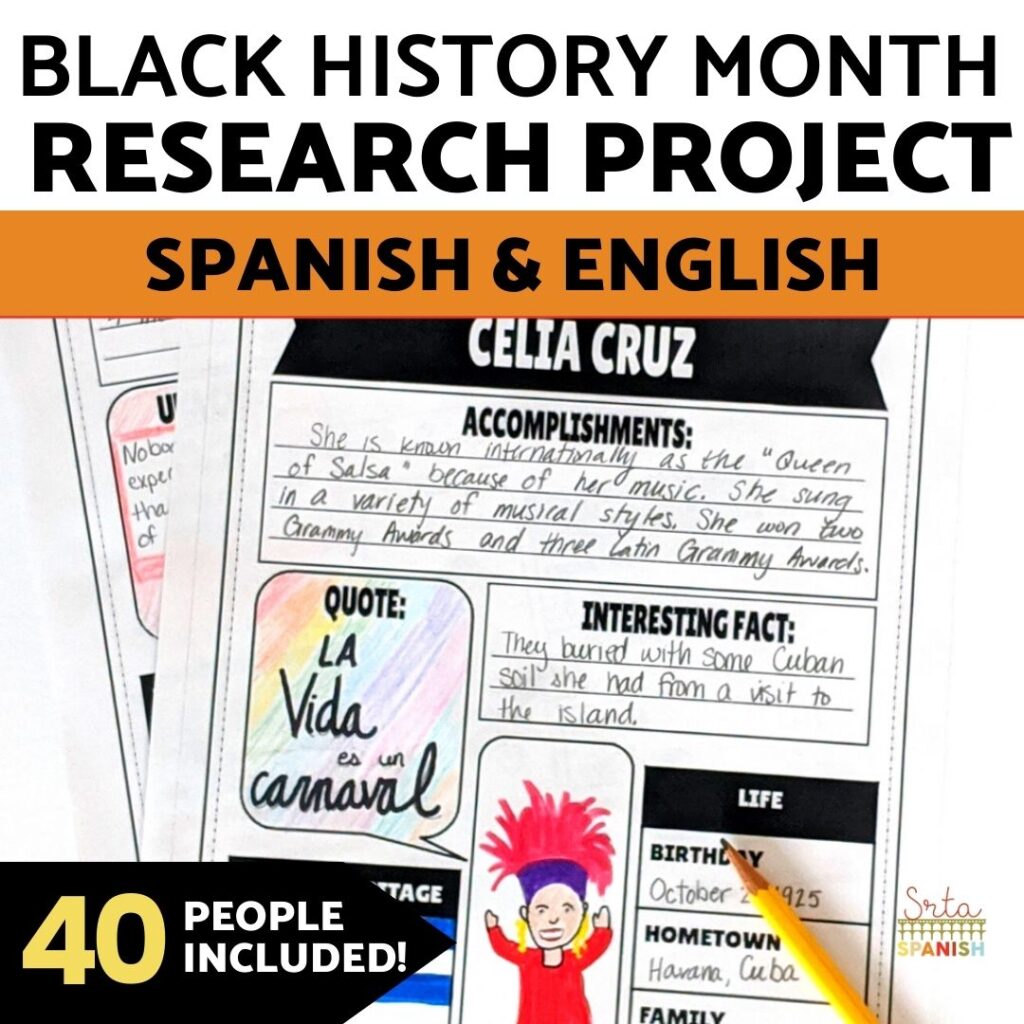 More for Black History Month
Looking for more lesson plans and tips to help you celebrate Black History Month in Spanish class? Check out these posts!