It's coming. March Madness – or in my classes, often the season of "hiding our phones under our desks because THE GAME PROFE". Sigh. I don't follow basketball at all, but it seems like in March there's YEARS of basketball games happening. A March Music Tournament for Spanish Class are a great way to co-opt that energy for our classes!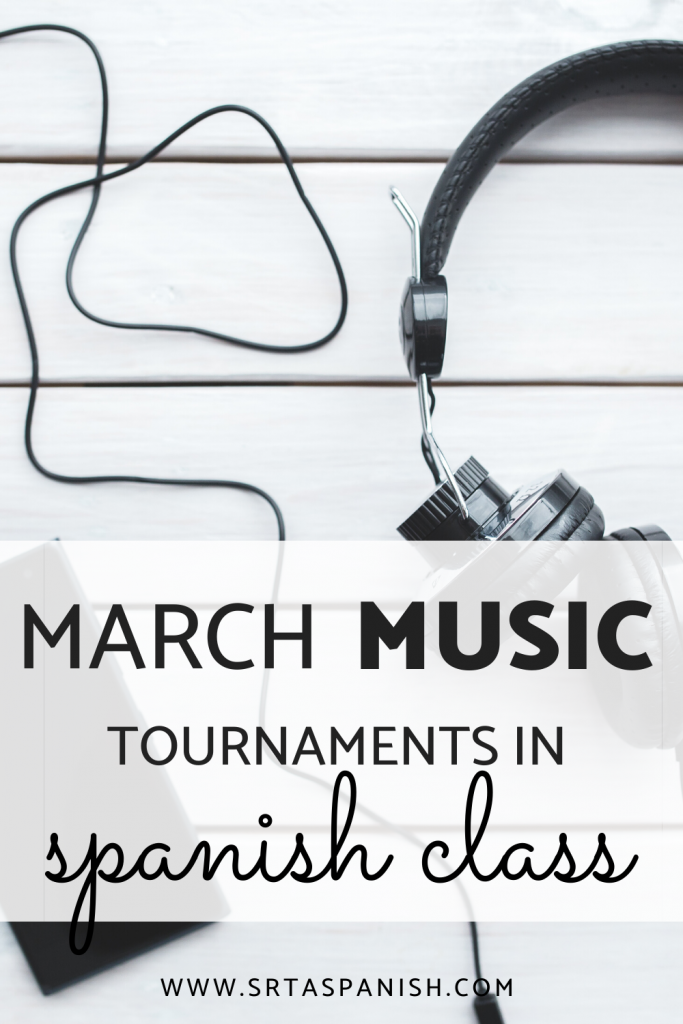 It's definitely time to take some of the madness for Spanish class! I love using music in my classroom, so a tournament style competition of hit Spanish songs is a great option to include culture and snag some of that bracket-fever for the classroom!
Music Brackets
You can set up a bracket of your own for just your classes or school if you'd like! Last year, my awesome co-worker took all of the songs we had listened to for Música Miércoles and created a mini bracket just for us! It was great!
Click here to see the post on Instagram!
There are also several brackets available online. Allison from Mis Clases Locas has a bracket for younger classes, Señor Ashby does a Locura de Marzo tournament, and Spanish Plans has their March Music Madness! Each of these can be great depending on your audience, so look at them and see what works best for you!
March Music Madness
This year, I decided to go with the bracket from Spanish Plans! I love that it includes a variety of music from just this past year. Other brackets had great songs, but they were songs my students know! I wanted something new. I'm excited about the songs, and I can tell that a bunch of them are going to turn into new favorites!
I also love that this bracket includes nation-wide voting. I think my students will really enjoy seeing how their picks fare as we move through the tournament!
For the duration of the tournament, I will essentially be replacing my usual daily routine to begin class with talking about the songs! I will loosely follow my Música Miércoles, but we might get into some more vocabulary to discuss our opinions of the songs. If you're not sure if this activity is worthwhile for your class time, consider this post from Spanish Plans about CI During March Music Madness.
The language we use to TALK ABOUT the songs and talk about the voting process is just as important as listening to the songs themselves.

Spanish Plans, CI during MMM
I'm going to try doing a quick, short reflection after each song. They're used to saying, "Me gusta" or "No me gusta", so I want to expand on those reactions using a simple form. It has space for 16 songs total (the same number as in the tournament) and a short spot to write their favorite at the end!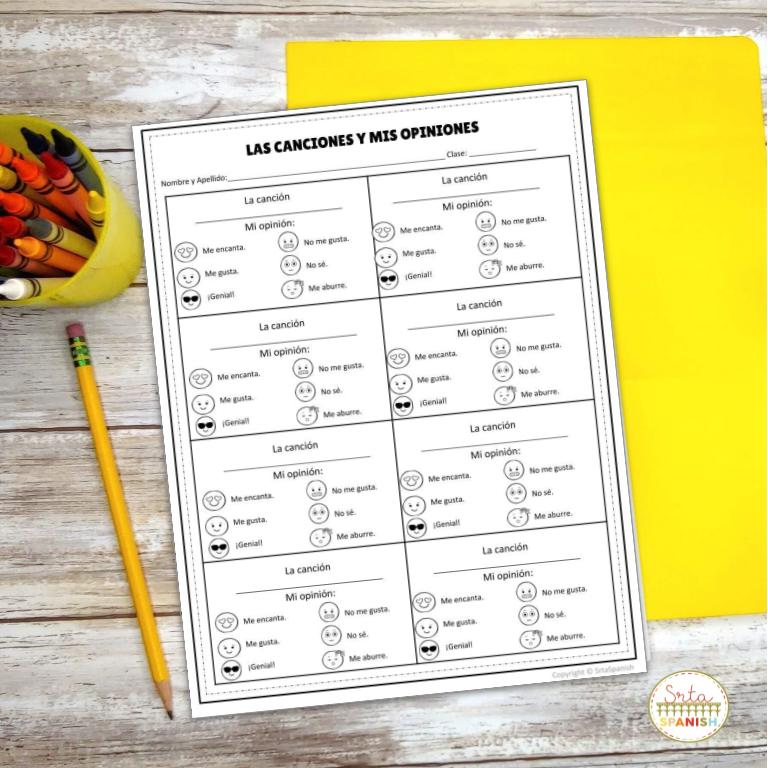 The tournament will also build our department and community in our school, because we're hanging the bracket in the school hallway for everyone to see! I'm hoping my students share the songs they like with their classmates and other students. I really want them to share those connections with their friends!
What about you?
Do you do a March music tournament in your Spanish classes? What kinds of activities do you do?