Gallery Walks are a great way to get your students up and moving, give them input, and can be wonderfully low-energy for the teacher. It is basically like having your students take a mini field trip to an art gallery – only the art is something you provide in the target language, an image, or even student projects to share! Check out how to use gallery walks in Spanish class for what's about to be one of your favorite low-energy activities!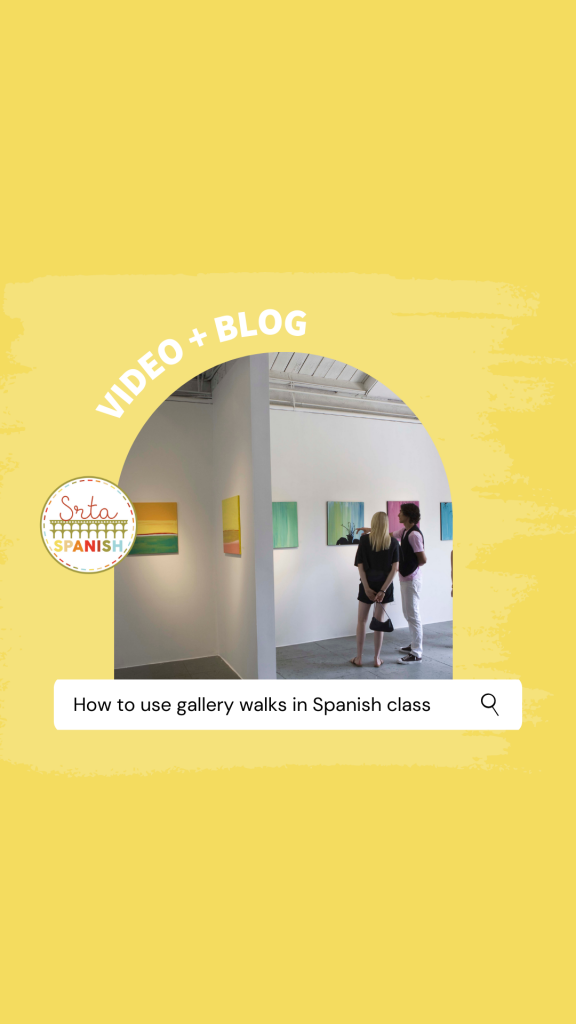 Watch the Video
Key Points:
:07 – What is a gallery walk?
1:55 – What materials do you need?
2:56 – Can you do it without your own classroom?
3:23 – How do you set it up?
6:31 – How can you do gallery walks during distance learning?
10:05 – Resources for you to do your own gallery walks with your students
Materials for a Gallery Walk:
Infographics – students read and look for different chunks of language or vocabulary
Images – Have students write a sentence or phrase from your current chapter based on what they see
Readings – Students look for specific pieces of information in each selection
Student Presentations -live, set up on individual devices for students to click through on their own, or posters around the room
During the Lesson
One of the beautiful things about gallery walks is that once you've found or created the materials for a gallery walk, there's not a lot more for you to do! Check in on students, answer questions…or you know, you could sit for a second and take care of a little grading. This time also lends itself really well to small conferences and check-ins with your students! 
Want an Example?
Liking this idea, but still not quite sure how it works? Fill out the form below to get a free gallery walk to try out!

The readings include vocabulary supports at the bottom of the page to help your students be successful. Each reading is a basic description of each person's life, their interests, and what they are known for!
This resource includes a scavenger hunt activity in English, perfect to use for a Gallery Walk activity! Hang the readings around the room, make copies of the scavenger hunt, and you are good to go! The example is also included in my larger bundle of Gallery Walks, which you can purchase here.
Your Turn!
How do you use gallery walks in your classroom? Any tips or tricks to share? Drop them below or come find me on Instagram to connect!
Check out more reading activities for your classroom!