I don't know about you, but I LOVE snow. One of the first signs of winter is frost and snowflakes. I just love how beautiful the world can look with a blanket of fresh snow! If you are looking for some great way to bring some fun snowy activities for Spanish in your middle school or high school classroom, I have some wonderful ideas for you!
If you are looking for some great ideas for bringing snow and winter into your classroom, be sure to keep reading. I have awesome ideas for readings, writing, listening, and more. Plus I have some great decorating ideas that will have your classroom looking like you took a trip to the north pole!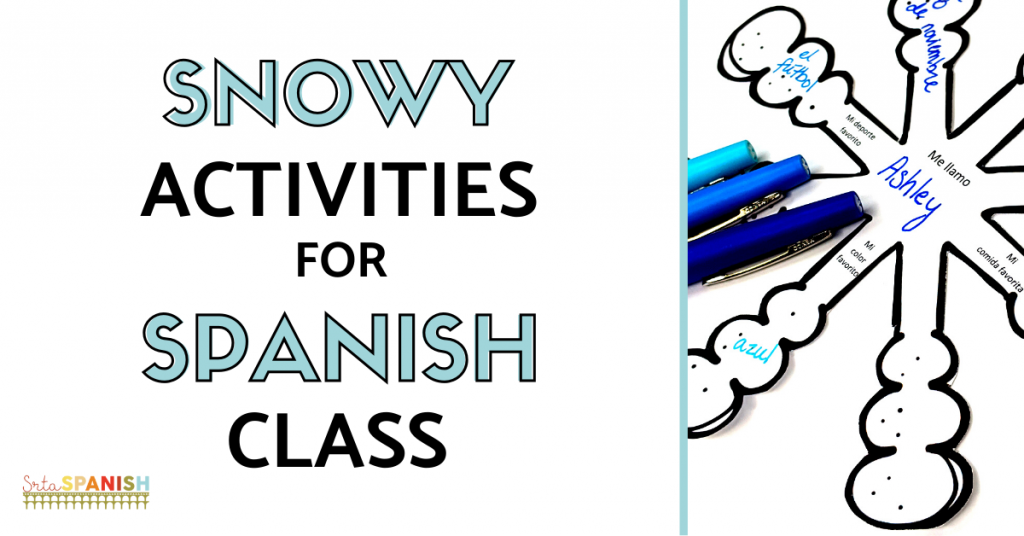 Catch the Video
Describe a Snowman Writing Activity
In this snowman writing activity, students decorate their snowman, adding hair, eye color, and clothing. Then, students write a description of their snowman that includes physical descriptions, personality traits, and describing the clothing they have drawn!
Verbos "Nievos"
Let your students practice new conjugations or review tenses with Verbos Nievos! Students write an infinitive in the middle of a snowflake, then conjugate the verb on the snowflake. You can also have your students decorate the snowflakes for added color! This can also turn into a fun display in your classroom, hallway, or as a door decoration!
"Snowball Fight"
I LOVE this list of input based activities from Magister P. In his list, he shares an idea called "Paper Airplane Translation" for a reading activity. I think it would be so fun to use this concept, but instead of a paper airplane, crumple up the paper into a "snowball" and then throw it across the room. So fun! It would be a perfect snowy activity for Spanish class!
Snowman Listen, Write, Draw
This is one of my favorite snowy activities for Spanish class! In this snowman listening activity, students show understanding by drawing what they comprehend in the target language! I've shared about listen, write, draw for a simple day full of student learning that gives me a break, and this is no different! Students illustrate the meaning of each sentence they hear, including colors! Check this resource out here.
No two alike..
This is perfect for the start of the winter semester! Students write answers to short, novice level prompts about themselves in this about me activity. You can also have your students decorate the snowflakes for added color!
Hang all of the snowflakes up in your "SOY ÚNICO" display to show off student work! I love an easy display and this is an easy print and go option for a wintry decoration!
Looking for more?
You may also like this post on Holiday Traditions in Spanish-Speaking Countries!