If you are looking for clothing activities for Spanish class, about to teach your unit on la ropa in Spanish class, or looking for ideas for your clothing unit with your middle school or high school Spanish classes, this is the post for you!
This post contains affiliate links, which means if you click through and purchase something using my links, I receive a small commission at no additional cost to you. Thank you!
Clothing Activities for Spanish Class
Picture Talks are a great option for discussing clothing in Spanish class because you can narrate what the characters are wearing as part of your talk! This blog post has a freebie you can try out for clothing and colors, so make sure to check it out!
Read, Listen, and Draw activities are great for clothing. You can do any variation of the three! Read and draw, listen and draw, all three at once – any are good options! Give students a description and they illustrate it to show comprehension, or if it's towards the end of your unit you could give them the drawings to create the readings. I like to give these a seasonal twist, like these skeletons, or the snowmen you see below!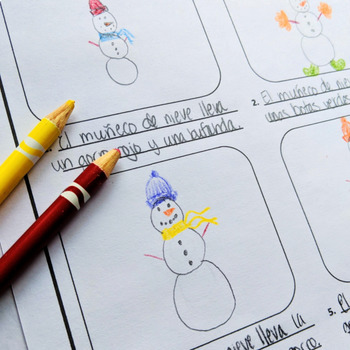 My family used to love the Froggy books when we were growing up! The book "Froggy se viste" is a great option for your clothing unit because it is simple to understand and includes repetitions of a lot of structures for this unit!
It could even be a great mentor text for upper level students creating their own story at the end of the unit! Check your library for a copy, or click here to grab one for yourself!
Clothing Practices with Instant Feedback
Instant feedback is really nice when students are practicing with the language! These QR code puzzles are awesome for students as they are practicing because they know immediately if they understood and placed the pieces together correctly or not!
Boom Cards have become one of my favorite activities to use with my students! Students read, write, listen, and drag manipulatives to practice with clothing vocabulary in this set of cards!
¡Corre en Círculos! is really nice for feedback because the students find out if they did something to break the loop and have to go back and retrace their steps! This set reinforces adjective agreement with clothing vocabulary.
I love to add stories into a unit whenever I can. This digital story for beginners places emphasis on llevar and clothing vocabulary, with some colors and family vocab mixed in!
More Practice Activities for Clothing in Spanish
Well, what I listed above are my absolute favorites, but you know I have more! Check out these options to practice clothing in Spanish class:
Don't forget to pin this post for later!