You have 5-10 minutes left of the class period in your lesson plan and you're just not sure what to put there, but you KNOW it's not going to be "dead time" just hanging out and looking at their phones or lining up at the door waiting for the bell to ring. NO WAY. Let's look at engaging, low prep time filler activities you can use for those last few minutes of class to keep going until the bell!
Watch the Video
Low Prep Time Filler Activities for Spanish Class
These are a mix of no prep, tech and no tech activities, and ones that you might want to make copies of ahead of time.
Boom Cards – If you've seen any of my videos on these, you know I love them. Digital task cards that practice reading, writing, and listening, on just about any topic you can think of? WIN. Post the link, let 'em go! Learn more about Boom Cards in my playlist on them here!
Mi Lápiz – This is one of my all time favorite games and is one of my favorite ways to end class instead of just passing out a worksheet. All you need is a copy of the page, a pencil, and a die, then students play in pairs or small groups. Learn more in my post here!
White boards – You can use white boards for SO MANY THINGS. Two of my faves are to just describe a scene in the target language and students listen and draw it on their whiteboards (or a piece of paper). I also like to do a quick translation or conjugation game. You say a word or phrase, they translate it and hold up the board, you tell them Sí or No. This could pair really well with these conjugation wheels or you can make your own on wheeldecide.com!
Crossword puzzles – these are an easy print & go option, and there's tons of free generators out there.
Ball Toss – use any questions you'd like!
Mazes – These are probably my favorite fast finisher option for after doing a Corre en Círculos game with my students! I just print the maze that goes with the topic we're working on, then they grab it as they finish the scavenger hunt.
Mini Corre en Círculos – There's tons of variations you can do with Corre, but printing them as a mini puzzle makes for an awesome fast finisher to keep on hand during a unit. If you're doing one of the sets that has 2 options, I love printing one big and one small so they can do them both in the same chapter!
Verb Battleship – students hide their ships on a 6×6 (or 6×5, depending on pronouns), then take turns guessing where their partner hid ships by conjugating the verb according to the grid.
Sudoku – I don't do this one very often because students either love it or hate it (like regular sudoku!) but it's very engaging for them either way because they have to try so hard! Each box, row, and column has one of the verb forms and they have to solve the puzzle.
Conjuguemos – this site has a bunch of games students can log in and play!
Quizlet – just like Conjuguemos, students log in and play with the set you give them.
Grid Puzzles – students match up the edges of the boxes to complete the puzzle
Board Games – students roll a die, and answer the question based on the box they land on.
Task Cards – put a pile up on the desk, students randomly draw one, go back to their seat to answer, then return it and grab a new one. See how many they can complete!
Gallery Walk Reading – grab a reading from a set that goes with your chapter and throw it up on the screen. Have students translate it, do a horizontal translation, have them write 10 T/F questions, comprehension questions – really any reading activity works with this one!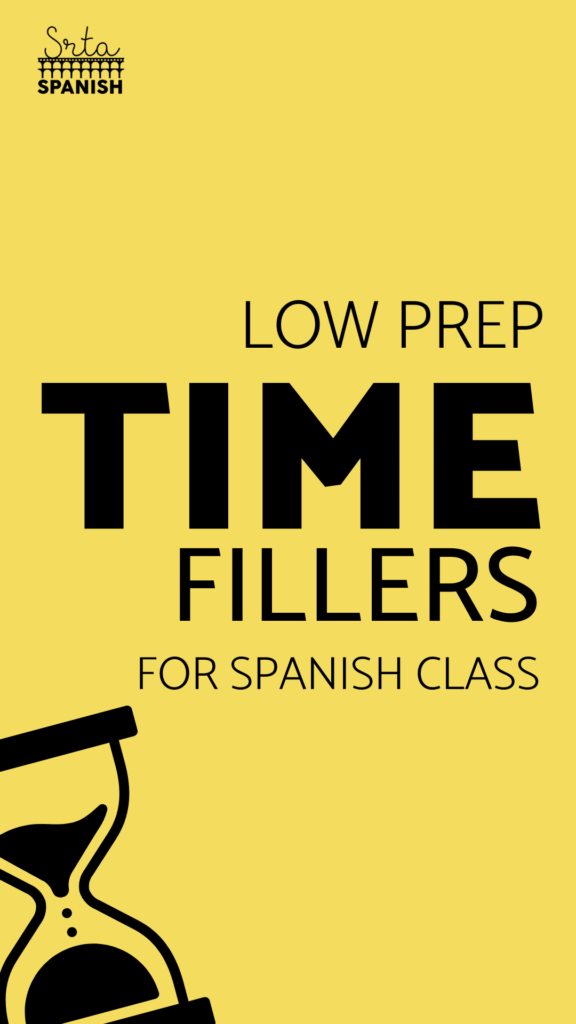 More lesson plan ideas for Spanish Class
I hope this list of ideas was helpful for you! If you're looking for more ideas, you might like this post – it's got a whole bunch of activities you can use in your lesson plans for your Spanish classroom.