Telling time in Spanish is another one of those concepts that our students need to know. It seems to show up in every textbook, so if you're trying to shift to CI while following a mandated scope and sequence, this is definitely a concept you'll need to "hit". It also has (obvious) real-world applications for our students! Traveling? That plane or train will leave, with or without you on it!
In previous years, I have done an entire unit on telling time. Oh, there was a thematic focus, sure, but the end goal was really, "I can say what time it is in Spanish." We spent weeks on it! This year I've been trying to be more methodical about how I have introduced time in my classes and they have been using it without issues at all! I wanted to share some of the ways I have included time in Spanish class this year.
Student Jobs for Telling Time in Spanish
One of my student jobs during stories is called Mago/Maga. This student puts an alarm on their phone for 4-5 minutes before the end of class. When that alarm goes off, they stand up and yell, "Alakazam!" How does that help us tell time? Well, when handing out student jobs, I just tell the magician, "(Spanish) Please set an alarm for (time). (English) Class, what time is Student setting an alarm for? (Spanish) That's right, an alarm for (time). Thanks!"
This is super, super simple, but a great way to practice. It's also being used to communicate and is in context. The alarm isn't set for the same time every day, so they do get practice listening for different times, too!
Maze Games for Telling Time in Spanish
Maze games are another great, almost sneaky way, to get students to do more reading and practice! Students read the time and choose the correct answer to "escape" the maze. I also have my students go back and do additional activities with the mazes for extra practice!
Check out my post here on 10 Ways to Use Maze Games in Spanish Class!
Sarah Shainfeld shared a post of her students working on the Telling Time Maze in partner competition!
Classroom Stories
Stories are a great way to introduce time in a natural way. This cute story is about a monkey who is just so excited for her birthday party, she can't wait to celebrate! It goes through her day of anxiously waiting and getting ready for the party. It's very simple for them to understand, and you can do a ton of activities with it!
I have a digital version of that story with comprehension questions available here!
We also did a classroom story about a student who was trying to get ready to leave for school, but couldn't find all of their supplies! Definitely relatable for students, plus since it's a smaller window of time we got a lot of practice with :00, :15, :30, and :45!
I did some story drawing with this one and set the events on a timeline which helped students visualize and understand how the story played out! Click here to purchase that story and all of the resources I used!
Want a digital version of the story? Click here to check it out!
Blind Kahoot
I loved Blind Kahoot before my transition to CI and I was worried I would have to leave them behind. As I thought about it, I decided no! Blind Kahoots can definitely be a good way to practice and get lots and lots of input and repetition. I also love that they include an image with the questions which helps make that connection without needing English in between.
After doing a Blind Kahoot, I always have my students do a read and draw activity to really help them solidify and show their understanding. Students read sentences that use the structures and then draw the meaning. More great practice! Here's a link to the resource I use in my time unit!
¡Corre en Círculos!
¡Corre en Círculos! is my absolute favorite way to get students to practice a concept while getting them up and out of their seats. My resource for telling time includes two different ways to practice- one where students interpret the sentence and write the time and one where they read the time and write how to say it in Spanish.
Each year is a little different, but I have used them in a variety of ways! I'll print in different colors for differentiation, use one as an extension of the other, or do the two activities on two different days! I'll even print them as mini-versions to make a fast finisher puzzle. It's a LOT of reading practice for time!
Have you tried any of these strategies for teaching telling time in your Spanish Class? What questions do you have for me? Drop a comment below and let me know!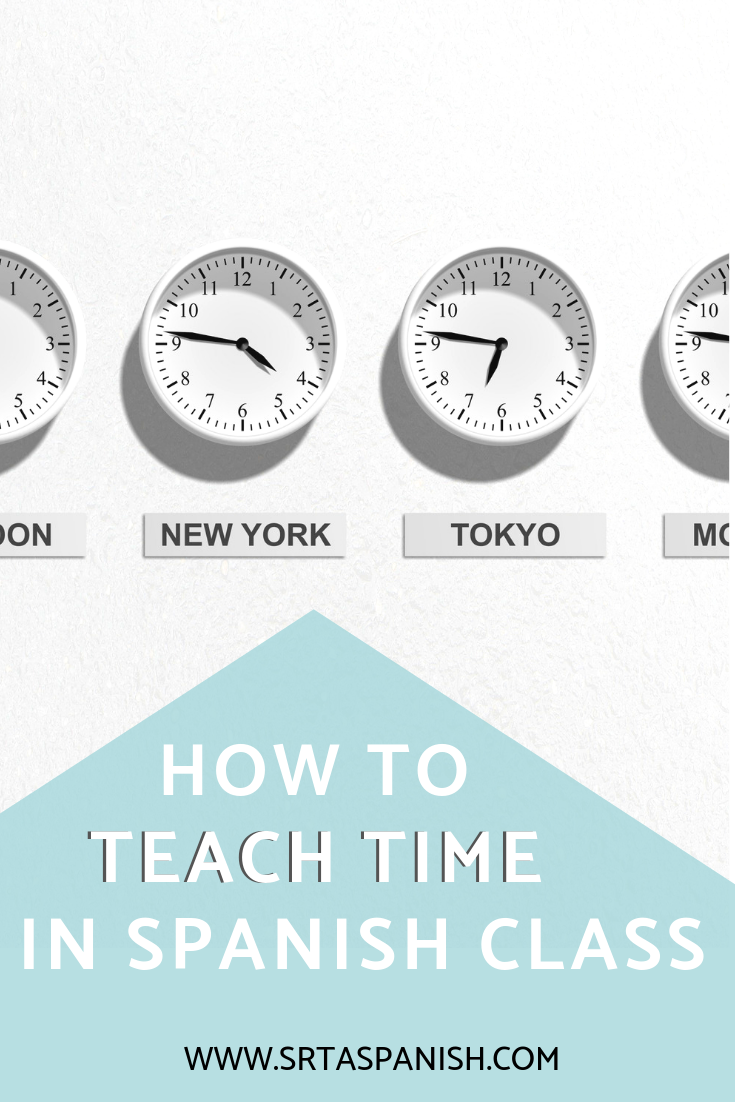 Don't forget to share this post with a friend!