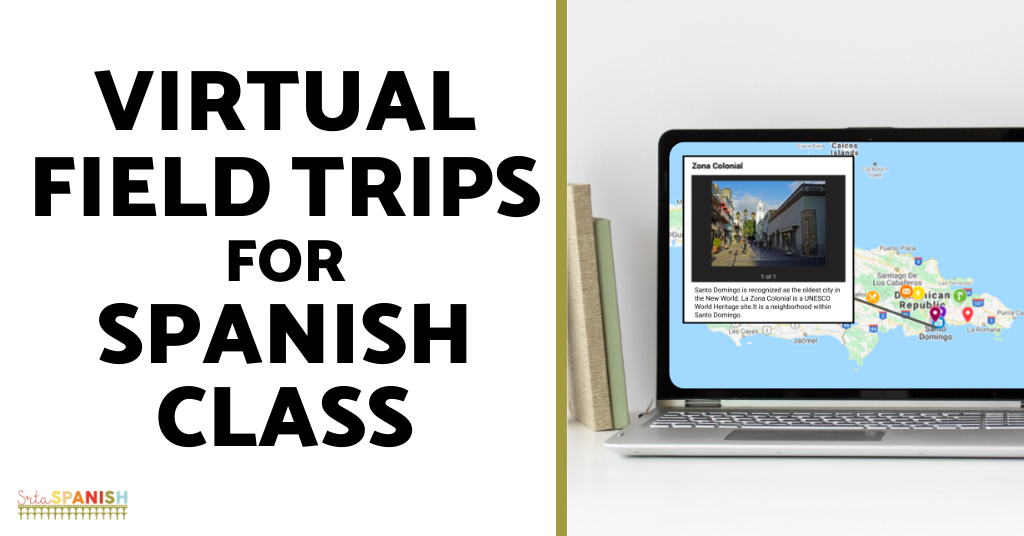 Teaching culture and exploring countries around the world are one of the best parts of studying world language! You can take students on an outing, but it can be a lot of work! Organizing transportation, permission slips, funding – oh my! Using a digital option for a virtual field trip in Spanish class is so simple. It's a great way to help your students connect the geography and culture of the language they're learning!
Setting up the Virtual Field Trip in Spanish Class
These virtual field trips are great to use! Either print or post the comprehension questions and graphic organizer, then give your students the link to the interactive map. I prefer to use the printable versions of the worksheets so my students don't have to switch between tabs, but the digital option is great for hybrid settings. It's also a great sub plan if you need to post something from home!
Using the Virtual Field Trip
When I have used activities like this, I do my usual start of class routine, then the map activity. I usually include a fast finisher activity just in case for my speediest students. That is my lesson plan for a 45-50 minute class period with my high school Spanish 1s. When I taught middle school I found that the fast finisher was rarely needed! Click here to learn more about how long the virtual field trip activities can take.
Take a Virtual Field Trip to Begin a New Unit!
Sometimes units are based in a country, like when my Spanish 2 students had a whole unit in Spain. It's fun to begin the unit with a virtual field trip to explore the country! Students read short paragraphs, watch videos, and look at pictures, all while exploring the interactive map!
Check out these countries:
Explore a Cultural Celebration
You could also explore a cultural celebration or holiday! Students get a sense of how different regions celebrate different days and festivals. You can dig deep into a regional celebration like La Tomatina or Cinco de Mayo or compare several different countries' traditions for things like the holiday season or Semana Santa!
Check out these cultural field trips:
Learn About and Celebrate Accomplishments
Another great time to use virtual field trips is to learn about people and how their accomplishments have affected culture! Look at where the people are from, find out what they have done and what they're known for!
Take a Virtual Field Trip in Spanish Class
There are 28 virtual field trips included in this bundle so your students can explore a ton of different places and celebrations! You can find these interactive resources in my shop!