As beginning students learn to read, incorporating short stories is a great way to help students put all of their skills together. Reading these Spanish stories for beginners will help them apply their vocabulary and high frequency verbs to become fluent readers. I can't wait to share with you how to set up these Spanish Stories to read for beginners in your classroom and use the activities to help your students read with success!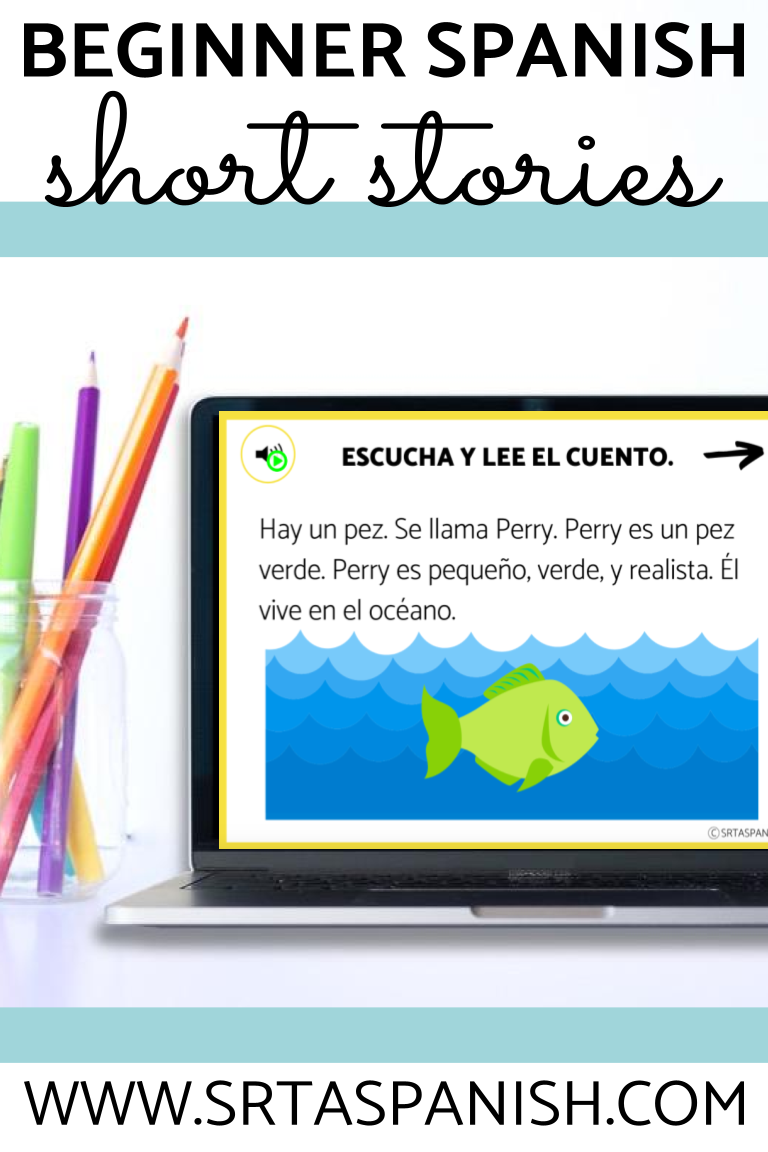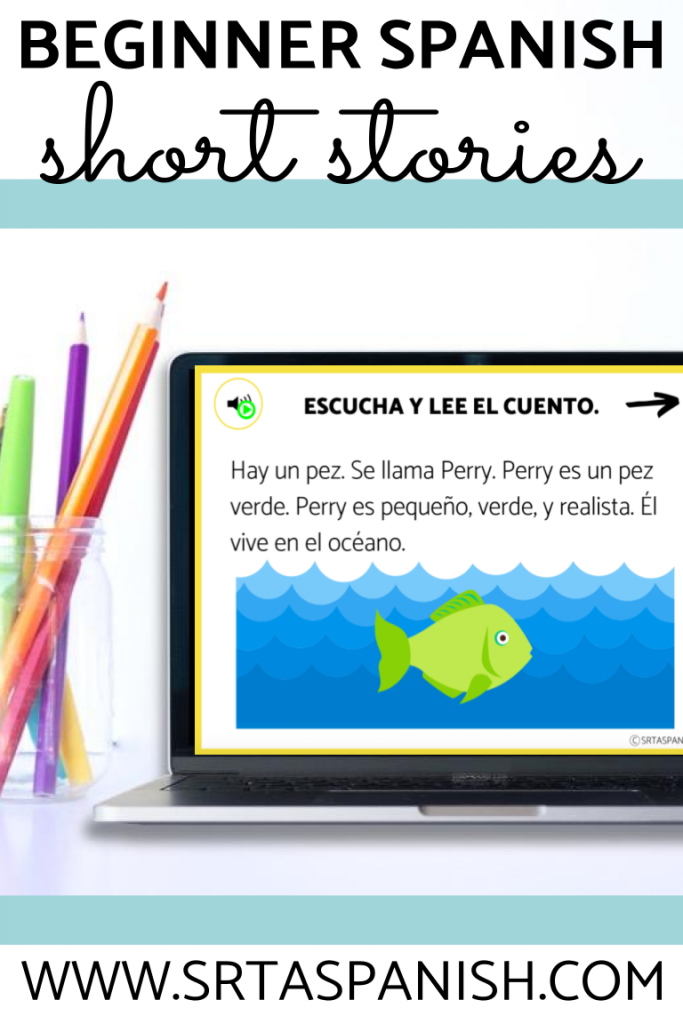 Some of the links in this post are affiliate links. This means if you click on the link and purchase an item, I will receive an affiliate commission at no additional cost to you. Thank you!
Beginner Spanish Short Stories Boom Cards
One of my favorite ways to work on reading is by using these Beginner Spanish Short Stories Boom Cards! These are great for novice students to see more repetitions of high frequency vocabulary, while receiving audio support as the stories are read to them.
These are great to use with individual students during Free Voluntary Reading Time, in small groups at stations, or even as a whole class assignment while you're in a particular unit, like telling time or school vocabulary!
Setting Up Boom Cards
Setting up these Beginner Spanish Short Stories is quick and easy! You can give your students multiple stories at once, or just one story at a time while you work through them with your class! You can assign Boom Cards through your school's learning management system, like Google Classroom or Schoology.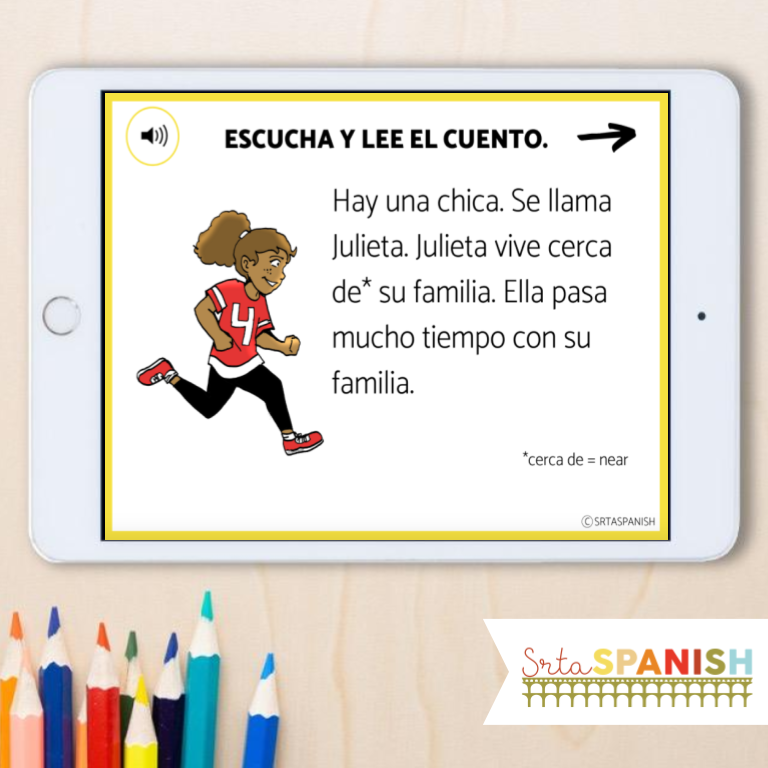 Choose which version of the story you want your students to interact with. Each Beginner Spanish Short Story comes with two versions: the story, or the story with comprehension questions!
I suggest making sure your students have a pair of earbuds so they can easily listen to the story as it is read aloud. Sometimes it's nice to have a few extra pairs of cheap earbuds in case a student has forgotten theirs!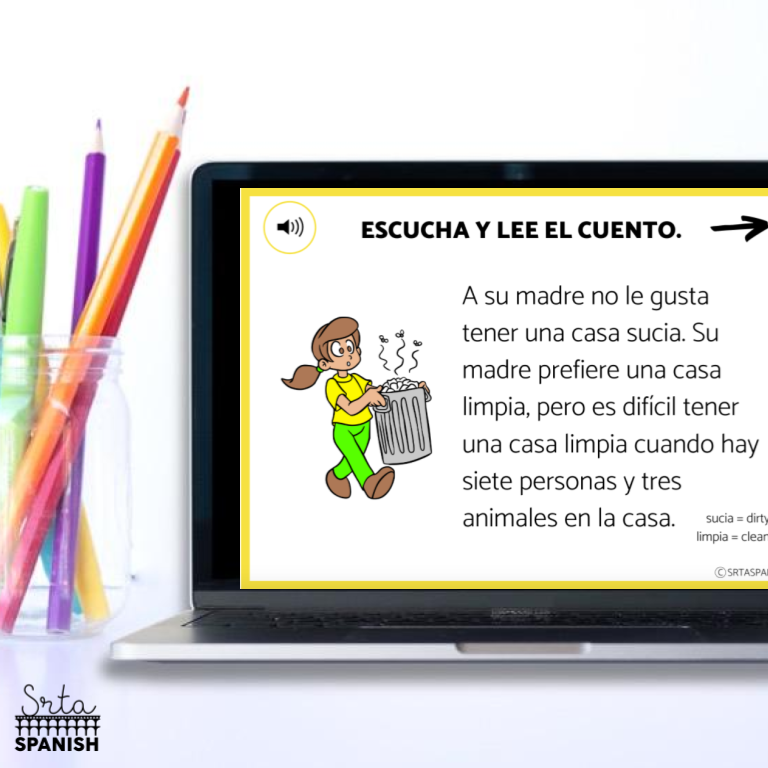 If you just want your students to use the stories as a fast finisher option one day, using a fast pin link is a quick and easy way to share the digital stories with your learners.
How to Use Boom Cards
Once you've assigned the Boom Cards stories, your students will log into their account or click the fast pin link to play! The great thing about this activity is the instructions are very straightforward, making this an activity that students can be successful at independently.
Students read and follow along with the audio book. If you've chosen the version with comprehension questions, they'll complete the questions along the way to check for understanding of the Spanish story!
Spanish Short Stories Boom Cards
These simple story activities are perfect for small groups, independent work, early finishers, or free reading! You can grab the entire Digital Story bundle here!
Additional Spanish Short Stories
If you prefer to have printable stories available for your students, I have several options available! They correspond with the different grammar skills or thematic units throughout Spanish class. Each story includes the reading as well as comprehension activities. I have resources for all the following units:
---